HESTIA NIENABER, LNR-KLEINGRAANINSTITUUT
Wilde bokwiet, ook bekend as slingerduisendknoop (Fallopia convolvulus), kom wydverspreid in Suider-Afrika voor. Hierdie onkruid het klein saadjies wat vlak ontkiem en is 'n strawwe mededinger as dit in digte stande voorkom.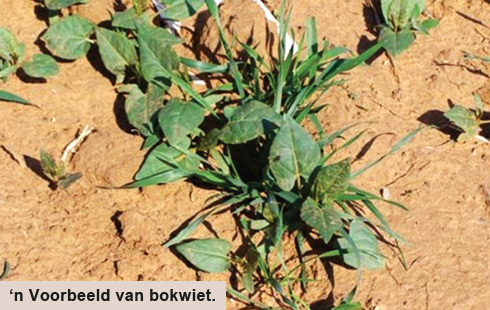 Daar word vermoed dat die onkruid die land binnegekom het saam met besmette koringsaad. Die volwasse plant kan teen gewasse oprank en kan tot so 'n mate met die gewas kompeteer dat dit die gewas kan doodmaak.
In die afgelope twee tot drie koringseisoene is baie navrae (en klagtes) ontvang oor die beheer van hierdie onkruid in die Vrystaat, veral in die Oos-Vrystaat. Onkruiddoders wat gewoonlik heel effektief gewerk het, het skielik nie meer die gewenste effek op wilde bokwiet gehad nie.
Een van die vele bekommernisse is die feit dat die bokwiet nie almal dieselfde tyd opkom en dus so uitgeroei kan word nie. In een land kry 'n mens dikwels tegelykertyd volwasse plante wat te groot is om effektief te beheer en klein plantjies wat nog wel tot 'n mate beheer kan word.
In die meeste gevalle word wilde bokwiet nie meer effektief beheer deur Group C3 (Bromoxynil) onkruiddoders en MCPA mengsels nie en glifosaat se beheer van hierdie onkruid het ook afgeneem. Daar is dus besluit om 'n monster van wilde bokwiet wat van Bethlehem in die Oos-Vrystaat verkry is, te toets vir weerstand teen glifosaat.
Proewe en resultate
Wilde bokwietsaad is versamel van 'n perseel waar 6 liter/ha glifosaat nie al die plante kon doodmaak nie. Die saad is in die glashuis geplant en op drie- tot vierblaar-stadium gespuit.
Glifosaat is gespuit teen 0,5 liter/ha, 1 liter/ha, 1,5 liter/ha, 2 liter/ha, 2,5 liter/ha, 3 liter/ha, 3,5 liter/ha, 4 liter/ha, 4,5 liter/ha, 5 liter/ha, 5,5 liter/ha en 6 liter/ha. Plante is na 14 dae geevalueer, waarna die data met 'n statistiese pakket (Genstat twaalfde uitgawe) ontleed is.
Dit is duidelik uit die resultate van die proewe dat hierdie wilde bokwiet biotipe van die Oos-Vrystaat lae vlakke van glifosaatweerstandbiedendheid toon teen die aanbevole glifosaatdosis.
In vorige seisoene is hierdie wilde bokwiet biotipe suksesvol beheer met 0,8 liter/ha - 2,5 liter/ha Roundup TurboR. Data verkry vanuit die proewe dui egter aan dat glifosaat teen hierdie dosisse nie meer in staat is om wilde bokwiet suksesvol te beheer nie (sien geblokte area in Grafiek 1). Dit is kommerwekkend dat slegs 86,78% beheer verkry is teen 5,5 liter/ha. Dit is meer as dubbel die dosis wat in vorige seisoene suksesvol gebruik is.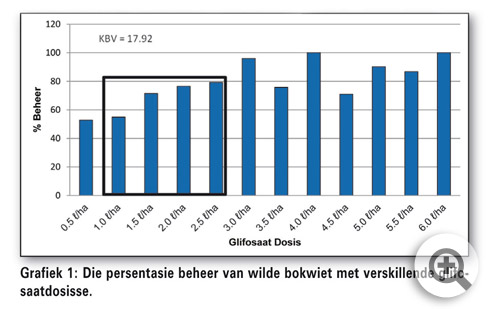 Samevatting
Hierdie wilde bokwiet-biotipe is duidelik besig om weerstand teen glifosaat op te bou. Produsente sal ander alternatiewe chemiese beheermaatreels moet oorweeg of geintegreerde beheerpraktyke moet toepas om te keer dat hierdie weerstand na ander areas versprei.
Vir verdere inligting, kontak gerus vir Hestia Nienaber by (058) 307-3420 of e-pos deweth@arc.agric.za.