LAASTE EER AAN slagoffers van plaasmoorde
April 2016

SA Graan/Grain redaksie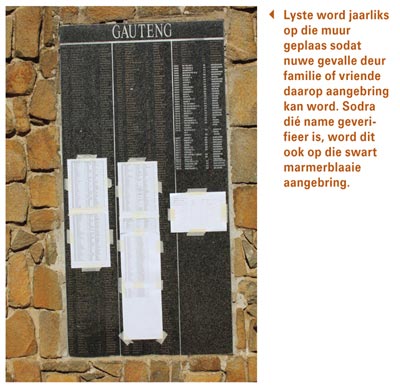 Die doel van die rolprent, Treurgrond, was om groter bewustheid oor plaasmoorde te skep – moorde op produsente, hul gesinne en arbeiders. In Julie verlede jaar het AfriForum en die TLU bekend gemaak dat daar tussen 1990 en Junie verlede jaar 1 747 plaasmoorde plaasgevind het – 1 133 van hierdie slagoffers was produsente. Dit is hierdie slagoffers se name wat op die "moordmuur" of Suid-Afrika se "muur van trane" opgespoor kan word.
Met 'n besoek aan die Muur van Herinnering op NAMPO Park word jy met die werklikheid gekonfronteer: Meer as 2 000 name is reeds op hierdie muur aangebring. Die inisiatief om 'n gedenkmuur op te rig, is in 1998 deur die Hennenman Boerevereniging van stapel gestuur. Hulle wou graag op hierdie wyse eer bring aan die produsente, hulle families en plaaswerkers wat in plaasaanvalle gesterf het.
Daar is nege gedenkmure – vier links en vyf regs – wat die nege provinsies verteenwoordig. Dié mure, wat uit ysterklip gebou is om die verbintenis van die landbouer met die natuur waaraan hul daagliks blootgestel word te weerspieël, het elk 'n swart graniet paneel waarop al die vermoordes se name aangebring word. Lyste word tydens Graan SA se NAMPO Oesdag op die mure geplaas sodat nuwe gevalle deur familie of vriende daarop aangedui kan word. Sodra dié name geverifieer is, word dit ook op die swart marmerblaaie aangebring.
Familie en vriende van slagoffers word versoek om tydens hul besoek aan NAMPO Park seker te maak dat die besonderhede van die slagoffers korrek is. Dit kan ook op die webtuiste, www.muur.co.za nagegaan word. Volgens mnr Dion Haasbroek (Hennenman Boerevereniging) is daar sedert NAMPO 2015 reeds 52 name bygevoeg.
Regstellings of nuwe inligting kan per e-pos gestuur word na moordmuur@gmail.com of kontak mnr Dion Haasbroek by 083 256 2505 of dcbhaasbroek@gmail.com.
Publication: April 2016
Section: NAMPO