Kunsmis tans relatief "DUURDER" as normaal
January 2019


CORNÉ LOUW, senior ekonoom, Graan SA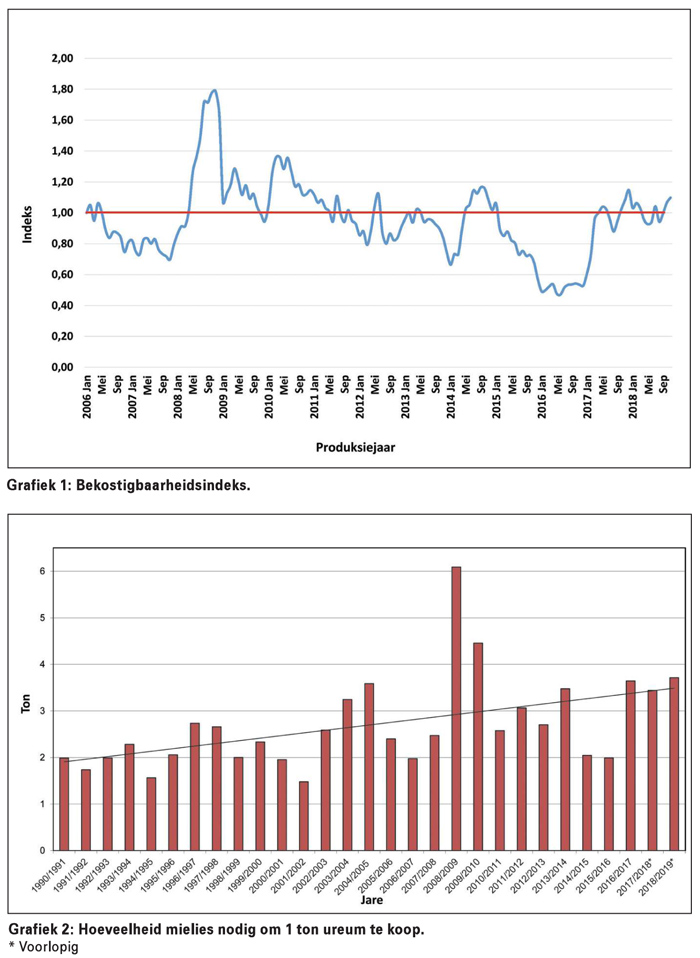 Afhangende van die gewas, kan kunsmis tussen 30% en 50% van 'n graan- en oliesadeprodusent se lopende produksiekoste uitmaak. Omdat kunsmis so groot deel van 'n produsent se koste uitmaak, kan die prys daarvan bepalend wees vir die winsgewendheid van die gewas.
Anders gesien, kan die verhouding tussen die prys van kunsmis en die markprys van grane ook 'n aanwyser wees van die "bekostigbaarheid" van kunsmis. Byvoorbeeld, sou mieliepryse styg en kunsmispryse konstant bly, sou kunsmispryse meer bekostigbaar wees. Of sou kunsmispryse styg en mieliepryse konstant bly, sou kunsmis relatief "duurder" wees.
Deur na hierdie relatiewe verhouding te gaan kyk, het Graan SA 'n bekostigbaarheidsindeks ontwikkel, waar daar op 'n maklike manier gesien kan word hoe bekostigbaar kunsmis in vergelyking met die verlede is.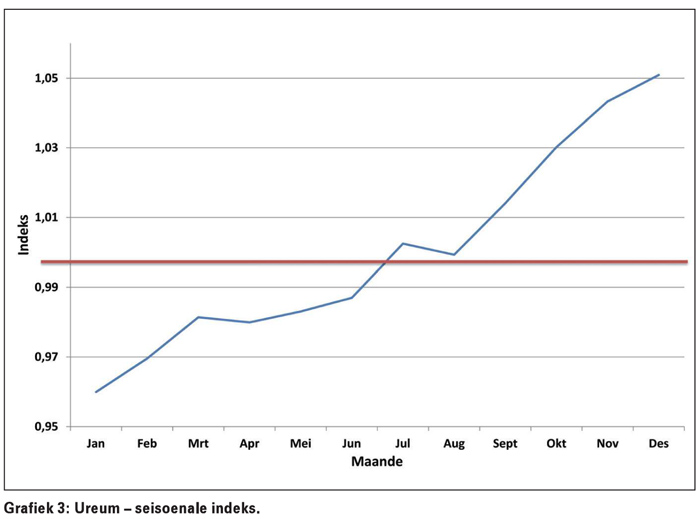 Die bekostigbaarheidsindeks is basies die verhouding in die prys van ureum teenoor die mielieprys op 'n gegewe tydstip. Uit Grafiek 1 kan gesien word dat kunsmis tans minder bekostigbaar is as in die tydperk tussen 2015 en 2017, asook teenoor Januarie 2006.
Op 'n ander manier uitgedruk: Grafiek 2 toon aan hoeveel ton mielies oor tyd nodig was om 'n ton ureum aan te koop. Die tendens strook goed met wat gesien is in Grafiek 1. Die feit wat die langer termyn grafiek ten toon stel, is dat die verhouding tussen kunsmis- en mieliepryse oor tyd verswak het.
Die voorlopige ruilvoet vir die nuwe seisoen is 3,4 ton mielies vir 'n ton kunsmis, terwyl die gemiddeld sedert 1990, 2,7 ton mielies is. Dit is 'n goeie aanduiding dat die winsgewendheid van graanproduksie tans onder enorme druk verkeer, gegewe die gewig wat kunsmis bydra tot 'n produsent se lopende produksiekoste.
Tyd van aankope deur die seisoen
Omdat kunsmispryse gedurende die jaar uitermatig kan wissel, kan die tyd van aankope 'n reuse verskil in kostebestuur en wins maak.
Graan SA het uit plaaslike kunsmispryse sedert 2004 die gemiddelde maandelikse prys bereken, dit teen die totale jaarlikse gemiddeld geweeg om 'n indeks te vorm en dit op 'n grafiek geplot. Hierdie resultate gee dan vir ons 'n idee wanneer kunsmispryse tradisioneel en/of op 'n gemiddelde basis op sy hoogste of laagste is. Dié indeks vir ureum is in Grafiek 3 geplot, wat aandui dat op 'n gemiddelde basis, ureumpryse vroeër in die jaar goedkoper is as later.
Publication: January 2019
Section: On farm level