Kultivarevaluasie: Aanvulling van data met strookproewe
December 2016

PETRU FOURIE, navorsingskoördineerder en produksiekoste-analis: Graan SA
Om akkurate data oor die geskiktheid en opbrengste van verskillende mieliekultivars in te samel, word daar tans slegs klein statistiese proewe deur die LNR-Instituut vir Graangewasse (LNR-IGG) aangeplant. Daar het egter 'n behoefte onder verskeie rolspelers ontstaan om hierdie bestaande klein statistiese kultivarproewe met strookproewe aan te vul wat die beskikbaarheid van data in verskeie produksiestreke kan verbeter.
Graan SA is daarvan bewus dat daar reeds verskeie strookproewe deur produsente of boereverenigings geïnisieer en aangeplant word.
Die doel van hierdie inisiatief is om strookproefdata wat deur produsente ingesamel word, op 'n nasionale vlak te integreer, te verwerk en dié resultate tot voordeel en ondersteuning van die nasionale kultivarproewe en die graanprodusente te gebruik.
Wat natuurlik 'n uitdaging is, is dat daar soveel verskillende kultivars is en elke produsent/boerevereniging soms net spesifieke kultivars wil toets. Die idee is dus om uiteindelik alle bestaande proewe se resultate, wat in die verskillende graanproduserende gebiede aangeplant word, na een sentrale punt te allokeer en 'n platform daar te stel waar verskillende proefdata deur produsente besigtig kan word.
Graan SA is in 'n proses om 'n protokol saam met die saadmaatskappye op te stel alhoewel dit eers volgende seisoen in werking gestel sal word. Dit sal uiteindelik help om data deur 'n standaard protokol en formaat in te samel, te verwerk en aan te bied.
Waar daar streke met 'n tekort aan proewe is, sal Graan SA die vestiging van nuwe proewe sover moontlik assisteer en saad maatskappye se deelname bevorder. Ons sal dit waardeer indien produsente intussen self met die saadmaatskappye kan kommunikeer en reëlings tref, maar ons is meer as bereid om kontak met van die saadmaatskappye te maak en reëlings te tref waar jy vashaak of daar nie deelname is nie.
Fokuspunte en verloop van proses

Die volgende aksies word vir die 2016/2017-produksieseisoen beplan:
Bewusmaking van strookproefdata-insameling onder produsente/ boereverenigings.
Bevordering van produsente se deelname met die insameling van proefdata.
Die skep van 'n platform (deur Graan SA) waar die ingevorderde data van verskillende streke besigtig kan word.
Die voltooiing van 'n protokol deur Graan SA en saadmaatskappye – identifikasie van kultivars wat in die verkillende streke ingeskryf moet word.
Graan SA sal dit waardeer indien jy ons in kennis kan stel van strookproefkultivarnavorsing wat reeds deur julle as boerevereniging gedoen word en wat julle met ons sal deel.
Aksies beplan vir die 2017/2018-produksieseisoen:
Produsente neem deel aan die gestandaardiseerde strook proefuitleg om kultivarevaluasies op strookproefformaat te analiseer.
Indien enige van die bogemelde onduidelik is of indien jy meer inligting benodig, kontak Petru Fourie by 012 816 8048 of petru@grainsa.co.za. Indien jy met die LNR-IGG, wat die statistiese proewe aanplant, kontak wil maak, kan jy mnr Dirk Bruwer by BruwerD@arc.agric.za kontak.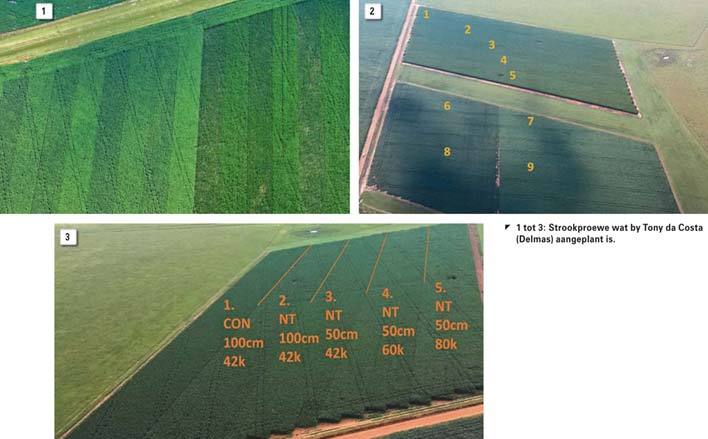 Publication: December 2016
Section: On farm level