Kry jou toekomstige NAMPO- kaartjies op dié lidmaatskapskaart
August 2018

ALZENA GOMES, skakelbeampte, Graan SA
Graan SA is trots om 'n unieke digitale lidmaatskapskaart, eksklusief vir Graan SA-lede, bekend te stel. Jou lidmaatskapskaart sal slimtegnologie gebruik en ons die geleentheid bied om beter, direk en meer koste-effektief te kommunikeer.
Die digitale lidmaatskapskaart – 'n eerste in landbou – bied verskeie kenmerke wat waarde toevoeg, waarvan seer seker die belangrikste lede se NAMPO-toegangskaartjies is. Dié kaartjies word vooraf gelaai en sal lede van vinnige en maklike toegang tot die NAMPO Oesdag verseker.
Bo en behalwe toegang tot kortings en spesiale aanbiedings wat deur middel van 'n Voordele-teël aan lede gebied word, is alle Graan SA-inligtingskanale op die kaart gelaai. Verkry só toegang tot die Graan SA-maatstaf-app, beide Graan SA en NAMPO se webwerwe en markverslae.
Die nuutste uitgawe van die SA Graan/Grain sal ook digitaal op jou lidmaatskapskaart beskikbaar wees en lede kan die tydskrif elektronies lees lank voor dit in die pos verskyn.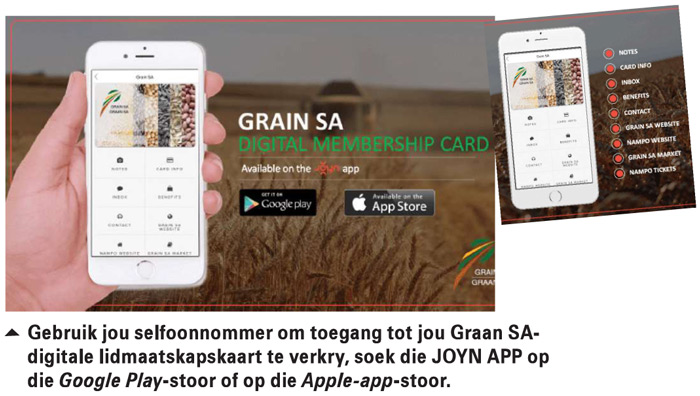 Die lidmaatskapskaart het ook 'n Nota-funksie waar lede hul eie lysie notas kan skep en stoor, foto's van strokies kan neem en te doen-lyste kan stoor. Verder kan kaartinligting en -instellings opgedateer word en stootkennisgewings (push notifications) kan geaktiveer of gedeaktiveer word. Die Inboks-funksie sal, bo en behalwe lede se aanbiedinge, intydse app-boodskappe van Graan SA toelaat.
'n Gebruikersreis is saamgestel wat al die inligting en funksies bekendstel en is elektronies aan lede gestuur. Skakel gerus die Graan SA-kantoor indien jy enige inligting of bystand verlang.
Publication: August 2018
Section: Grain SA