Kry die kos gaar VOOR DIT AANBRAND
July 2018


Jannie de Villiers, HUB
Die kombuis bly maar eenmaal 'n warm plek. Maak nie saak of dit nou 'n SuperSport-ateljee of 'n vergadering in die Graangebou is nie. Ons sê gereeld Afrika is nie vir sissies nie. Só is Suid-Afrika ook nie juis vir mense wat nie in die hittige kombuise van ons wêreld kan werk nie.
Hitte het die vermoë om 'n mens warm te maak: Warm onder die kraag of warm wanneer dit koud en afsydig raak. Tog het hitte ook die eienskap dat as jy dit lank genoeg op een plek stilhou, dit die objek se vorm verander. Items kan smelt en iets nuuts vorm. Dalk is dit waarmee ons besig is: Om iets nuuts in landbou te vorm?
My graad 9-juffrou het ook sterk daaraan geglo. Die uwe se geskiedenispunte was nie goed genoeg na haar sin nie, toe sit sy met haar uitstekende tennisvoorarm soveel hitte op my agterwêreld dat ek onmiddellik my houding jeens dié vak verander. Só 'n proses bring verandering, maar dit gaan ook met pyn gepaard.
Ek raak bewus van ontsaglike pyn soos ek rondbeweeg in die raadsale van ons sektor. Tot 'n groot mate is die hoofonderwerp die pyn van die verlede. Daar is 'n groot verskeidenheid planne om daardie pyn reg te dokter, maar dit veroorsaak ongelukkig nuwe pyne. Ek het opnuut bewus geraak van die restourasieproses in ons land. Restourasie is handelinge wat daarop gerig is om iets beter te maak as wat dit was. Beter vir wie? sal jy vra.
Ons fokus moet wees om die restourasie op só 'n wyse uit te voer dat ons dit nie weer van voor af moet doen sodra dit volgens een party afgehandel is nie. Dan wen ons nie.
Die geheim in die kombuis is om die kos gaar te kry voor dit aanbrand. Aangebrande kos laat 'n slegte smaak in die mond. Dit vernietig ook die voedingswaarde van kos: Die kos raak nutteloos. Ek hoop dat die leiers aan albei kante van al die kombuisgesprekke sal weet wanneer die kos gaar en bruikbaar is en dat hulle sal stop voor dit aanbrand.
Ek neem ook 'n ander ding in ons samelewing waar. Daar is heelwat meer mense wat moeg raak. Moeg soos in siek: Fisies, maar ook psigies. Daar is 'n honger na goeie nuus; iets wat werk en iets wat die land vorentoe kan vat. Goeie nuus wat langer hou as maar net die volgende nuusberig oor die een of ander ramp of terugslag wat met soveel smaak oorvertel word om seker te maak dat jy net nie te positief voel nie.
Diegene wat 'n ondersteuningsnetwerk het, kom meestal weer reg en herstel gou, maar daar waar enkelma's alleen moet aansukkel en/of familie nie naby is nie, gaan dit broekskeur. Ons het almal 'n ondersteuningsnetwerk nodig. Ek kan nie sien dat die temperatuur in Suid-Afrika se kombuise vinnig gaan daal nie en daarom is my advies dat jy behoorlik dankie sê aan dié wat jou ondersteun en mooi na hulle omsien.
Met 'n onlangse leierskapopleidingsgeleentheid het een van die dosente van die Graan Akademie, dr René Uys, uitgewys dat die vermoë om te luister en die beheer van eie emosies tydens vergaderings, waarskynlik die grootste tekort is in die mondering van produsente wat op nasionale vlak aan debatte en onderhandelings deelneem.
Ons onvermoë om die emosies en behoeftes van ander partye te verstaan, verhinder ons om die rigting van die debat te beïnvloed en na gemeenskaplike grond te stuur sodat ons oplossings kan vind om ons vorentoe te neem. Almal in die land het dit nodig dat die partye, in veral die gronddebat, mekaar sal vind – tot voordeel van voedselsekerheid en 'n beter toekoms vir almal.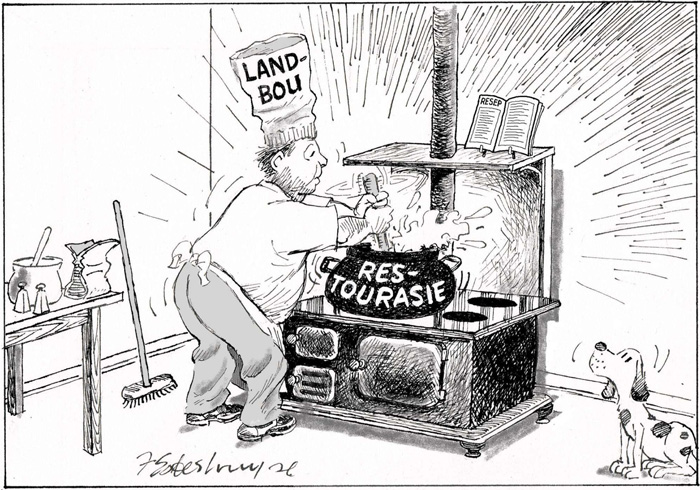 Publication: July 2018
Section: Features