KOOP JOU kaartjies aanlyn
April 2016

SA Graan/Grain redaksie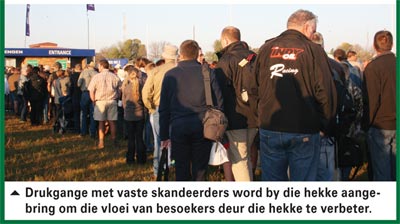 Besoekers aan Graan SA se NAMPO Oesdag wat lang toue by die hekke wil vermy, moet slim wees en hul kaartjies weer vanjaar aanlyn koop.
Me Rialeen Lombard (ondersteuningsbeampte vir die Oesdag) sê kaartjies is sedert Maart aanlyn by www.ticketpros.co.zate koop. Die pryse vir aanlynkaartjies is R80 vir Dinsdag en Vrydag en R90 vir Woensdag en Donderdag. Kaartjies by die hekke sal R10 duurder wees as bogemelde pryse.
Die kaartjies is datumgebonde vir 'n spesifieke dag. Besoekers wat aanlyn koop, moet op die dag kliek waarvoor hulle kaartjies benodig en dan vir spesifieke dae kaartjies koop. Betalings kan per kredietkaart gedoen word, waarna elke persoon sy kaartjies self kan druk.
Lombard raai mense ten sterkste aan om hul kaartjies vroegtydig vooraf aanlyn te koop om lang toue voor die NAMPO-hekke te vermy.
Mense wat nie hul kaartjies aanlyn wil koop nie, kan op die webblad http://www.ticketpros.co.za/portal/web/index.php/outlets/ gaan loer by watter afsetpunte hulle alternatiewelik kaartjies kan koop.
Lombard sê daar sal borde met duidelike aanwysings by die hekke wees, asook persone wat besoekers met die skandering van kaartjies sal help.
"Drukgange met vaste skandeerders word by die hekke aangebring. Besoekers moet dan net hul kaartjies, wat hulle vooraf by die huis gedruk het, se strepieskode skandeer om in te gaan."
Die hekke maak om 07:00 oop en sluit weer om 17:00. Geen troeteldiere, fietse, karretjies of motorfietse word op die terrein toegelaat nie.
Vir meer inligting oor kaartjies, skakel haar gerus by 086 004 7246 of stuur 'n e-pos na rialeen@grainsa.co.za.
Publication: April 2016
Section: NAMPO