PETRU FOURIE, EKONOOM, BEDRYFSDIENSTE, GRAAN SA
In hierdie artikel word die begrote winsgewendheid van koring vir die 2013/2014-produksieseisoen sowel as die koring-/insetruilvoetverhouding onder die loep geneem.
Noodsaaklikheid van 'n gewasbegroting

Ten einde die effek van insetprysstygings en veranderinge in kommoditeitspryse op die winsgewendheid van koringverbouing te bepaal, is Graan SA se beplanningsmodel of begroting gebruik.
Let daarop dat Graan SA se begrotingsmodel volledig is en grotendeels alle koste wat moontlik deur produsente aangegaan word, in ag neem. Die kostestruktuur van die koringbegroting in Tabel 1 sluit dus veranderlike en vaste
koste in.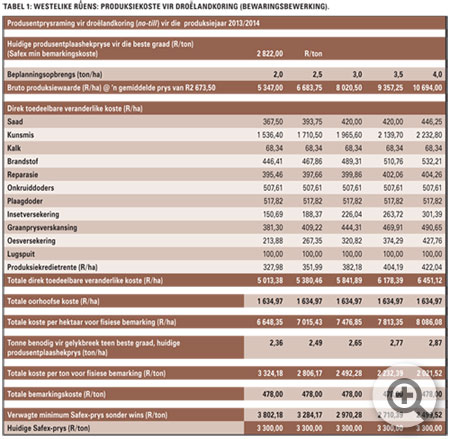 Produksiekoste van droëlandkoring (bewaringsbewerking)

Tabel 1 toon die droëlandkoring (bewaringsbewerking)-begroting vir die Westelike Rûens-gebied vir die 2013/2014-produksieseisoen aan. Tydens die opstel van die begroting, is verwagte pryse gebruik wat dus nog kan verander tot en met planttyd. Die algemene praktyke vir dié spesifieke omgewing is wel in ag geneem.
'n Gemiddelde Desember 2013 Safex-koringprys van R3 300/ton is gebruik, wat min of meer R2 673/ton in die produsent se sak sal beteken ná inagneming van die vervoerdifferensiaal, hanteringskoste en bemarkingskommissie. Die totale veranderlike koste vir 'n 3 ton/ha opbrengs beloop R5 842/ha en tesame met 'n berekende vaste koste van R1 635/ha, beloop die totale produksiekoste ongeveer R7 477/ha.
Ruilvoetverhouding

Koring-/ureumruilvoet
Grafiek 1 toon die hoeveelheid koring wat benodig word om 1 ton ureum aan te koop sedert 1990. Vir die 2013/2014-seisoen (komende seisoen), is die Desember 2013 Safex-koringkontrak (R3 300) gebruik om 'n produsenteprys te bereken.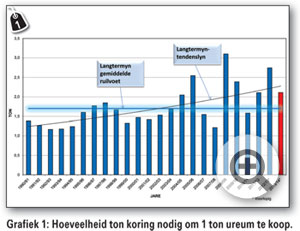 Uit die grafiek is dit duidelik (sien tendenslyn) dat die ruilvoet dramaties sedert 1990 verswak het. Dit is ook duidelik dat die koring-/ureumruilvoet sedert die 2008/2009-seisoen, toe kunsmispryse die hoogte ingeskiet het, verbeter het. Die verwagte ruilvoet vir die komende seisoen lyk heelwat beter in vergelyking met verlede jaar en dít hoofsaaklik as gevolg van die relatiewe beter koringprys. Die Desembermaand Safex-kontrakprys vir koring verlede seisoen was rondom
R2 700/ton. Volgens berekeninge is 2,1 ton koring tans nodig om 1 ton ureum aan te koop.
Koring-/dieselruilvoet
Dit is nie net die koring-/ureumruilvoet wat beter as verlede jaar vertoon nie, maar ook die koring-/dieselruilvoet. Grafiek 2 dui aan hoeveel koring benodig word om 1 000 liter diesel aan te koop. Uit die grafiek (tendenslyn) kan gesien word dat die koring-/dieselruilvoet sedert 1990 verswak het, maar dat dit beter as verlede jaar is. Die langtermyn gemiddelde ruilvoet is 2,4 ton koring vir 1 000 liter diesel, terwyl die verwagte ruilvoet vir die komende seisoen 3,8 ton is.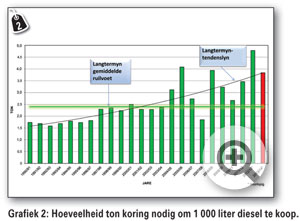 Koring-/trekkerruilvoet
Grafiek 3 toon aan hoeveel koring benodig word om 'n trekker van tussen 70 kW en 80 kW aan te koop. Die gemiddelde koring-/trekkerruilvoet sedert 1990 is 199 ton koring, terwyl die verwagte ruilvoet vir die komende seisoen minder as die gemiddeld is en 'n tonnemaat van ongeveer 180 is.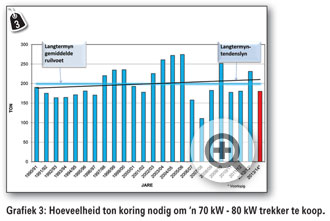 Om op te som

Dit is belangrik om te weet waarvoor jy jou inlaat voordat jy enige besigheidsbesluite neem. Netso is dit belangrik om te weet hoeveel dit jou uit die sak jaag om koring te produseer en wat gedoen moet word om hierdie koste te verhaal. Koringprodusente neem besluite deur gebruik te maak van huidige- en voorseisoenkontrakpryse vir koring. Daar word egter hoofsaaklik na Desembermaand se kontrakpryse gekyk en beplanning word dan daarvolgens gemaak. Sedert verlede jaar April, tot hierdie jaar April (net voor planttyd begin het), het die Desembermaand Safex-kontrakprys vir koring vanaf rondom R2 700/ton tot rondom R3 300/ton gestyg.
Dit is 'n styging van sowat 22% en dit bring mee dat die winsgewendheidsposisie van koringproduksie relatief beter is as 'n jaar gelede; selfs met die inagneming van stygende insetkoste. Produsente word egter steeds aangeraai om deeglike somme te maak voor hulle met aanplantings begin. Kontak Graan SA gerus vir die jongste insetpryse en produksiekosteberekeninge.