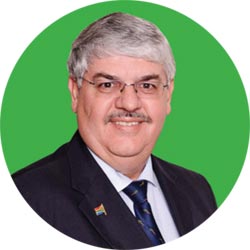 What type of yield is expected of you this year?
The Christmas message for this year takes me back to the pictures of so many families around the kitchen table in the evening, praying for rain during this past dry season. It was a time of the renewal of our relationship and dependence upon God.
The first rains this season literally woke all of nature from the dead. Abundant life in places where we would have thought everything was dead. This is also the message for Christmas: God, the Father, looked at this world that was dying of sin and decided to send us 'rain' in the form of His only Son, Jesus. With this He brought life to what appeared to be dead.
Hierdie Kersfees is 'n tyd waarin jy moet toelaat dat Jesus deur die droë gebarste plekke in jou lewe inloop om weer nuwe lewe te bring. Deur die barste van ongeloof en stukkende verhoudings. Binne-in die krake van ongeduld en onvriendelikheid. Sy Seun is ook die genesing vir jou hart, wat die grond is vir die vrug in jou lewe – waarna die ware Landbouer so uitsien!
Dalk was die droogtejaar vir jou ook 'n tyd van rus soos 'n oorlêland wat in die nuwe seisoen meer vrug moet dra. Spandeer hierdie Kersfees deur met God te praat oor Sy verwagtinge vir dié spesiale oorlêland. Lees sy Woord. Vra vir jou huweliksmaat om weer die lang weergawe van sy/haar drome vir die lewe met jou te deel en speel met jou kinders of kleinkinders op die mat.
Wees jy ook reën, soos Jesus, vir ander se droë harte wat smag na uitkoms. Dalk is dit net 'n woord van bemoediging, 'n telefoonoproep na iemand waarmee jy die afgelope jaar nie gepraat het nie, of dalk 'n geskenk vir iemand wat ure in gebed vir die Here iets spesiaals gevra het.
This Christmas you should create an opportunity for God to provide 'rain' to your heart through his Son Jesus and in so doing be a blessing onto others.
Jannie de Villiers
CEO: Grain SA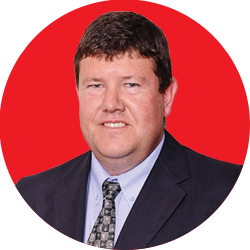 'n Tyd van refleksie
So aan die einde van die jaar kom daar gewoonlik 'n tyd van rustigheid. Vir party is dit die einde van die seisoen, vir ander is dit die afwagting van die oes wat in die grond is en om te sien wat daarvan gaan word; en vir ander is dit die bekommernis oor al die vakansiedae en bewerkings wat nog tussendeur gedoen moet word. Vir sommige lê die reis na 'n vakansiebestemming voor; ander pas die huis op.
But around Christmas everything quietens down and your thoughts take you down another road. Christmas is a time of reflection, of thinking back upon the past year. We think back on our farming enterprises and how we fared. Did we make the correct decisions; did we put them into actions and what were the good and the bad of the past year? Did we make the correct marketing decisions; did we plant? It is a time to consider if what we do is still what we want to do and if it is still worth the while?
It is a time to reflect on politics and to try and make sense of it all. It is clear that there is a change in the world with regards to peoples' attitudes towards their leaders. Leaders are called upon to fulfil their responsibilities. And consequences are suffered. Individuals demand their rights, but the premise is that everybody should think like them. Tolerance towards people of another class, colour, ethnic group, nationality and even gender is in decline.
Kerstyd is ook tyd van families en vriende. Ons mis diegene wat nie meer met ons is nie; ons bou weer aan familiebande en ons onthou die goeie herinnerings en goeie tye, maar ons reflekteer ook weer oor ons prioriteite. Doen ons genoeg vir ons families, eggenote en kinders? Spandeer ons kwaliteit tyd saam met hulle, bestuur ons ons tyd of word dit bestuur?
Ons reflekteer oor dít waarvan ons hou en dít wat vir ons kosbaar is. En hierdie is juis dít wat ons laat dink aan die toekoms – dít wat ons wil behou en dít wat ons wil verander. Dít is die tyd waar ons die plan vir die komende jaar in ons gedagtes formuleer en 'n strategie – veral vir onsself – bepaal.
Kersfees is juis dié tyd wanneer ons dink oor waar ons krag deur die jaar vandaan gekom het. Hoe het ons dit gemaak tot hier? En ons kan dan nie anders as om te sê deur God nie! Hy het ons gelei, soos Hy in Sy Woord belowe. Die digter van Psalm 23 het dit ook besef toe hy begin rustig raak het – toe die kalmte oor hom gekom het. En dan word ons weer herinner aan Kersfees en Sy meesterplan vir ons – sonder dat ons dit verdien.
Mag hierdie Kerstyd vir elkeen 'n tyd van refleksie wees – 'n tyd van vrede, maar ook 'n tyd wat ons opnuut weer bewus raak van God se krag en almag! Aan God al die eer!
Jaco Minnaar
Voorsitter: Graan SA