Kan te veel van 'n goeie ding ooit sleg wees?
August 2017


Jannie de Villiers, uitvoerende hoofbestuurder
Ek het regtig arm grootgeword. Daar was meestal genoeg om van te lewe, maar bykans nooit te veel nie. Tog het my ma my iewers in my lewe die les geleer van "te veel van 'n goeie ding is nie goed nie" – soos te veel lekkergoed eet en koeldrank drink by 'n partytjie van die ryk kinders op die dorp. Dan kry jy maagpyn en kan selfs naar raak met negatiewe gevolge.
Ons droom jaar na jaar van oorvloedige oeste en bid dit vir mekaar toe as die plantseisoen aanbreek of met verjaarsdae. Nou is ons daar wat die somergesaaides betref. 'n Oorvloed inderdaad! Kan te veel van 'n goeie ding ooit sleg wees?
Die oorvloed van mielies het beslis buitengewone uitdagings. Die tapkarre kreun, die vragmotors raak vol, die silo's loop oor, maar die bankrekeninge bly leeg. Hoe moet 'n mens dan só 'n situasie beoordeel?
Dit is te vroeg om alreeds oor die seisoen terug te kyk, maar laat ons begin deur dankbaar te wees. Dieselfde lande wat nou rekord­oeste vir die meeste van ons oplewer, was 'n paar maande gelede bykans weggewaai. Dit was 'n lang proses om verlede jaar se tapkarre vol te kry. Ons silo's moes vir vreemde mielies van ver lande af plek maak.
Graan SA was nog in die middel van droogtehulpgesprekke en nuwe navorsingsplanne om droogtebestande- en hittebestande mieliekultivars van oorsee af in te bring, toe die produsente die reset-knoppie druk en ons uitvoermarkte moes begin soek. Hierdie gebeure en uiterste skommelings het gemaak dat bemarking van mielies selfs belangriker geword het. Dit is beslis een van die duurste lesse wat ons uit hierdie oorvloedjaar geleer het. Die pryse maak seer, diep seer!
Die aanhoudende oproepe by ons kantoor vir opleiding oor hoe om beter te verskans, is duidelike bewyse daarvan. Hopelik is die
reaksie op die afgelope twee jaar van uiterstes – nuwe navorsing om droogte die hoof te bied en beter kundigheid om prysrisiko te bestuur – die kombinasie wat nodig is om volhoubaar te bly.
"Om te weet of nie te weet nie," is die koringtarief se storie. Na 'n uiters suksesvolle hofsaak om die staat te dwing om die ou koring­tarief aan te kondig, het die Minister versoek dat die hele tariefstelsel weer ondersoek word. Hulle was van mening dat die tarief te hoog is.
Hoë voedselpryse, 'n swak wisselkoers (en ons weet wie dit veroorsaak het) en 'n verkiesing was die hoofdrywers van hul besluit.
Graan SA het ure en ure lank dokumente opgestel en onderhandelings gevoer. Ons hoofdoel was om die model te behou en die tarief so hoog as moontlik te hou – veral met die wete dat die staat net een doel voor oë gehad het – dit moes laer!
Die spanning in die koringbedryf was op breekpunt en die leiers was later van mening dat 'n laer afgekondigde tarief nou beter gaan wees as om dit nie te publiseer nie. Laat die onsekerheid net ophou, het hulle gevra. Niks het verhandel nie.
Die finale uitkoms daarvan was toe laer, maar nie soveel laer as wat ons op een stadium verwag het nie. Dat sommige produsente dit nie te wagte was nie, plaas vraagtekens oor ons kommunikasievermoëns, of produsente se leesvermoë. Die markte het vir maande lank gaan staan om te wag vir die aankondiging wat net een uitkoms kon hê, maar nogtans was dit 'n verrassing vir sommige van ons.
Deel van volhoubaarheid is beslis om te lees en jou ore oop te hou – veral as dit oor die pryse van jou produkte gaan. Ten spyte van beter landboutoestande, trek die meeste graanprodusente swaar.
Ons planne is nog nie op nie. Hou moed, produsente!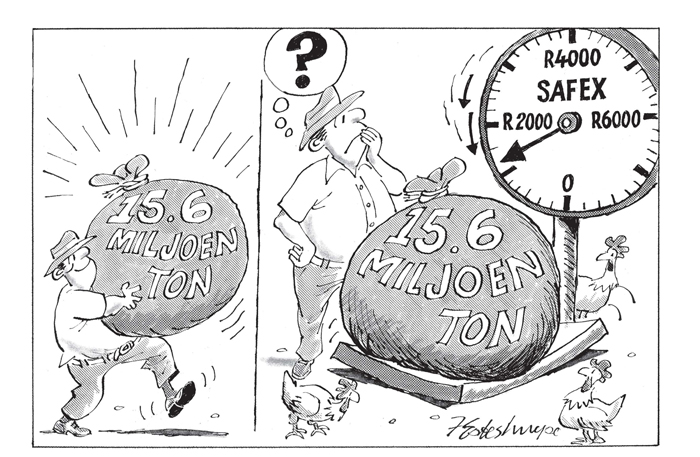 Publication: August 2017
Section: Features