RUTH SCHULTZ, SA GRAAN/GRAIN CONTRIBUTOR
"In the first DNA lecture that I attended at university, I immediately 'fell in love' with genetics – it was like love at first sight. I was absolutely fascinated with the workings of DNA."
This is how Dr Lukeshni Chetty, who is the general manager of The South African National Seed Organisation (SANSOR) since October last year, describes her first acquaintance with genetics.
Lukeshni boasts a BSc in Genetics and Biochemistry, BSc Honours in Genetics, and MSc in Genetics with distinction and a PhD in genetics. She has presented at numerous industry events, is seen as a leader in the industry by her peers and many of her papers have been published.
While completing her PhD in 2008, she started working at the South African National Biodiversity Institute (SANBI), where she was appointed as the deputy director for GMO research and monitoring. One of her biggest projects at SANBI was to manage a postcommercial monitoring system. This entailed massive research collaboration between South Africa and Norway. The South African government received a large sum of money which they gave to SANBI for research. Lukeshni and her team decided to do environmental impact research on Genetically Modified Organisms (GMO) in a post-commercial context. They made recommendations regarding monitoring to the Executive Council of GMO's, and they also established a framework for monitoring Bt maize.
Her interest in biotechnology

Lukeshni knew that this new technology would have great benefits for South Africa, but only if it was well managed. "I knew how the crop and technology were managed in Europe and in the USA and I knew what their environmental impact studies entailed, but I realised that we did not have enough research in a South African context to support this new technology," she explained.
Her philosophy and policy ever since she was a student, is to be fearless in doing research on controversial issues. "The best way to deal with a problem, is to enquire the question that concerns people's hearts so deeply and present them with the results."
One of her publications in her early PhD days was named Biotechnology: Friend or Foe? "The questions about biotechnology are so distant from one another," she says. "Nobody was actually looking at what the benefits are of this new technology; and if it is not a benefit, how do we manage it?"
She points out that GM technology has been portrayed as the silver bullet into Africa, however it is not GMO's alone that will solve the problems. "A farmer can produce tons of GM-maize, but that alone will not ensure that you will have a bowl of porridge on your table. There is a gap in between that we need to solve. Agriculture is a multifaceted discipline – it involves economics, skills, technology and political will. All of these facets must be used to make a difference in our country."
Biotechnology is like a motor vehicle

Lukeshni makes the following analogy: "Biotechnology has great benefits, but is similar to a motor vehicle: If you are irresponsible and drive intoxicated, you will have to face the consequences. We have hundreds of deaths every year on our roads, but we spare no costs in the development of the motor vehicle, its licensing or the stringency in obtaining a driver's licence. We ensure that there are measures in place for proper road infrastructure and drivers are monitored by traffic officers. Similarly any new technology requires monitoring and regulation. Everything we want is new, faster and better. Any technology will have its benefits for mankind if it is used wisely and managed well – and that was the basis of my PhD."
Lukeshni realised what the benefits of GM technology were when she visited a 60 year old female farmer during her student years. "The positive impact of GM technology on her farm really moved me and I knew that there was no way that this woman could have survived with a conventional crop." However, Lukeshni still maintained her management strategy, which is that support and communication is vital for biotechnology.
A fresh breeze

Mr Brian Lever (chairman of SANSOR) said in a press release that SANSOR is delighted to have Lukeshni as part of their team. "She brings fresh ideas and a new approach at a time when the farming industry itself is facing a number of challenges due to climate change, land availability and economic support," he said.
SANSOR's mission is to act as a representative of the seed trade, protect and promote industry interests, serve as a secretariat and render specific services to its members.
"I see my appointment at SANSOR as a big challenge that affords me the opportunity to work towards greater goals in the agricultural sector. I have always been very passionate about African farmers and food security," Lukeshni said.
Although she is still in the process of putting her goals for SANSOR on the table, she believes it is time for SANSOR to change. "SANSOR is currently an extremely administrative organisation. I think SANSOR needs to play a strong role in showing off the benefits of agriculture to South Africans in general, by starting off with articles like this one, attending meetings, conferences and workshops.
"Capacity development, supporting students in agriculture and encouraging students to look at agriculture as a career, are other ways in which SANSOR can play a more important role. People do not realise how much of their lives are dependent on agriculture – from the clothes you wear to the chair you sit on."
Lukeshni would like to change the image of agriculture. "If people hear the word agriculture, they think you need to be a farmer. However, agriculture is not only somebody that has a farm or works on it; it is also somebody that works in an office or laboratory. This sector needs more women on all levels, including plant breeders, as well as younger people." She says that SANSOR is in a fortunate position where it can collectively represent the seed industry; which she regards as a very powerful position to be in.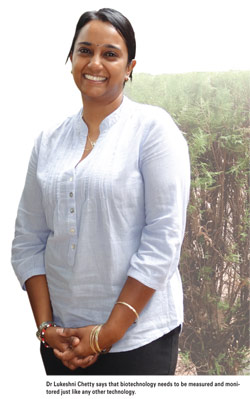 Farm-saved seed

Lukeshni's predecessor at SANSOR had started discussions with Grain SA to reach an agreement with government regarding where to draw the line in the retaining of seed. "I can empathise with farmers that want to save seed, but retaining seed does not benefit the general agricultural sector."
She furthermore says that someone has spent a lot of time, energy and effort to develop a certain cultivar. "That person should be acknowledged and if you remove that acknowledgement, you hinder development. However, it is still very early stages to say what the state of affairs is, but farm-saved seed is on the agenda for discussion."
Meeting her members

Not only does SANSOR have a new general manager with new ideas, but also new offices since December last year. "As a highly motivated individual, who is passionate about this industry, I am looking forward to my new role at SANSOR, and in particular working with our members to create improvements in agriculture for the benefit of all of us and the country as a whole."
In the next few months she will be visiting her members on a one-to-one basis to openly engage with them. "One happy member, is one more happy member!" says Lukeshni.