LOUISE KUNZ, SA Graan/Grain contributor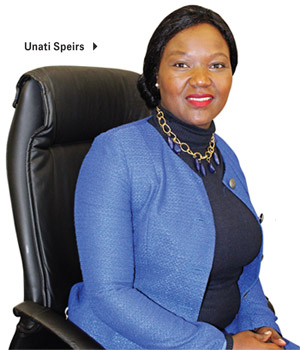 Albert Einstein once said: "We cannot solve our problems with the same level of thinking that created them." This may well be why Unati Speirs, the chief director: Agro-processing at the Department of Trade and Industry (DTI) has been so successful in her career. To her, a problem poses an opportunity.
The future of agriculture in South Africa

When asked if she believes that agriculture in South Africa has a future, she answers: "Yes, definitely, but we do need a food identity, dishes that are true to our heritage."
She explains that South Africa needs to include food as part of tourism because at the base of it is agriculture. "A food map will attract more international visitors to South Africa."
Products which in the past have been considered to be part of South Africa's food heritage have been "hijacked" by the global markets and as a result have created trade barriers, for example port, champagne and salami.
With the DTI's involvement, a food register is being created so that South African food sources, like rooibos tea, can be protected.
She sees agriculture as one of the most secure enterprises into which a person can venture, as people have to eat. "It is a shame that there are so many negative connotations to agriculture which detracts from it," she expands on the topic.
As a result of being considered a high risk, she views financial support as one of the biggest challenges agriculture in our country faces. She also feels strongly that agriculture should be promoted at school level especially those areas of business that are linked to agriculture and that supports the industry, but are outside the farm, such as biotechnology. This will help align the youth's view on where final products come from; where they originate from. "A lot of children think milk and meat come from the supermarket," she adds with a smile.
The DTI supports farming activities that are linked to manufacturing. Unati says: "Our incentive scheme has been growing yearly and we are not solely supporting big projects, but growing our incentive scheme so that small enterprise can also benefit from it. To me, subsidies are a non-progressive way of giving money, whereas incentives motivate people." If management skills are developed, smaller enterprises will prosper. She would also love to see more women involved in the farming industry.
Agro-processing

Innovation is a big part of the DTI's functionality. Part of Unati's job entails her involvement in the new product development environment. An example of this is the recent addition of a prepared, ready to eat chick pea and a potato canned product that has been introduced in the market. Being a practical mother, she has also been involved in creating baby food in a tube. This innovative product will save time and prevent the contamination of the food in a jar.
Furthermore she is also involved in international trade support and does a lot of regulatory work. Currently she is rewriting the sugar act – legislation that has not been changed since 1978 although it was amended twice in the eighties. Reviewing legislation to assist trade on the international and domestic markets is on her task list. "We have also started with training sessions in the informal sectors so that it can be run to higher standards," she mentions.
She further explains the role of the DTI as follows: It is there to promote economic growth in South Africa with its key focus being the broadening of participation across all industries to the benefit of the economy and the country as a whole. "Our sector has the potential to uplift our economy. Our role is to strengthen production and to ensure that there is capacity to process or to add value," she explains.
Agricultural issues

To Unati, issues like job creation, food security and land reform are tied together in access to land. She firmly believes that if well-managed, these issues could be resolved in a peaceful manner. "The relationship between the farmer and the farm worker should be one of participation in a community conversation. It is not necessary for outside sources to dictate what should take place. We should learn from Zimbabwe how things should not be done. The government should facilitate this dialogue. It is time for us to leave the past behind and move on."
Contrary to popular belief, the urbanisation of rural populations often leads to poverty as opposed to the expectation of prosperity and better lives. "We have to enhance our rural economy so that urbanisation is limited," she states, and continuous: "If a child has an option of ownership in the area where he was raised, it will bring security." She also feels strongly that attempts should be made to skill people in their surroundings and not to allow skills like sheep shearing and vine pruning to become non-progressive because of money issues.
She views commodity organisations such as Grain SA as agriculture's support system and the voice of the farmer. They are involved in giving policy direction to the DTI and government and the services they offer are very important in aligning the industry as a whole. "Their role is fundamental in the growth and enhancement of the agricultural industry," she supports her statements.
Personal history

Unati was born in East London, where she also matriculated before moving on to further studies. She completed a BSc at the University of Fort Hare and obtained a law certificate at the University of Cape Town as well as a diploma in Project Management through Damelin College. She is currently studying MSc(Agric) through Unisa and trusts that she will graduate at the end of this year.
She started working as a project co-ordinator at the Canon Collins Foundation Rural Development project and then decided to gain some international experience when she worked as a teacher at a Calloway High School in the USA and also at the Post Office in the Netherlands.
Upon her return to South Africa, she joined the South African Institute of Chartered Accountants (SAICA) as regional manager. For the next six years she was in charge of the Eastern Cape and involved in pioneering the Thuthuka Project, which assists black students to become chartered accountants. Her next stop was as agri-business sector manager at the East London Industrial Development Zone (ELIDZ), where she was tasked with attracting investors for the agro-processing sector into the Eastern Cape.
Her accolades include:
Being chosen as a delegate for the United Nations to represent South Africa in a UN investment promotion initiative. Unati had to travel around the world promoting investment in South Africa.
Business Women's Association (BWA) regional award (in the corporate category).
Award by the SA Poultry Association for her contribution to the industry, which she received on 10 June this year at a function at Emperor's Palace in Johannesburg.
Women matter

Her wish for women during Women's Month is that women will come to the forefront and get involved. "I believe that women will help bring about change if they start participating at any level," she says. "Join the neighbourhood watch if necessary and help prevent crime," she continues.
How does this energetic lady balance her career and family life?
"I always laugh when I get asked that question, as it is not a question men ever get asked!" She explains that she tries to maintain a balance by prioritising. Her mother is her role-model because of her perseverance. "She has been running a school for 33 years – a school that she had to build up from nothing after they were abandoned on the roadside in South Africa. She never gave up and has been an inspiration to me and her community."
How should people remember Unati Speirs when she is no longer around? "As an honest, practical, real woman: If there's a problem, I want a solution," she concludes."