Hou die lemme skerp
January 2016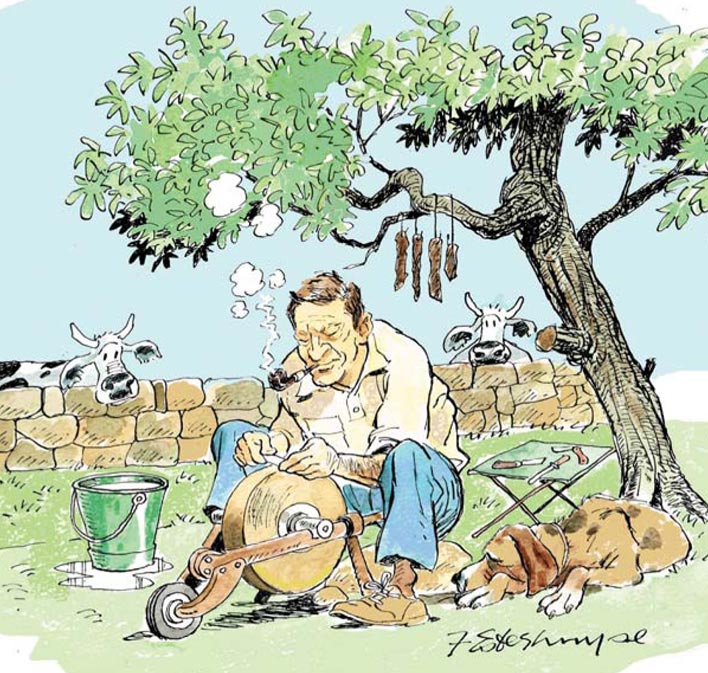 Beste Grootneef,
Ou Neef, vanmiddag laat het 'n buitjie reën by die bure verbygetrek. Ons kon die reën op die oostewind ruik, maar by ons is dit nog steeds bitter droog. Miskien kry ons vanaand 'n bietjie reën. Of dalk môre.
Die veld is asvaal en die skape kry swaar. Ons voer maar elke dag met laasjaar se mielies, net om die diere deur die ergste te kry. Die skape kom al aangedraf as hul die bakkie sien. Soos die streep mielies val, tel hulle dit pit-vir-pit op. Die ergste is om die hek weer toe te maak, met die trop wat blêr vir nog. Die veld lyk soos winter. Hopelik kom die reën gou.
Ou Neef, 'n goeie vrou, 'n goeie hond en 'n goeie mes is skaars. 'n Mens moet dit mooi oppas. Veral 'n goeie mes moet gekoester word.
'n Mes in die broeksak is naderhand deel van 'n man. So gerusstellende teenwoordigheid met die wete dat 'n onverwagse braai jou nie onverhoeds sal betrap nie. Want met 'n mes in die sak, is jy immer paraat – of dit nou vir naels skoonmaak of biltongkerf is.
Ou Neef, in toeka se dae was my eerste mes 'n BEST. In die volksmond het ons sommer gepraat van 'n "baas ek sny tog!" So 'n swart blikhef met silwer letters op die geriffelde kante. 'n Regte "parraslagter". Met dié BEST-mes is alles van 'n kettiemik tot 'n hond se stert afgesny. Die lem was naderhand so dun soos 'n els geslyp. Later jare het 'n egte Kershaw in my sak beland.
Sonder 'n behoorlike slypsteen, bly 'n mes maar 'n stomp voorwerp. En 'n stomp mes is net so erg soos 'n krip sonder water. Oupa Willem het destyds vir drie dae lank met 'n skeerder uit Lesotho onderhandel vir 'n slypsteen met 'n baie fyn grein. Einde ten laaste, op die dag wat die skeerspan na die volgende plaas versit het, is die transaksie beklink. Een slypsteen vir 'n sjieling en 'n sak mielies! Die slypsteen is as trofee op die suidestoep geplaas en al wat slagmes of knipmes was, is op die steen geslyp.
Die kuns was om 'n handvol water oor die slypsteen te drup, net om die klip en staal mooi met mekaar te versoen. Die mes is dan met duim en voorvinger op dieselfde hoek gehou en met reguit hale oor die steen getrek. Altyd weg van jou, nie heen en weer nie. Wanneer die water op die klip so gryserig geraak het, het jy geweet die klip se grein en die mes se lem praat saam. Die lem kon jy met jou duim voel-voel, tot jy geweet het jou mes is slaggereed!
Geen mes hou daarvan om stomp te wees nie. Vanmelewe tot vandag trek ek maar die lem elke week oor dieselfde slypsteen. Net om seker te maak dat daar nie gesukkel word om 'n skaaptjoppie vas te keer nie. En as jou vingers lekker vetterig is na 'n vleisie, olie jou mes alkant toe met die vetjie. Vryf dit in en poets dit met jou hoed. Jou mes se hef kry oor jare daardie diep glans en sal jou beloon om sy werk in enige wind of weer te doen.
Met die nuwe jaar in sig, sit en kerf ek vanaand aan 'n laaste 2015-blesbokbiltong. Salig man. Sulke dun skyfies, jy sien amper dwarsdeur. En met vingerpunte op die bekende knobbels van die hef, raak mens eintlik aan 'n tydgleuf van toeka, toe jy as laaitie met dieselfde mes 'n biltongetjie gekerf het. Dis maar net die vingers wat effe ouer voel.
Ou Neef, hou maar daardie knipmes vlymskerp vir 2016. 'n Mens weet nooit vooraf of jy 'n seningbiltong uit die sak van die lewe trek nie. En dan moet jy nie met 'n stomp mes sukkel nie.
Groete op die Oosgrens!
Kleinneef
Lesers is welkom om 'n e-pos aan Kleinneef te stuur by kleinneef@graingrowers.co.za.
Publication: January 2016
Section: Features