Hoë opbrengs in goeie en swak seisoene
March 2017

ROBBIE LINDEQUE, LNR-Kleingraaninstituut, Bethlehem
Die LNR-Kleingraaninstituut (LNR-KGI) het 'n nuwe droëlandkultivar vir die Vrystaat geregistreer wat hoë opbrengs en graankwaliteit in goeie en swak seisoene verseker.
Die vrystelling van Kubetu is deel van die LNR-KGI se voortdur ende strewe om koringverbouing meer kompeterend en volhoubaar deur middel van hul teelprogramme te maak. Die produksieomgewing vir koring, wat deur 'n produsent op sy plaas geskep word, is egter die sleutel wat bepaal of die winspotensiaal van 'n kultivar ontsluit word of nie.
Die hoofboustene wat gunstige groeitoestande vir koringplante skep, word gedefinieer in genoeg sonlig en koue, voldoende voedingstowwe en voldoende beskikbare grondvog. Tydige en korrekte grondbewerkings vir optimale vogbewaring en regstelling van grondsuurheidsvlakke begin al maande en selfs seisoene voor die tyd.
Hiermee saam moet 'n koringprodusent ook noukeurige kultivarkeuses maak en dan hou by die optimale plantdatums van die spesifieke kultivars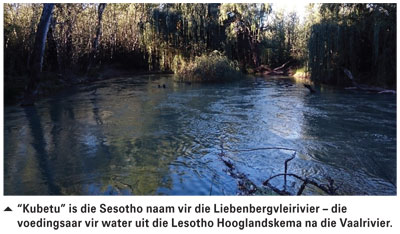 Opbrengspotensiaal
Die gemiddelde opbrengsrangorde van Kubetu in streekproewe in die Oos-Vrystaat was tweede in die vroeë aanplanting van 2015 en laat aanplantings in beide 2014 en 2015 en blyk goed aangepas te wees vir beide plantdatums (Tabel 1).
Hierdie nuwe vrystelling neig na 'n intermediêre groeitipe met 'n medium kouebehoefte. In die warm winter van 2015, waartydens vele wintertipekultivars (langseisoengroeiers) nie genoegsaam kon vernaliseer nie, het Kubetu steeds volkome oorgeskakel vanaf die vegetatiewe fases na die reproduktiewe groeifases.
Winspotensiaal
Die potensiële winsgewendheid van Kubetu is uitstekend, aangesien hoë opbrengspotensiaal ondersteun word deur goeie graankwaliteit In die kwaliteitsevaluasies wat in 2014 en 2015 deur die Suid-Afrikaanse Graanlaboratorium (SAGL) gedoen is, vergelyk Kubetu gunstig met Elands, wat die kwaliteitstandaard van droëlandkoring in die somerreënvalgebied is (Tabel 2).
Die gemiddelde hektolitermassa van Kubetu is hoër, met die valgetal effe laer – wat dui op meer ensiemaktiwiteit en proteïeninhoud, wat ook laer is as vir Elands.
Volgens die graderingstabel sou Kubetu egter steeds 'n B1-graad in beide 2014 en 2015 behaal het ten spyte van die laer parameters. Hierdie kombinasie van hoë opbrengs en goeie kwaliteit is noodsaaklik om hoë winspotensiaal (R/c) te verwesenlik (Sien SA Graan/ Grain April 2016, bladsy 58 tot 60).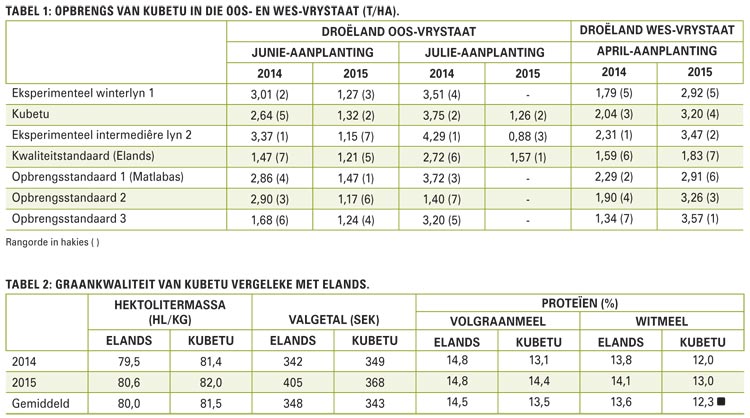 Agronomiese eienskappe en roesweerstand
Die gemiddelde koleoptiellengte van Kubetu is ongeveer 83 mm, wat dieper plant in Oos-Vrystaat-gronde moontlik maak, maar ook voordelig is in voorkoming van toewaai van saailinge in die Wes- Vrystaat. Kubetu se uitloopweerstand, wat by die LNR-KGI getoets word, is in 2015 geklassifiseer met uitstekende weerstand teen uitloop in die aar. Dit bied die bykomende waarborg van goeie kwaliteit in nat oestye.
Roesevaluasies in 2016 (gedoen deur die Universiteit van die Vrystaat) dui daarop dat hierdie kultivar matig weerstandbiedend teen geelroes en blaarroes op volwasse groeistadium is.
Hoë graanopbrengs bly die primêre vereiste vir volhoubare koringproduksie in Suid-Afrika. Dit is egter belangrik om te onthou dat graankwaliteit, soos in die graderingstabel vir broodkoring uiteengesit, saam met opbrengs die winsgewendheid van koring bepaal.
Kubetu voldoen aan beide vereistes en beloof om koringprodusente in die somerreënvalstreek 'n gepaste alternatief in kultivarkeuse te bied.
Publication: March 2017
Section: Focus on