Hoe gemaak met onkruidbeheer in 'n wisselboustelsel met grondbone?
February 2016

MARLENE VAN DER WALT en ELBÉ HUGO, LNR-Instituut vir Graangewasse, Potchefstroom
'n Breë spektrum van onkruide is gewoonlik teenwoordig in grondboonaanplantings, waarvan die intensiteit van voorkoms ook kan varieer. Onkruidspesies verskil in groeiprosesse en lewensiklusse, daarom is daar nie slegs een metode van onkruidbeheer wat effektiewe beheer vir alle onkruidspesies gaan verseker nie.
'n Geïntegreerde beheerprogram is dus die beste manier om onkruide suksesvol in grondbone te beheer. Dit sluit in die be sluitneming van die tipe grondbewerking, voeding, kulitvarkeuse en bewerkingspraktyke (inter- en intra-ryspasiëring, plantdigthede en wisselbou) wat optimaal toegepas moet word vir suksesvolle grondboonproduksie.
Voor plant tot en met grondbreking (cracking) kan algehele on kruidbeheer toegepas word met 'n kontakonkruiddoder wat paraquat bevat, of 'n sistemiese onkruiddoder wat glifosaat bevat.
Die beste beheer sal verkry word indien 'n voor-opkomsonkruiddoder ingewerk of toegedien word voor of tydens plant (vooropkomsonkruiddoders), opgevolg met na-opkomsonkruiddoders met 'n breëspektrumonkruiddoder.
'n Skoffelaksie vroeg in die seisoen kan tussen die bespuitings gedoen word om sodoende seisoenslange onkruidbeheer te verseker. Die beheer van breëblaaronkruide in 'n breëblaargewas bly egter steeds 'n uitdaging wat betref die keuse van onkruiddoder, tyd van toediening en moontlike gewasskade.
Onkruide wat gewoonlik hardnekkig is om te beheer in grondbone, is purperwinde (Ipomoa pupurea), wilde lusern (Crotalaria sphaerocarpa), geel en rooi uintjies (Cyperus spp.) en kweekgras (Cynodondactylon).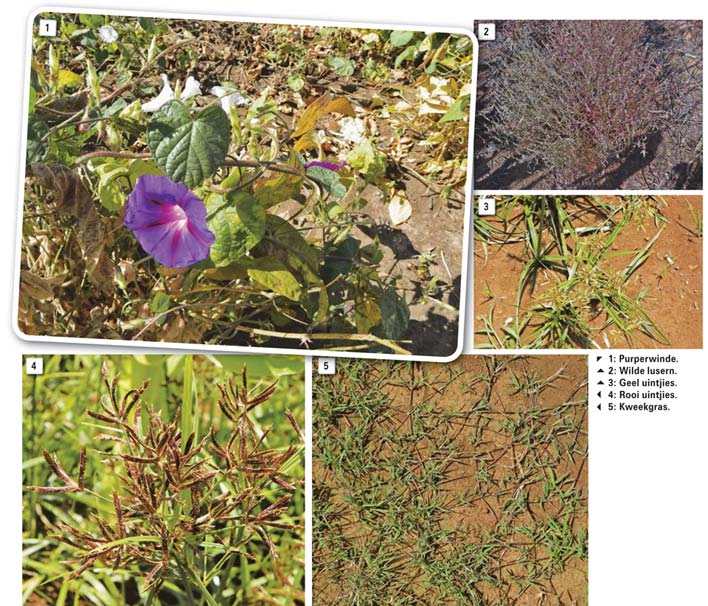 Wanneer getalle van moeilik beheerbare onkruide erg toeneem van een seisoen tot 'n volgende seisoen, sal daar noodwendig meer op onkruiddoders staatgemaak word om onkruidgetalle te verlaag. In Tabel 1 is gepoog om moontlike produkte wat geregistreer is vir die gebruik op grondbone en mielies te groepeer om bogenoemde onkruide te beheer.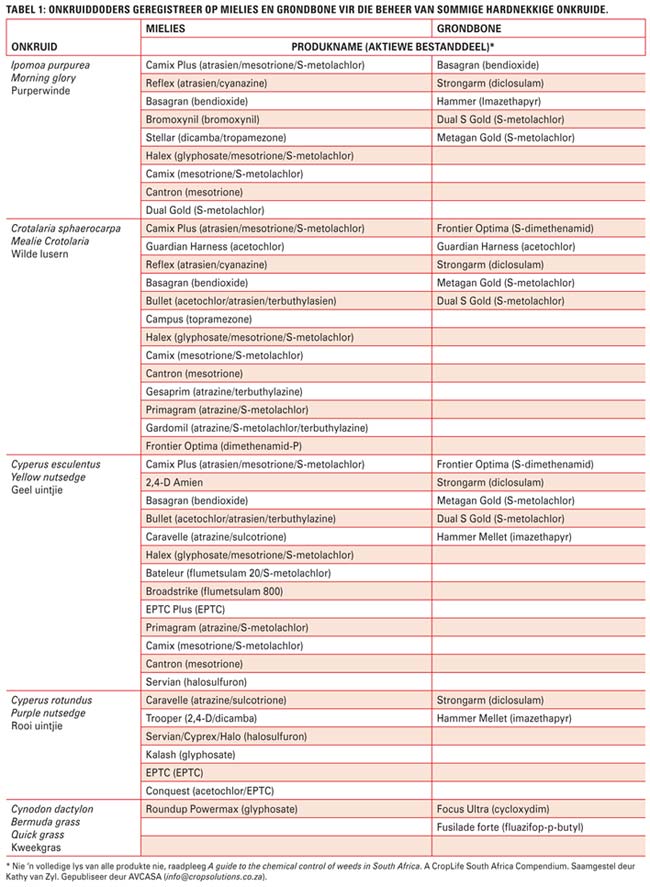 Onkruiddoders in wisselboustelsel
Waar grondbone in 'n wisselboustelsel geplant word, moet produsente seker maak van die wagperiodes van elke produk. In Tabel 2 en Tabel 3 is gepoog om die wagperiodes van sekere produkte, wat geregistreer is vir gebruik op spesifieke gewasse, op te som. Wisselbou met ander gewasse kan ook as 'n beheerstrategie gebruik word vir siektes wat moontlik in grondbone kan voorkom.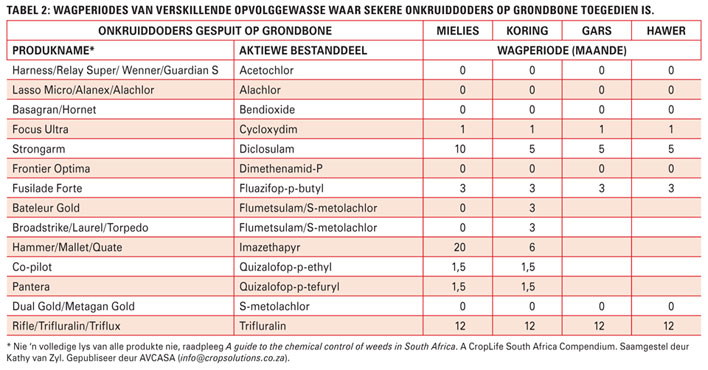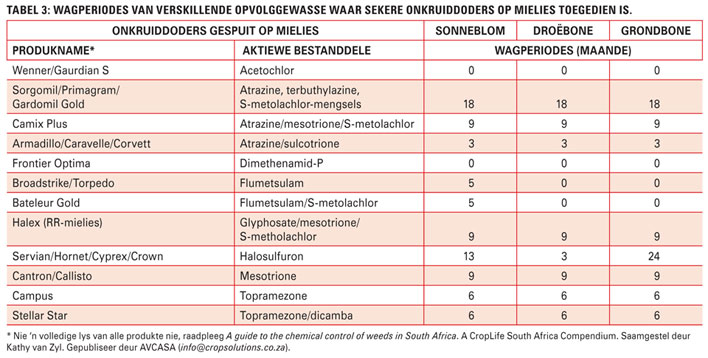 'n Produsent moet dus kophou van watter onkruiddoders op watter lande gespuit word en watter gewasse waar geplant is. 'n Ordentlike stelsel van rekordhouding van waar alle onkruiddoders gespuit is, teen watter dosisse en op watter lande, is van groot waarde wanneer wisselbou toegepas moet word. Wanneer dosisse aangepas word, of selfs gehalveer word, is dit nie 'n aanduiding dat die wagperiodes ook aangepas (gehalveer) kan word nie. Onkruiddodermolekules kan vir lang tye in die grond aktief bly en wanneer genoeg vog in die grond is, of selfs wanneer kalk weer in die grond ingewerk word, kan van daardie molekules aktief raak en nog steeds skade aan gewasse veroorsaak.

Speel maar liewer veilig en hou by voorgeskrewe wagperiodes, veral wanneer daar vanaf mielies na peulgewasse oorgeskakel word.
Vir enige verdere navrae, kontak vir dr Elbé Hugo (HugoE@arc.agric.za) of me Marlene van der Walt (VdwM@arc.agric.za) by 018 299 6100.
Publication: February 2016
Section: Focus on