Hittekanker by sonneblom vanjaar opgemerk
February 2015

ANDRÉ NEL, LNR-Instituut vir Graangewasse en ANDRIES WESSELS, Syngenta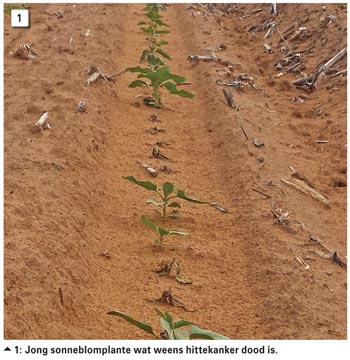 Sonneblomsaailinge wat omval en vrek word van tyd tot tyd gesien. Die bekende snywurm is gewoonlik daarvoor verantwoordelik, hoewel ander insekte ook plante afvreet. Snywurms vreet die jong saailinge se sagte stammetjie af en die klein plantjie is tot niet. By groter plante vreet snywurms aan die stam, maar die plant bly behoue met net 'n letsel aan die stam.
Hittekanker, wat ook stamkanker (stem cancer) heet, laat ook jong plante vrek en het vanjaar op die sandgrond van die Noordwes-Vrystaat voorgekom. Dié sandgrond is veral daarvoor bekend dat dit baie warm kan word, wat die bekende hitteskade en swak opkoms tot gevolg het.
Hittekanker laat jong plante vrek en die skade herinner, soos reeds genoem, aan dié van snywurms. Baie stamme is egter nie af nie, maar 'n duidelike ring waar weefsel vernietig is, is by die grondoppervlak sigbaar. Hittekanker is nie 'n siekte nie, maar is 'n beskadiging van die buitenste weefsel van die stam deur hitte. Indien wind voorkom, knak die stammetjie maklik by die beskadigde gedeelte.
Omstandighede moet net reg wees vir hittekanker om te ontwikkel. Die plant moet nog klein wees en die weer moet 'n hoë temperatuur by die grondoppervlak tot gevolg hê. Jong saailinge (waarskynlik in die vierblaar-stadium of kleiner) is kwesbaar terwyl die weefsel van die stam nog sag is.
'n Droë, digte grondkors kan op die oppervlak tydens warm, wolklose dae so warm word dat dit die weefsel waarmee dit kontak maak beskadig en die stam ringeleer. Die blaaroppervlakte is op dié stadium ook nog te klein om die stam met skaduwee te beskerm.
Die skade of vernietiging van die weefsel is dikwels genoeg om die plant te laat afsterf. Baie plante oorleef, maar 'n kurkagtige letsel ontwikkel aan die basis van die stam wat ook verdik kan wees. Dit bly 'n swakplek in die stam en die plant kan dan op 'n later stadium by die letsel afbreek.
Hittekanker kom gelukkig nie baie voor nie en daar is byna niks wat daaraan gedoen kan word nie. Die enigste wyse om die risiko van hittekanker so laag as moontlik te hou, is om te plant tydens die koeler deel van die seisoen, wat voor die middel van November is.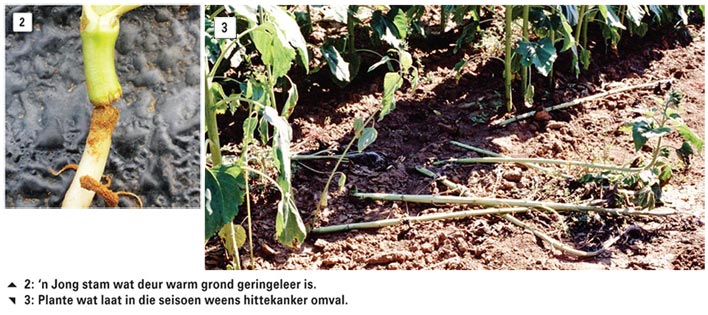 Publication: February 2015
Section: On farm level