Hans lê finaal sy pen neer
July 2016

MAGDA DU TOIT, Monsanto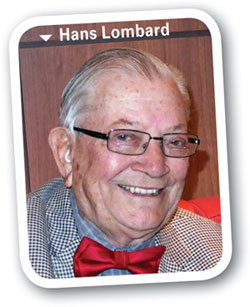 Om volstoom te kon werk tot op 90-jarige ouderdom, sit nie in enige een se broek nie. 'n Legende en bekende in die politieke en landboukringe het gegroet op die wonderlike ouderdom van 90 jaar. Tot siens, Hans Lombard. Ek wil graag my huldeblyk begin deur Hans se eie woorde uit 'n brief wat hy vir my na sy 90ste verjaarsdagete vanjaar gestuur het, te gebruik. Na my mening sê die woorde in daardie brief presies wie en wat Hans was. Ek kan dit nie beter uitdruk nie en dink dit is gepas om dit te gebruik:
"Graag betuig ek in nederigheid my innige dankbaarheid vir die wonderlike funksie met my verjaarsdag. Dit was 'n groot verrassing en 'n wonderlike ervaring. Dankie vir al die mooi woorde. Of ek dit alles verdien, weet ek nie.
"My pen kronkel maar sy pad deur die ink en streef geen eer na nie. Die eer wat Monsanto my en my vrou, Magriet, aangedoen het, word hoog waardeer. Dit is 'n inspirasie om altyd net my bes te probeer om die taak wat my opgelê is, met nougesetheid na te kom.
"Die juk is op die skof. Die reën sak uit in die Vrystaat en die mielies staan klopdisselboom in die aandskemerte van die droogte."
Hans was vir ons almal 'n inspirasie om altyd ook ons bes te doen en om die taak wat ons opgelê is, met nougesetheid na te kom.
Hans Jurgens Lombard is in 1926 op Cradock gebore. Van 1952 tot 1958 het hy by Die Transvaler en Die Vaderland as joernalis gewerk en in 1958 het hy na Londen in Engeland verhuis waar hy op Afrikapolitiek en die onafhanklikheid van Afrikastate gefokus het.
In 1961 publiseer hy sy boek Straalvlug na die Ooste. Hy word in 1966 aangestel as politieke redakteur van SA Financial Gazette en keer terug na Suid-Afrika. In 1969 word hy as direkteur van Lindsay Smithers Skakelkonsultante aangestel. Sy landboukliënte het ingesluit John Deere en Ciba Geigy. Hy het ook vorendag gekom met daarstelling van die Gouevag/Golden Fleece-toekenning vir die land se topwolskeersel.
In 1973 het hy Hans Lombard Skakelkonsultante gestig en was hy deur die jare betrokke by die loods van onder meer: Avcasa, BKB, die LNR, Sansor en NAMPO (nadat eenwording in die mieliebedryf bereik is). Hy het die konsep van Mielieman van die Jaar geïnisieer en het ook die eerste borg, Three Ships Whisky, verkry. Verder was Hans ook betrokke by die bekendstelling van Afrika se eerste gekloonde kalf, "Futhi".
Hy het 'n groot rol gespeel in die stigting van die Johannesburgse Persklub en was 15 jaar lank voorsitter daarvan. In 1977 was hy ook een van die stigterslede van die Landbouskrywers SA. Ons almal kan vandag aan honderde staaltjies van Hans dink – en dit is wat hom so besonders gemaak het. Maak nie saak waaroor die gesprek gegaan het nie, Hans was altyd reg met 'n storie!
Wat 'n groot voorreg was dit nie om hom te kon ken nie en nog groter die voorreg om saam met hom te kon werk. Daar is min joernaliste met 'n werksetiek en werklus soos Hans. As 'n jong joernalis 'n mentor sou benodig, is daar na my mening een mens in wie se voetspore hy of sy maar kan stap en dit is dié van Hans Lombard.
Publication: July 2016
Section: Relevant