Growing broilers can add value to your enterprise
April 2021

Part 1
A farmer growing mainly cash crops including maize, soybeans, sunflowers, sorghum, groundnuts and wheat, might consider diversifying into other enterprises. One of these is the growing of broilers from day old chicks to start a new enterprise, provide chicken meat or to add value to his maize and other grains grown.
Although a broiler enterprise will add value to your maize it must be milled or cracked. Soybean or groundnut oil cake meal and all the right calcium, phosphates and vitamins have to be added to makeup correct broiler rations. It is easier to buy commercially well-balanced feed or arrange to deliver your maize to a poultry feed manufacturer so as to offset the cost of the mixed rations.
BREEDS TO CONSIDER
The main commercial breeds available in South Africa that have been genetically selected for fast growth and good feed conversion are Ross, Cob and Arbor Acres.
If you have access to the internet the detailed production manuals and production standards for these breeds can be downloaded and printed for reference. They are aimed at the larger producer with modern housing and equipment but the principles of production remain the same even for a small batch of 100 day old chicks.
SUPPLIERS
Find out from your chosen day old chick supplier which breed they are supplying so that you know what their standards are for growth rates and feed conversion. Detailed records of your production must be kept so that you can compare your results to the standards to be able to assess if growing batches of broilers is payable for your circumstances.
Some beginners have made the mistake of buying day old chicks for egg producing or 'layer' chickens and then wondering why the chicks weren't growing as fast as required with the feed supplied.
Do an internet search for suppliers that can deliver your chicks near your farm using a regular planned circuit at a reasonable rate per chick for transport. Producers can deliver from 100 day old chicks in a box or batches up or over 10 000 with the price being cheaper the more you buy.
The quoted prices are usually per standard box carrying 100 chicks, which would cost R8,45 (VAT included) per chick plus transport and delivery of R75 (VAT included) per 100 chicks for a total cost of R920. Average landed cost per chick is thus R9,20. A batch of 500 would be at R900 per 100 chicks for a total R4 500 for a landed cost of R9 per chick.
Have a look at www.alfachicks.co.za for their information and price lists, but do research on other suppliers in your area before making the decision. It is very important to start off with the best quality. Alfa Chicks also show a variety of equipment that is suitable for small and larger producers.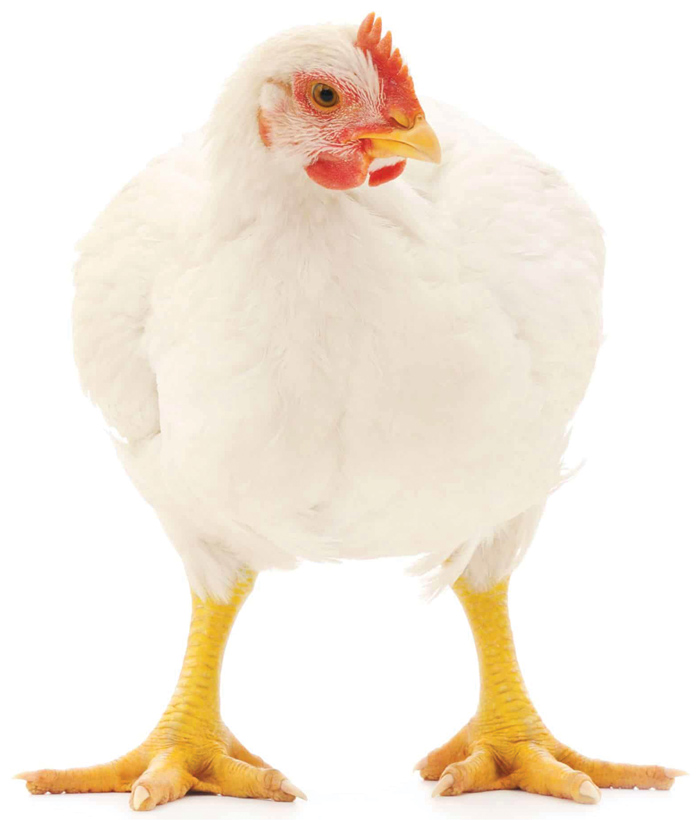 HOUSING
Housing depends on the scale and scope for your planned operation. The needs of a few 100 chick batches differ widely from an operation placing 1 000 to 5 000 chicks at a time.
FEED
The broiler chicks are bred to have good feed use which results in a feed conversion ratio of 1,85 kg of mixed feed to 1 kg of live bird produced. Feeds used will include a starter mix, then a grower and finally finisher ration.
The South African Poultry Association (SAPA) reports indicate an average broiler feed price of about R6/kg. A commercial weight or mass for a live bird could be about 1,90 kg to 2 kg which would slaughter out to a 1,22 kg whole bird at 42 days. This would use about 3,5 kg of feed per bird at a cost of R21. The value of the bird is about 1,22 kg at R25/ka or R30,50 at the producer level.
At the retail level of R55/kg a bird is worth a minimum of R67. Selling live birds at about R65 or your own slaughtered birds is the way to go. This will really add value to your maize or to creating a paying business.
Please remember that chicks must be inoculated for several diseases and fed vitamins in a strict cycle.
CONCLUSION
As can be seen the margins for a commercial producer are small. It is advisable to consider feeding the birds to about 2,5 kg live weight and selling them either live or a larger slaughtered bird for much more depending on the target market in your area. There is increasing preference for the larger birds from many households.
Publication: April 2021
Section: Pula/Imvula