Grain SA interviews... Ganzekraal Trust
February 2016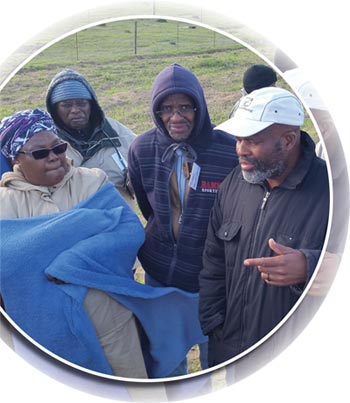 Ganzekraal Trust, situated in the Swartland District in the Western Cape, are a group of farmers who have dreams, patience and tenacity, to make a success of their commercial farming enterprise.
Where and on how many hectares are you farming? What do you farm with?
Our farm is situated in the Swartland District, in a place called Hopefield in the Western Cape. We farm on 2 450 ha. We farm with wheat, canola, bitter and sweet lupines. We also have livestock and sheep which contributes to our cash flow.
What motivates/inspires you?
In 2002 we applied for a farm at the DRDLR and this application was finally successful in 2009 – that on its own is motivation for us. Unfortunately the farm was not worked on for many years and thus it took us two years to prepare the soil. Being new to commercial farming, there were many stakeholders who gave us a zero percent chance of surviving, especially since we are in the midst of a recession. Knowing we were on the back foot, we had even more reason to prove beyond doubt that we were going to succeed.
Another motivating factor was the group's patience, knowing that good yields were not going to come soon. Competing with the best in the area also kept us on our toes. Last but not least, we are also grateful for the support we received from various partners such as the Western Cape Department of Agriculture, DRDLR, our suppliers like BKB, CMW and Tygerberg Animal Hospital to mention but a few, who are always on time. The good business relations we have now, has developed over years. The training that we received from our partners is also a motivating factor. These contributing factors have kept us going and are still keeping us going. There are also new business ventures that are in the pipeline.
Describe your strengths and weaknesses
Strengths: Our main strength is the fact that we have sufficient land where various opportunities can still be explored. Our elderly members of the group have the natural know how of breeding livestock. Knowing when the livestock is sick and how to take remedial steps to mitigate further sickness.
Weakness: Our main weakness is to not differentiate in business that with Ubuntu, there is a line to be drawn. Another weakness is the lack of fully understanding that commercial farming is totally different from subsistence farming as these are driven by different outcomes.
What was your crop yield when you started farming? What are your respective yields now?
Our yields for the first two to three years were actually negative as we were still trying things out. During 2012/2013 we harvested a good 190 ha of wheat. Then in 2013/2014 we had a 250 ha good production. This resulted in us receiving an award and becoming part of the Grain SA 250 Ton Club. We are hoping that things will break even in 2014/2015 as the drought really had no mercy this year. These are measures beyond human control, we can only hope for the best.
What do you think was the main contributor to your progress and success?
One cannot fully call it success, other than success in progress. In 2010 we secured a one million rand loan from the bank. As we speak that loan was serviced before time and we do our business without any overdraft. Secondly, our success can be attributed to the fact that we explore various opportunities, under the guidance of our economists, our provincial coordinators, our extension officers and all other available personnel.
What training have you received to date and what training would you still like to do?
We have received the following training: Introduction to Wheat Production, Calibration, Livestock Handling, Handling of Chemicals, Weed Control, Mixing of Chemicals, Spraying of Wool Production, Welding, Book and Recordkeeping as well as UIF.
Where do you see yourself in five years time? What would you like to achieve?
In the near future we see ourselves as a fierce commercial farming business in the Swartland area and beyond. We have proven that in the recent past, our livestock can achieve good market prices at an auction as we produce quality livestock. The yields from our wool also went beyond our expectations. As stated earlier on, we are currently exploring various ventures in the near future. We would also like to achieve declaring dividends to our members in an unprecedented way.
What advice do you have for young aspiring farmers?
Young aspiring farmers, in the sense of young, as in age, or young in business, which ever way, should keep the following in mind:
Keep your focus;
The dream will always be bigger than you are;
If your dream has never been criticised, then it never was a good dream anyway;
If you wait until every question is answered before you move, you will never move;
Service your debts quickly and avoid credit; and
Have patience and the tenacity to live your dream.
Article submitted by Nkosinati Caso, Ganzekraal beneficiary and Project Manager, Hopefield, Western Cape.
For more information, send an email to nkosinati@bergstan.co.za.
Publication: February 2016
Section: Pula/Imvula