Grain SA interviews...
June 2015

— The National Farm Workers Forum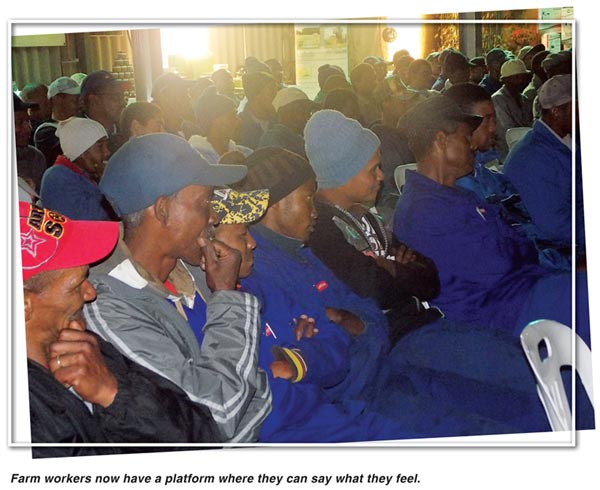 The National Farm Workers Forum was founded on 18 January 2013 as a result of the farm worker strikes that occurred in the Western Cape. During the strikes the farm workers realised that we do not have a platform anywhere that we can use to say what we feel. Other people regularly wanted to talk for us, while we, the farm workers, had actually given nobody a mandate to talk on our behalf. On 18 January 2013 they gathered and founded the forum as a recognised spokesperson for farm workers, by farm workers.
The forum comprises one or two representatives from every farm that joins the forum. No enrolment or membership fees are payable. An aspect that is also very important to us, is that the commercial producer whose farm workers are members of the forum also has the opportunity to join the forum.
The main aim of the forum is to improve the relationship between farm worker and producer. We believe that communication is the key to building sound relationships and the forum therefore pursues this and we believe that any problems between the employer and the employee can be resolved around a table. We also ensure that workers and employers are at all times treated fairly and in accordance with the law.
We also look at sports activities like rugby, soccer, choir competitions, domino evenings and many more to promote healthy and constructive activities and improve the quality of life of farm workers. We have the interests of our farm workers at heart.
The forum is a great success and has grown considerably in the past two years. We are active in 16 regions in the Western Cape and intend expanding further in the rest of country – we are also registered as The National Farm Workers Forum.
For more details contact:
Magrieta Futhwa: Chairperson – Cell: 078 624 5989
Rita Andreas: Spokesperson – Cell: 076 790 1066
Article submitted by Rita Andreas: National Farm Workers Forum Spokesperson.
For more information, send an email to Rita.Andreas@drakenstein.gov.za.
Publication: June 2015
Section: Pula/Imvula