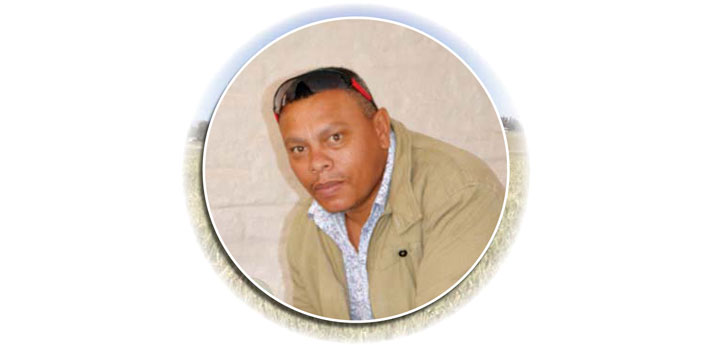 This passionate farmer, from the Swartland district in the Western Cape Province, believes that hard work and proper planning is the main contributor to his progress and success. Andries van der Poll has the experience and motivation to achieve his goal of fully diversifying his farm and would like to share his passion with other young aspiring farmers.
Where and on how many hectares are you farming? What do you farm with?
We farm on 450 ha (with 42 ha water rights) in the Swartland district near Gouda. We farm with sheep, cattle, grain (wheat, oats, lupine and medic for crop rotation) and this year we started with maize. We also have pastures under irrigation.
What motivates/inspires you?
I am passionate about farming and have been dreaming about owning my own farm since 1993. We promised ourselves that the day we have the farm we will live our dream. I have the full support of my wife and children who are mad about the farm life and farming.
The first day when we visited Klipdrift in 2011, we promised ourselves that if we had the opportunity to live here we will make a huge success of this farm. I always dreamed about having my own estate, and that is what motivates me. We have a lot of dreams but we are trying to do it bit by bit.
Describe your strengths and weaknesses
Our strength is the fact that we are experienced enough, passionate and motivated to make a success of this project. Our weak point is that this is a 'difficult' farm.
What was your crop yield when you started farming? What are your respective yields now?
In 2014 we started farming with oats and lupines and in 2015 we started with wheat, but because of the drought we could only harvest 600 kg/ha. The previous year was a little bit better but because we planted late we could only harvest 1,9 t/ha. With the cattle we had an 80% weaning rate and with the sheep we started with 60% in 2014 and in 2016 we ended with a 110% weaning rate.
What do you think was the main contributor to your progress and success?
Hard work and proper planning is the key to our progress and success. Targets are also very important. You need to know what is happening on your farm and knowing where you are going or want to be is also important.
What training have you received to date and what training would you still like to do?
We have received training in Finance, Sheep Management – Dohne Merino, Welding and Wheat Production. My wife also received Tourism and Finance training and is currently busy with Mixed Farming training at Kaap Agri Academy, from who she won an award for Top Achiever in 2016.
Our workers need a Life Skills course as well as a Machinery Maintenance course and I want to do a diploma course in Livestock farming as well as in Pest/Chemical Control in Grain.
Where do you see yourself in five years time? What would you like to achieve?
In five years' time we want this farm fully diversified, yielding 3 t/ha wheat, 12 t/ha maize on 40 ha, 2 ha of Lucerne and achieving a 140% weaning rate on the sheep as well as a fully expanded agri-tourism component. We would also like to train young people who are passionate about farming.
What advice do you have for young aspiring farmers?
My advice to young farmers is: Never give up, dream big and never stop dreaming. Write it down somewhere and think twice a day about it, don't leave it there, start working on it and never give up and be hard on yourself.