Grain SA: An organisation by farmers for farmers
July 2019

As a member of Grain SA you are supporting an organisation that was established to provide support and services specifically to South African grain producers so they have a better chance of higher performance and remaining sustainable in a challenging industry influenced by many different factors.
Helping you grow your farming enterprise and stay a successful farmer is the reason Grain SA exists.
Grain SA is a service organisation. The managers and team gather important information and send updates to farmers on a wide variety of factors influencing crop production and marketing.
There are many things that affect our prices. For example, imagine there was no one monitoring imports of the commodities we grow and grain or oil seeds were freely 'dumped' at our harbours at a much lower price than we can grow the crops? The traders don't care where the grain comes from, they have no loyalty to local farmers, they just want the best deal to make them best positioned in the market place.
We need protection at our borders which is why there is an import tariff in place. An import tariff is a tax imposed on imported goods and services. Different rates of duty are applicable to different goods or commodities. Farmers don't all have the skills to know what a fair import tariff is so we need experts to represent us by talking to government and the officials who set the rates and make them aware of how the rates impact local farmers. The team has worked long and hard to get an acceptable wheat tariff implemented. It required them to make many calculations and presentations to government so that wheat farming could be more profitable and sustainable.
Grain SA also monitors fuel prices and strives to give farmers early warning when prices are likely to rise so they can be better prepared.
The team also gather information about the different crops represented by Grain SA. For example regarding maize, they will analyse the following: How many hectares have been planted to white maize and yellow maize; how much maize was imported and how much was exported; and, what were the price movements through the year. This information is useful for farmers and helps them to decide if they are going to plant maize or, if they see there is overproduction, they may decide to plant another crop which is in short supply.
The farmers also ask the Grain SA team to search for international markets so they can grow maize and know there is an export market for the grain. Management has held discussions with many international delegations including Japan, Taiwan and China, informing them of the high standard of grain produced here. Farmers themselves generally have neither the expertise nor the time to be involved in this side of the business.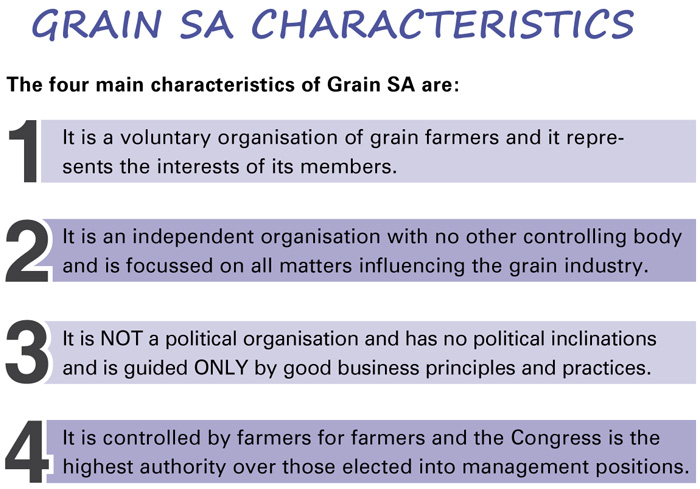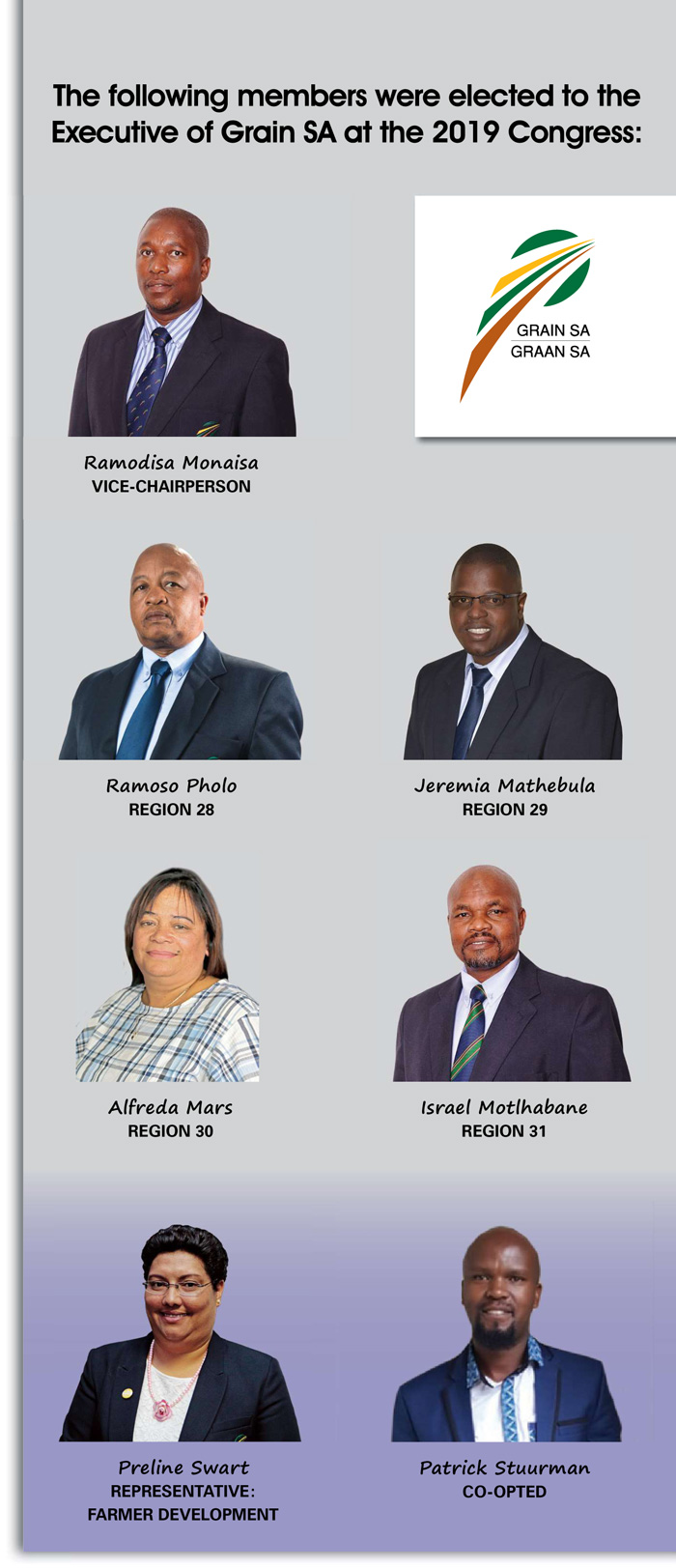 WATCHDOG ORGANISATION
Grain SA is also a watchdog organisation. This means the managers and team are constantly monitoring the business environment on behalf of farmers. Watchdog organisations view their role as critically monitoring the activities of governments, industry, or other organisations and alerting the farmers and wider agricultural sector when they detect actions that go against the best interests of the stakeholders. Grain SA has played a leadership role in discussions with government about the agricultural policy environment and attempts to seek solutions together with government for problems faced by the sector.
What does a watchdog Grain SA do for its farmer members? It monitors quality of inputs and will investigate and negotiate on behalf of farmers where a serious problem is identified. The Grain SA Farmer Development Programme is vigilant and protective of developing farmers as it strives to ensure they are given equal opportunity to access top quality inputs and accurate advice. Furthermore the Grain SA Farmer Development Programme champions ALL developing farmers. The team believes that everyone who has access to land and wishes to farm, no matter how big or small, must be assisted to achieve the best results with the natural resources at their disposal. This is an important achievement in an organisation that has previously been focussed on large commercial farming businesses.
Do you know that Grain SA managers have long participated in the discussions on a diesel rebate from SARS for farming activities? This is still a hot topic and SARS requires very detailed information about diesel usage before it recognises a claim. The law requires a logbook be kept to prove all diesel usage.
LOOKING AHEAD
At Congress 2019 management informed delegates it was focussing on highlighting the urgent need for subsidised crop insurance for farmers. The risks of hail, drought, floods and disease outbreaks are real threats to farmers' survival. The organisation includes smallholder farmers and is lobbying on their behalf too since they are equally exposed to these risks.
A sad reality is that agricultural research has been compromised and spending on this important aspect has been neglected, so Grain SA has committed to lobby government for increased investment on research to make sure that we stay at the forefront of farming practises and profitability which impacts yields and food security. Without increased government investment into research and development we risk being left behind and unable to compete in the market place and stay in business.
Another commitment made to Congress is that Grain SA will lobby for better financial support systems for farmers with a special focus on new farmers who struggle to access the current financing systems.
This is a summarised overview, but by no means conclusive, of the kind of business Grain SA managers are actively involved with. Hopefully this insight builds confidence that your farming interests are being guarded and championed by dedicated experts. What is a farmer's responsibility in all of this? Every farmer has a responsibility to get informed and to communicate with the management team of the organisation. When they know about our grain farming challenges, concerns and frustrations and pay attention to them, then the organisation is working effectively. Use the established channel of communication beginning with your board representative and congress delegates to make sure you are heard.
Publication: July 2019
Section: Pula/Imvula