RUTH SCHULTZ, SA GRAAN/GRAIN CONTRIBUTOR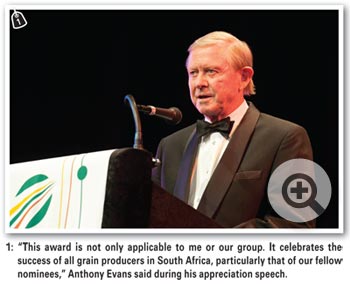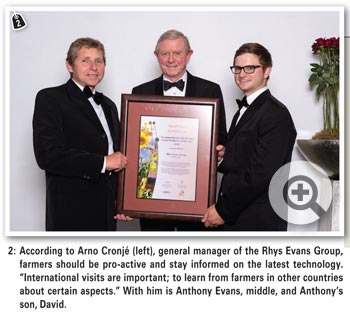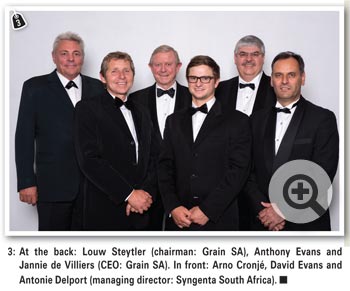 Always being on top of things, quickly adapting where needed and moving right into the value chain, contribute to the success of the Rhys Evans Group which was announced as the Grain SA/Syngenta Grain Producer of the Year on 11 October.

The Rhys Evans Group has a strong family farming history. After Mr Anthony Evans finished his studies at inter alia Rhodes, Oxford and Harvard Universities, he started farming with his father, Rhys Evans, during 1968 on the farm Huntersvlei, near Viljoenskroon. Anthony's son, David, is the next generation Evans to have joined the business.

Their business consists of Sussex cattle, a huge piggery, crop farming and a groundnut processing factory. Groundnuts were first planted on Huntersvlei in 1948 and today it still forms part of their rotation system. With the deregulation in the 1990's, they saw the opportunity to start with the processing of groundnuts. Since erecting the groundnut shelling factory, they quickly became a very big role-player in the groundnut industry. The group also moved into the meat value chain through their investment in an abattoir.

"We are on the brink of another major change and that is to move from conventional tillage to no-till. We see this as a very exciting opportunity in going forward and we believe it will result in more profitable farming. Hopefully there will be no decline in yields, but rather a slight incline," Anthony said during a DVD presentation at the gala dinner.

By introducing precision farming about ten years ago, the Rhys Evans Group has seen a major turnaround in production. Maize is their main crop and is planted in a rotation system with groundnuts, sunflower and soybeans, while pasture crops help to counter wind erosion after groundnut harvesting.
They are widely known for their superb Sussex stud and along with a commercial herd, the cattle are not only valuable assets, but contribute to the crop farming through a well-organised compost processing system. The manure of the cattle and pigs are mixed with groundnut shells and straw for fertilisation.
Acknowledgements

Anthony expressed his gratitude to his co-producers and Grain SA. "I would like to thank Stephen Kruger who nominated us; our co-producers from Viljoenskroon (under the able leadership of Cobus van Coller) for all their support; my team: Arno Cronjé and my son, David, who deserve all the credit; as well as Louw Steytler of Grain SA, who persuaded me to put our name forward.
"I owe Grain SA a debt of gratitude for the remarkable job that they are doing, especially among our developing farming community."