LIANA STROEBEL, GRAAN SA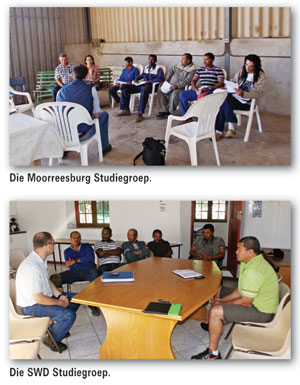 Graan SA se eerste studiegroepvergaderings het gedurende April in die Wes-Kaap plaasgevind. Vergaderings is in die Overberg en Swartland gehou en die opkoms van ontwikkelende graanprodusente was goed.
Die doel van hierdie vergaderings is om ontwikkelende graanprodusente vanuit 'n spesifieke area op 'n maandelikse basis bymekaar te bring om ondermeer relevante onderwerpe te bespreek, inligting uit te ruil asook om mekaar beter te leer ken. Dit gebeur dikwels dat ontwikkelende graanprodusente baie gedeelde vrae of onsekerhede het, wat dus hier aangespreek kan word.
Die onderwerp wat by hierdie rondte vergaderings bespreek is, het hoofsaaklik op bestuursaspekte rondom planttyd gefokus. Produsente het aktief deelgeneem, vrae gevra en die verrigtinge baie positief en leersaam ervaar.
Daar word gevind dat soos hierdie produsente mekaar beter leer ken en vertroue in mekaar opbou, hul mekaar op verskeie vlakke help en bystaan, soos byvoorbeeld om insette saam te koop of saam hul produkte te laat aflewer om op hierdie manier koste te bespaar.
Daar is op die oomblik vyf studiegroepe in die Wes-Kaap (drie in die Swartland en twee in die Overberg) wat Graan SA graag na tien wil uitbrei teen die einde van die jaar. Namate bywoning van die vergaderings met tyd stabiliseer, sal lede ook in kleiner groepe verdeel word volgens hul vlak van ondervinding om te verseker dat voldoende aandag aan elkeen se behoeftes gegee word.
Indien jy van enige ontwikkellende graanprodusente weet wat sou belangstel om by een van hierdie studiegroepe aan te sluit, kontak gerus vir Liana Stroebel by liana@grainsa.co.za.