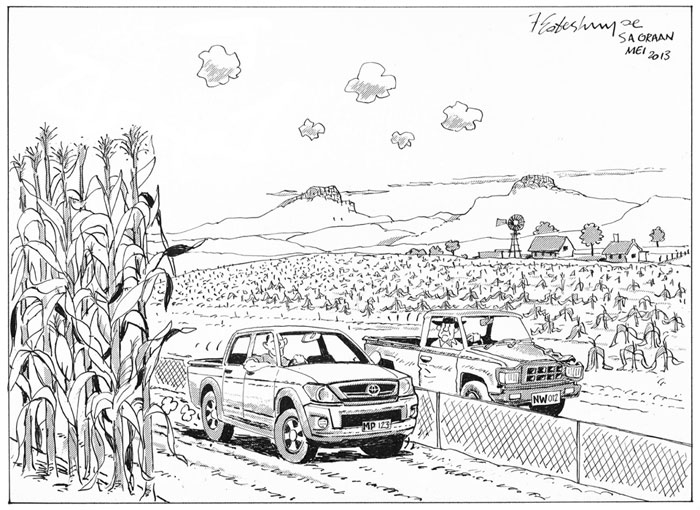 Iemand naby aan my verklaar nou die dag een van my vrae met die opmerking dat mense en veral produsente, swaarkry makliker kan hanteer as goeie tye – oftewel armoede as rykdom. Dit het my diep laat dink en my met 'n ander oog laat kyk na die samelewing rondom my en al die sosiale probleme.
Die eerste bron wat ek altyd raadpleeg rakende sulke vraagstukke en om agter die waarheid te kom, is die Bybel.
Ons is baie innoverend as dit swaar gaan. In besigheid en op die plaas, leer ons nuwe maniere om te spaar, vind ons verbasend makliker as in die verlede uit wat is nice to have en wat is absoluut onontbeerlik.
As graanprodusente is ons egter gebore optimiste. Wie anders met 'n gesonde verstand leen miljoene rande, sit dit in die grond en wag vir reën uit die Skepper se hand as die enigste Een wat plante en oeste kan maak groei?
In die noordweste van ons land was daar die afgelope somerseisoen weer een van daardie "onderwysers" wat 'n les ingehou het vir alle produsente wat gemeen het ons het die natuur getem met al die tegnologie en vernuf wat beskikbaar is.
Dit is soms 'n wrede ontnugtering. Ons harte gaan uit na die gesinne en families wat week in en week uit moes sien hoe hulle oeste op die lande staan en verdroog. Só is daar in die graanbedryf 'n ryk argief van stories van hoop en oplossings in moeilike tye wat met geslagte heen saamkom. Dit is heerlik om daarna te luister!
Dan is daar ook stories wat ons nie lank wil onthou nie. Stories van mense soos die ryk dwaas van die Bybel. Mahatma Ghandi het nie verniet "wealth without work" in sy lys van "people destroyers" as nommer een gelys nie. Ons samelewing het reuse sosiale probleme op alle vlakke. Die invloed wat geld (te veel of te min) op ons gedrag en optrede het, is net massief!
Die impak van 'n paar goeie seisoene ten opsigte van goeie opbrengste en hoë pryse is 'n uitdaging waarvoor heelwat produsente te staan kom. Vir baie produsente wat voordeel trek uit die staat se grondhervorming en herkapitalisering mag daar 'n baie groot toets wees wat vir hulle wag.
Salomo het nie verniet geskryf dat die een wat bietjie-bietjie bymekaar maak, meer volhoubaar is as die een wat dit oornag doen nie. Maak seker dat jou manier van doen en praat nie verander soos jou bankrekening op en af gaan nie.

Jannie de Villiers, Uitvoerende hoofbestuurder