ESTIE DE VILLIERS, redakteur, SA Graan/Grain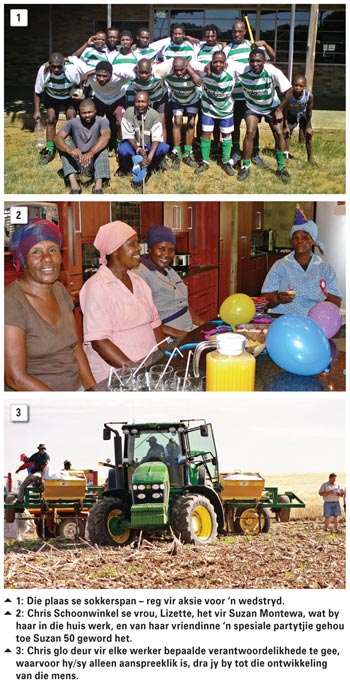 Eerlikheid en openlikheid teenoor mekaar – kommunikasie – is vir mnr Chris Schoonwinkel van die plaas Welgegund in die Wesselsbron-distrik (en ook dagbestuurslid van Graan SA) een van die belangrikste arbeidspraktyke waarop daar klem in sy boerdery gelê word.
"Opdragte moet duidelik deurgee word sodat almal weet wat die einddoel is – of dit nou vir klein of groot take in die boerdery is," sê hy. "Ek glo deur vir elke werker bepaalde verantwoordelikhede te gee, waarvoor hy/sy alleen aanspreeklik is, dra jy by tot die ontwikkeling van die mens. Vertroue in die werker om te produseer of te skep, is belangrik en hy/sy moet dit weet en besef."
Op 'n vraag oor hoe hy glo 'n mens jou personeel moet hanteer, antwoord hy sonder om te aarsel: "Hulle is mense met behoeftes – praat saam daaroor. Weer eens: Eerlikheid en billikheid moet sterk figureer."
Hoe motiveer hy sy personeel? "Die einddoel op 'n saaiplaas is hoër produktiwiteit wat weerspieël word in hoër opbrengste en hopelik hoër winste. Dit gee aanleiding tot groter bonusse."
Erkenning op Welgegund word deur middel van bonusse en toegeeflikheid in sekere omstandighede aan personeel gegee.
Indien daar geskille op die plaas is of konflik opgelos moet word, maak Schoonwinkel gebruik van arbeidskonsultante wat die letter van die wet na beide die werkgewer en werknemer toepas. "Dit hou almal tevrede. Ek moet sê: Die wet is baie ten gunste van die werkgewer ook, alhoewel die persepsie baie keer andersom is."
En wat is sy siening van die minimum loon?
"Dit is wat dit sê: 'n Minimum. Werkers in ons omgewing verdien heelwat meer as dít as jy die totale pakket inreken. Die groot persentasiestygings jaarliks bring verwarring en konflik mee. Op die salarisskale wat die werkers reeds kry, kan die loon nie met dieselfde koers aangepas word nie.
"Ek glo met die salarisstruktuur soos dit tans is, sorg die werkers nie net vir hulle eie gesinne nie, maar dra ook wesenlik by tot die ekonomie van die distrik. Die lewenstandaard op die plase het ook, as gevolg van die beter lone, gestyg.
"Weens my betrokkenheid by Graan SA is ek bewus daarvan dat daar gekyk word na vergoeding van verskillende posvlakke vir plaaswerkers in die graanbedryf. Ons sien met afwagting daarna uit, want dit kan die ongemaklikheid wat tans bestaan dat alle posvlakke min of meer dieselfde salaris kry, tot 'n einde bring.
"Opleiding en raad met die gebruik van finansies word ook deurlopend aan ons werkers gegee en hulle pluk die vrugte hiervan," verduidelik Schoonwinkel.
Hulle probeer meer mense op die plaas in diens neem deur gebruik te maak van 'n rotasiestelsel en halfdagposte.
Wenke
Schoonwinkel gee die volgende wenke vir medeprodusente om die beste uit hul werkerskorps te kry: "Wees eerlik, billik, regverdig, maar bowenal medemenslik. Hê 'n oop hand, maar weet: Geld alleen kan nie vrede en harmonie op 'n plaas koop nie. Sien die mense se behoeftes raak en praat met die werkers, maar wees aan die ander kant streng en gedissiplineerd," sluit hy die gesprek af.
Deel jou praktyke met medeprodusente
Graan SA-lede is welkom om wenke vir goeie arbeidspraktyke en -verhoudinge op die plaas of praktyke wat hulle op die plaas toepas en wat vir hulle werk, met hul medeprodusente te deel. Stuur 'n e-pos na estiedv@mweb.co.za en ons sal jou kontak.