ESTIE DE VILLIERS, redakteur, SA Graan/Grain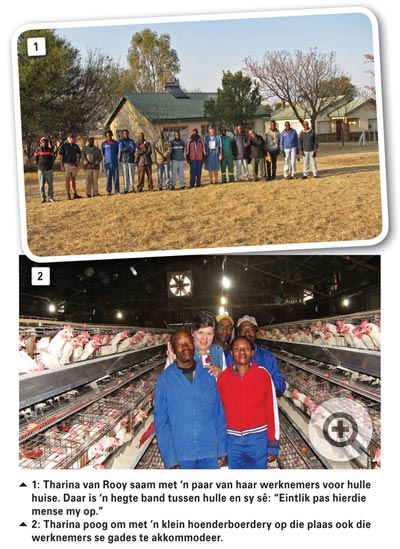 Tharina van Rooy ('n nooi Claassen) boer al die afgelope 35 jaar op die plaas Vryheid in die Parys-/Sasolburgdistrik. Sy het amper geen personeelomset nie en van die werknemers is al die derde geslag van 'n familie wat by haar werk.
"Ek probeer ten alle tye menswaardig optree en behandel my mense ook so. Ons is almal net mense en die bloed in almal se are is rooi," sê sy wanneer sy gevra word wat haar benadering tot arbeidspraktyke is.
Sy glo 'n mens moet streng, maar regverdig wees en verwag van haar werknemers dat hulle gedissiplineerd, stiptelik en netjies is.
Betaaltyd is nie bakleityd nie
"Ek spreek hulle aan as dit nodig is, maar betaaltyd is nie bakleityd nie. Gee jou werknemers presies wat jy met hom/haar ooreen gekom het. Maak vooraf seker dat hy weet wat hy gaan verdien en moenie hom met hoop en verwagting laat werk vir wat hy nie gaan kry nie," sê sy. "Gee ook elke maand vir hulle 'n betaalstaat (pay slip) waarop alles aangedui word – selfs die dae verlof aan hom verskuldig.
"Dit is vir werknemers baie belangrik dat hulle moet weet hulle is vir werkloosheid geregistreer en dat dit stiptelik oorbetaal word. Ek betaal ook vir my werknemers en hulle gades vir 'n begrafnispolis (R35/maand) wat by afsterwe tussen R6 000 en R10 000 uitbetaal.
"Met die hoë sterftestatistiek in ons land, is dit belangrik. Dit kos jou as werkgewer min genoeg. Wees dan ook simpatiek sou 'n werknemer of een van hulle geliefdes sterf," raai sy medeprodusente aan.
"Stel in hulle as mense belang en moenie net 'n slawedrywer wees nie."
Behuising

Tharina verskaf al die afgelope 35 jaar behuising aan haar werknemers.
"Ek is streng op netheid by die huise en hulle moet ook 'n bietjie tuin maak. As daar 'n nuwe werknemer intrek, ontvang hy sy huis netjies – alles in 'n werkende toestand. By diensbeëindiging moet hy dit weer so afgee voordat hy sy finale afrekeningstaat ontvang.
"Dit is wel vir my baie belangrik dat elke werknemer ook 'n erf (stand) in die dorp op sy naam geregistreer moet hê, en waar moontlik, staan ek hulle by om dit te probeer bekom."
Tharina poog om met 'n klein hoenderboerdery op die plaas, die werknemers se gades te akkommodeer, maar baie van die vrouens verkies om, as gevolg van die plaas se ligging, eerder in die dorp te werk.
Kliniek

"Ek praat openlik met die mans en vrouens oor Vigs en moedig hulle aan om bewus te wees van hul status en om dan die nodige medikasie te kry. Die rondgaande kliniek doen darem ook gereeld en getrou op die plaas aan en ek stel 'n perseel op die dorp tot die kliniek se beskikking."
Opvoeding

Die kinders op die plaas moet ook skool toe gaan en Tharina probeer sover moontlik belangstel in hulle vordering.
"In ons omgewing is daar 'n landbouskool (Weiveld) met busse wat die produsente ondersteun. Dit is goed vir die opleiding en opheffing van die kinders. Sasol het 'n kollege op Sasolburg en dan is die Noord-Wes Universiteit se Vaaldriehoek kampus ook nog naby. As daar kinders is met potensiaal, dan help jy die ouers maar soos jy kan – al is dit net met raad of deur hulle te help met aansoeke vir beurse.
Sy sal ook altyd eers kyk of sy nie van haar bestaande personeel kan bevorder voordat sy 'n persoon van buite aanstel nie. "Ek stuur my werknemers ook op relevante kursusse as ek kan."
Kommunikasie is baie belangrik vir Tharina. "Ek deel ons suksesse en mislukkings met hulle. Enige blanke bestuurder wat aangestel word, moet 'n swart taal magtig wees sodat alle opdragte aan die werknemers in hulle taal vir hul gegee kan word."
Tharina sluit af: "Weet jy, eintlik pas hierdie mense my op..."