Goeie arbeidspraktyke en -verhoudinge in die kollig
April 2016

— Nasionale Plaaswerkersforum

RITA ANDREAS, woordvoerder: Nasionale Plaaswerkersforum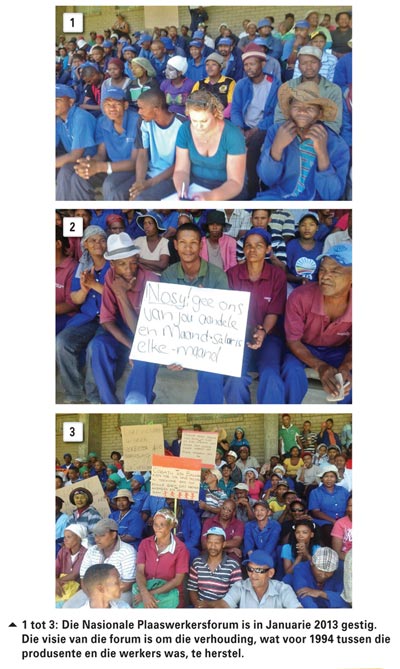 Gedurende die plaaswerkerstakings in 2012 en 2013 was ek op een van die plase waar die pakstoor afgebrand het. Die plaaswerkers en die eienaar was baie positief ten spyte van hul stoor wat afgebrand het. Daar het ek besef dat ons plaaswerkers nie 'n platform het waar hulle kan sê hoe hulle voel nie. Ek het die Here gevra vir 'n oplossing en die idee gekry van 'n forum wat ek moes stig.
Op 17 Januarie 2013 het ek 'n uitnodiging na van die produsente wie se e-posadresse ek gehad het gestuur, waarin ek gevra het dat hulle vir my een werker sal stuur vir 'n vergadering. Daardie vergadering is verteenwoordig deur 25 plase met 64 verteenwoordigers.
Ons het onsself die volgende vrae afgevra:
Hoe sien ons Suid-Afrika sonder landbou?
Wie gee ander die mandaat om namens ons te praat?
Wie is verantwoordelik om 'n proses te begin vir die aanpassing van landbou se minimum loon?
Die noodsaaklikheid van die voortbestaan van landbou in die hele Suid-Afrika is van kardinale belang vir die ekonomie en selfs werkskepping.
Die Nasionale Plaaswerkersforum is toe op 18 Januarie 2013 ge stig. Die forum bestaan net uit plaaswerkers en produsente en die fondament van die forum is Jesus Christus. Die visie van die forum is om die verhouding, wat voor 1994 tussen die produsente en die werkers was, te herstel. Ons glo ons kan rondetafel-gesprekke hê en só probleme oplos.
Wanneer 'n plaas deel wil raak van die forum, kan hulle ons kontak en dan gaan ons uit na die plaas toe om die werkers in te lig oor die forum en wat dit behels.
Wat wil ons met die forum bereik?
Gesonde dialoog
Plaaswerkers 'n stem gee
Formele kommunikasiekanale vestig
Advies gee aan plaasarbeiders
Landbou bevorder
As bedingingsgroep in gesprek tree
Plaaswerkers se beroep verstaan
Goeie verhoudinge in die landbou bevorder
Positiewe media oor landbou bevorder
Kommunikasie tussen werkgewer en werknemer verbeter
Die Forum se bestuur bestaan uit:
Voorsitter: Magrieta Fithwa (Middelpos)
Ondervoorsitter: Ockert Diedricks (Welgemoed)
Sekretaresse: Vivian Adams (Sandrivier Landgoed)
Hulpsekretaris: Jakobus Blomkers (Cornerstone)
Tesourier: John Mitchell (Linton Park Wines)
Hulptesourier: Sarie Johannes (Hoekstra Fruit Farms)
Die Forum is verdeel in die volgende komitees:
Dissiplinêre/HR-komitee
Opleidingskomitee
Sport en Kultuur
Prestasiekomitee
Behuisingskomitee
Media
Vir meer inligting, kontak Rita Andreas by 076 790 1066 of Rita.Andreas@drakenstein.gov.za.
Deel jou praktyke met medeprodusente
Graan SA-lede is welkom om wenke vir goeie arbeidspraktyke en -verhoudinge op die plaas of praktyke wat hulle op die plaas toepas en wat vir hulle werk, met medeprodusente te deel. Stuur 'n e-pos na estiedv@mweb.co.za en ons sal jou kontak.
Publication: April 2016
Section: Relevant