Goeie arbeidspraktyke en -verhoudinge in die kollig
July 2015

— JP Meintjes van Viljoenskroon

ESTIE DE VILLIERS, redakteur: SA Graan/Grain
Mnr JP Meintjes van die plaas Kruispan in die Viljoenskroon-distrik verwag van sy werkers om betroubaar en presies in hulle werk te wees. SA Graan/Grain het by Meintjes gaan aanklop om uit te vind wat die belangrikste arbeidspraktyke is waarop hy klem lê in sy boerdery.
"Ek hanteer my werkers professioneel en met respek. Ek glo in goeie menseverhoudinge en goeie vergoeding (indien die persoon dit verdien). Ons vergoed werkers vir oortyd en elke jaar ná strooptyd kry hulle 'n dertiende tjek," verduidelik Meintjes.
Op Kruispan kry die werkers indiensopleiding. Meintjes motiveer sy werkers deur positiewe optrede en deur die nodige erkenning te gee asook om hulle posvlak op te gradeer.
"Soos wat die boerdery uitbrei en daar beter poste is om aan te bied, gee ek dit vir dié werkers wat goed presteer. Hulle verdien dan natuurlik 'n beter salaris."
En wat is sy siening van die minimum loon?
"Die huidige loon is bekostigbaar, maar nie vir al die produsente nie. Die minimum loon moet saam met inflasie aangepas word en nie soos die afgelope twee jaar onnatuurlik hoog aangepas word nie. Die probleem wat daarmee gepaardgaan, is dat ons nie nuwe werkers kan aanstel nie en eerder meganiseer. Die mense wat daaronder ly, is die arbeiders," verduidelik hy.
Werkskeppingsprojekte
Hulle is tans besig om 'n silokompleks op die plaas op te rig, waarby hulle meer mense gaan nodig hê om te werk. "Ek sal eerste vir my werkers se gades en kinders (wat oud genoeg is) die geleentheid bied om aansoek te doen vir die beskikbare poste."
Sokker
Kruispan het 'n eie sokkerspan en al die klere en sokkerballe word deur die plaas geborg. Meintjes-hulle verskaf ook gratis vervoer na en van sokkerwedstryde.
Vervoer
"Verder het ons ook 'n gratis diens wat ons aan ons werkers en hulle gades verleen, waar hulle twee keer 'n week die geleentheid het om dorp toe vervoer te word om die dokter of kliniek te gaan besoek of inkopies te gaan doen. Ons gee ook een keer 'n maand geleentheid vir almal op die plaas om inkopies op die dorp te gaan doen.
"Van my werkers spaar geld en dan dra ek by om hulle te help om vir hulle 'n motor te koop. Vyf van my werkers het al hulle eie motors," vertel Meintjes trots.
Hoe kry jy die beste uit jou werkerskorps?
"Ek glo in goeie en gesonde menseverhoudinge. 'n Mens moet ook 'n oop deur hê om na besware te luister. Ons grieweprosedure is in plek en ons werk nou saam met 'n arbeidskonsultant. Ons probeer om nie mense onnodig af te dank nie en 'n werker word baie kanse gegee (meer as wat die wet vereis) voor ons besluit om hom te laat gaan.
"As 'n mens na plaaswerkers se omstandighede kyk, is hulle eintlik baie beter af as mense wat in die lokasies bly," sluit hy af.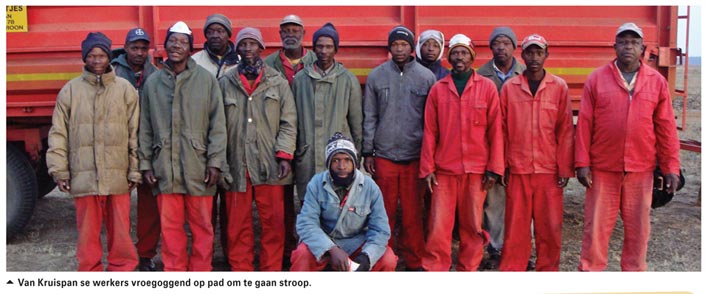 Deel jou praktyke met medeprodusente
Graan SA-lede is welkom om wenke vir goeie arbeidspraktyke en -verhoudinge op die plaas of praktyke
wat hulle op die plaas toepas en wat vir hulle werk, met medeprodusente te deel.
Stuur 'n e-pos na estiedv@mweb.co.za en ons sal jou kontak.
Publication: July 2015
Section: Relevant