GLYPHOSATE TOLERANCE SIMPLIFIES WEED CONTROL
April 2019

Weed control is essential for a successful maize crop and especially during the first six weeks of the crop's development. The most important element of successful crop cultivation is to get the basics right from the beginning.
Stress or damage caused by weed pressure, hail, wind, waterlogging and leaf-feeding insects can lead to high yield losses. It is very important to avoid stress due to weed competition. Mechanical weed control too deep or too close to the plant can damage roots. Root damage can lead to stem and root rot, followed by lodging of plants later in the season.
Maize hybrids with the glyphosate tolerance trait(s) are ideal to advance your yield potential. These hybrids have attractive benefits:
Broad-spectrum weed control.
Control of difficult weeds.
Excellent crop safety that reduces crop damage when herbicides are sprayed.
The advantage of conservation cultivating practices.
Flexibility in terms of herbicide application timing.
The crop is easy to manage, and the glyphosate has no residual effect in the soil and is environmentally friendly.
Helps farmers save labour and fuel.
Although glyphosate tolerant hybrids are more expensive than the normal conventional hybrids the price difference is offset by the advantage of increasing your efficiency and productivity. The proof is in the pudding when you realise a bigger yield.
To make the most of the glyphosate tolerance technology you need to familiarise yourself with the best practices for management of a glyphosate herbicide tolerant crop, these include reading the chemical label before planting, learning how to avoid the build-up of potential weed resistance to glyphosate and how to manage volunteer glyphosate tolerant maize plants in the following crop the next season. Contact your PANNAR representative or agronomist or consult the PANNAR website (www.pannar.com) to help you optimise your crop production.
Although PANNAR markets a comprehensive range of glyphosate tolerant maize hybrids the following two are singled out for their exceptional performance: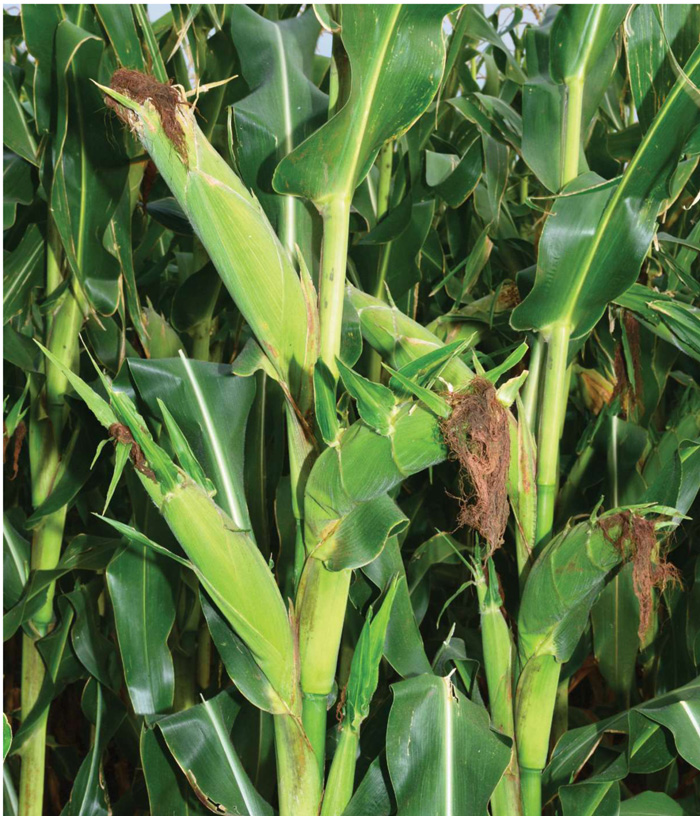 WHITE MAIZE
PAN 5R-591R
This medium early hybrid is highly prolific and produces a seedling with strong vigour that is conducive to establishing a good plant population. This will form the foundation of your successful maize crop. PAN 5R-591R is well adapted to all the production regions and has a good performance record over the past few seasons. Owing to its strong prolificacy and robust plant type, it is well adapted to regions that experience drought stress or dry spells from time to time. However, PAN 5R-591R has the advantage that it can compensate under good production conditions by producing a second year and a higher yield. It produces good quality grain and is an all-round winner.
YELLOW MAIZE
PAN 6R-680R
This hybrid with a medium growing season displays exceptionally stable performance over various seasons and is well adapted to all production regions. It is a good choice where high weed pressures are a concern. It also fits in well where only a single crop of maize is grown under irrigation or supplementary irrigation. PAN 6R-680R has good resistance to cob rot, good standability and drought tolerance. For best results, plant the hybrid early in the planting window of your specific region. It is suitable for grain production or stack in sheaves and left on the land to feed animals at a later stage or to make silage.
We are passionate agriculturalists who take a personal interest in the success of your farm, use our service and expertise to optimise your crop production.
Publication: April 2019
Section: Pula/Imvula