Gerieflikheidseienskappe by vleisbeeste
November 2014

— Deel 2: Poenskopdiere

HANNES DREYER, direkteur: VBRSA, Vrede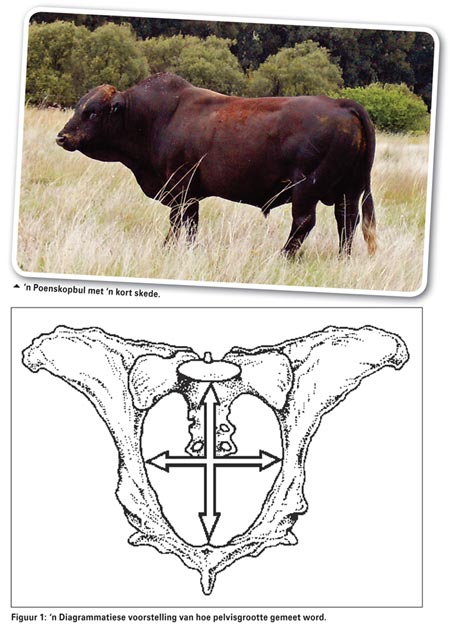 Beeste met horings kan belangrike ekonomiese verliese vir die veeprodusent beteken. Kneusings tydens vervoer, in voerkrale en by slagpale kom dikwels voor. Verder is die hantering van horingbeeste in hanteringskrale ook baie moeiliker en gevaarliker.
Dit is vandag algemene praktyk dat vleisbeeskalwers voor speen onthoring word. Verskillende metodes kan gebruik word, maar meestal geskied dit met behulp van 'n warm onthoringsbout. Die ander moontlikheid is om poenskopdiere te teel.
Die voordele om met poenskopbeeste te boer, is:
Kalwers hoef nie onthoring te word nie – arbeidsbesparing.
Geen infeksie waar diere se horings gebrand of geknip is nie.
Geen brommerbesmetting soos soms by onthorings plaasvind nie.
Waar kalwers onthoring word, word groei benadeel as gevolg van pyn en stres.
Die enigste nadeel is die feit dat die poenskopgeen dikwels ge assosieer word met die prolaps van die skede by sekere rasse.
In die Desember-uitgawe van die Drakensberger Nuusbrief, skryf mnr Louis Willemse,bekende stoetteler van Memel en watnou ook in Australië met Drakensbergersboer, dat daar geen vraag is vir bulle methorings nie (kopers wil bulle met horingsnie eers verniet hê nie) en dat hy nou syteelbeleid moet aanpas om poenskopbullete produseer.
Kalwingsgemak

Daar is seker min dinge wat so sleg is vir 'n beesprodusent as om op 'n Saterdagmiddag (gewoonlik in rugbytyd) deur die veewagter geroep te word om te kom help met 'n koei wat nie kan kalf nie.
Die vraag is: Wat kan ons daaraan doen? Tans word geweldig baie aandag deur telers gegee aan die geboortemassa van bulle en daar word omtrent nie meer 'n bulveiling gehou waar die geboortemassa en/of die teelwaarde vir geboortemassa van bulle nie aangetoon word nie. Onthou dat geboortemassa per se nie so belangrik is soos die verhouding van geboortemassa tot koeimassa nie. 'n Bulkalf wat meer as 10% van sy ma se massa by geboorte weeg, moet liefs nie gehou word vir 'n potensiële bul nie.
Geboortemassa is net 'n deel van die probleem. 'n Tegniek wat reeds verskeie jare in die VSA gevolg word en in Suid-Afrika deur dr Piet van Zyl, van Heilbron, toegepas word, is die meting van pelvisgroottes van verse ten einde distokia te verminder. Deur 10% - 20% van verse op paarouderdom uit te skot op grond van klein pelvisareas, kan moeilike geboortes drasties verminder word. Die tegniek hiervan sal nie hier bespreek word nie, maar die vraag is of die pelvisgrootte van die bul enige invloed het?
Verskeie navorsers het aangetoon dat daar 'n baie hoë korrelasie bestaan (0,60) tussen die pelvisgrootte van bulle en verse – met ander woorde seleksie vir pelvisgrootte by bulle sal dus groter pelvisse tot gevolg hê by hul vroulike nageslag.
Die erfbaarheid van pelvisgrootte varieer van 0,36 - 0,99 met 'n gemiddeld van 0,61.
By die bepaling van pelvisgrootte moet die volgende in gedagte gehou word:
Doen bepaling op dieselfde ouderdom.
Diere moet onder dieselfde voeding- en fisiologiese toestande wees.
Die pelvisgrootte van bulle is op dieselfde ouderdom kleiner as dié van verse.
Dit is veral die breedte van die pelvis wat belangrik is.
Dit is belangrik dat diere met klein pelvisse uitgeskot moet word en dat daar nie direk vir diere met groot pel visse geselekteer moet word nie.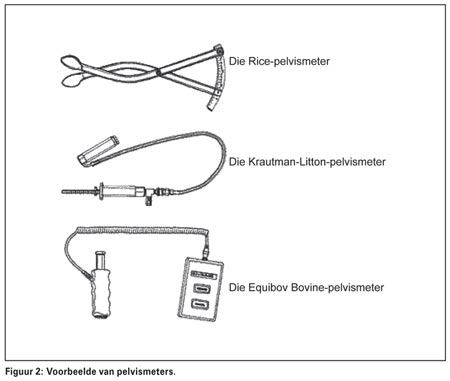 Pelvisse kan met die hand gemeet word, maar dit is meer akkuraat om een van die pelvismeters, soos aangetoon in Figuur 2, te gebruik. Die Rice-pelvismeter is in Suid-Afrika beskikbaar.
Opsomming
Bogemelde gerieflikheidseienskappe is maar drie aspekte waaraan beesprodusente aandag kan skenk om arbeid en koste te bespaar en die lewe oor die alge meen 'n bietjie makliker vir hulself te maak. Gee dus aandag daar aan, maar behou asseblief perspektief oor die belangrikheid daarvan.
Publication: November 2014
Section: On farm level