PIETMAN BOTHA, SA GRAAN/GRAIN MEDEWERKER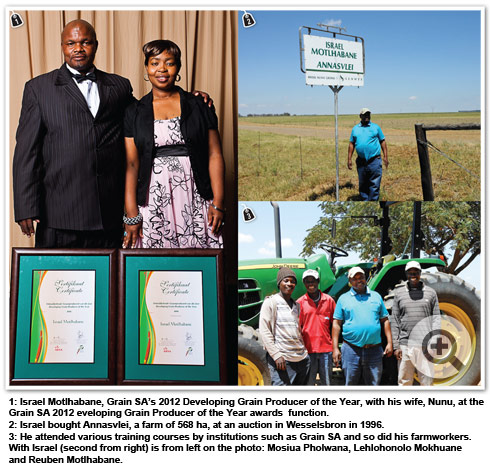 Israel Motlhabane, Grain SA's 2012 Developing Grain Producer of the Year, started farming without any farming knowledge and today he is on his way to becoming a commercial farmer. Israel grew up on commercial farms where his father worked as a farm labourer and he says: "I must farm, because it is in my blood".
After school Israel worked at the post office. His love for reading enabled him to learn how to manage a business, but he realized that hard work and unpopular decisions are needed to survive and to become the best. These skills were applied to start a few other successful businesses and the capital raised in these businesses, enabled him to start farming. Business principles are very important to Israel: "Farming is a business and I must make a profit to survive," he underlines.
During an auction in Wesselsbron in 1996 Israel bought Annasvlei (568 ha) and his dream to farm became a reality. Annasvlei is situated some 15 km from Wesselsbron on the Kommandodrif road. The farm consists mainly of deep sandy loam soils and the average annual rainfall is 450 mm. In 2008 he bought the farm Uitkyk (328 ha), also near Wesselsbron, with support from the Department of Rural Development and Land Reform, and with this he added 200 ha of arable land to his enterprise. The rest of the Uitkyk land is used for grazing. Uitkyk included, Israel now has access to 610 ha of arable land.
From a humble start with a used 1972 Landini 8500 tractor, two maize planters (LM and Massey Ferguson) and a Soilmaster wheat planter, he managed to upgrade his fleet to where it now consists of two John Deere tractors, three Massey Fergusons and one Fiat. He uses contractors for harvesting, but transports his own crops to the silos with six trailers.
"In the first year of planting we made a lot of mistakes and we learned the hard way. I had a plan," he says, "but not much knowledge. Without my five brothers I would not have survived that first season. We planted 300 ha with Sensako yellow maize that year and harvested about 4 ton/ha. The first harvest of grain was the most beautiful thing I have ever seen, paid for with blood, sweat and tears," he recalls. "If you want to be the best, you must apply the same practices as the top farmers do." Today the farming practices he applies are completely different than at the beginning.
Israel makes use of a number of advisers. Each adviser has his own specialities to help ensure that everything is going according plan. Today he uses Pannar and Monsanto GM cultivars and plants at adensity of 22 000 plants/ha. Omnia developed a comprehensive fertilisation program based on soil sampling on a 100 m x 100 m grid pattern on Israel's land. Omnia also assisted him with the transformation of his traditional use of granular fertiliser, to liquid fertiliser. This liquid fertiliser strategy helped the planting process to move smoothly, without hiccups and to his advantage. Omnia produces the liquid fertiliser at their plant in Wesselsbron and it makes economic sense to use the locally available product and many other services from Omnia.
Without managing the soil acidity, it does not make sense to apply fertiliser. This year Israel applied calcitic lime and Greentop 20 to correct the soil pH. The decision of what to apply, was done in conjunction with his fertiliser representative.
Grass is the main weed problem in Israel's lands. Knowing this, plans were made in conjunction with his chemical advisor from Nulandis to combat this problem. "At planting we apply a triazine-based herbicide, such as Terbuzin 600, in conjunction with Monsanto's Guardian S and this was followed up after six weeks with Harness and Terbuzin 600."
Currently Israel applies a rip on the row control traffic cultivation system. He also implements precision farming, which shows his commitment to long term sustainability and profitability. In future, Israel is looking to implement a fellow system to be able to manage the soil moisture better. By doing this, the planting risks will be reduced.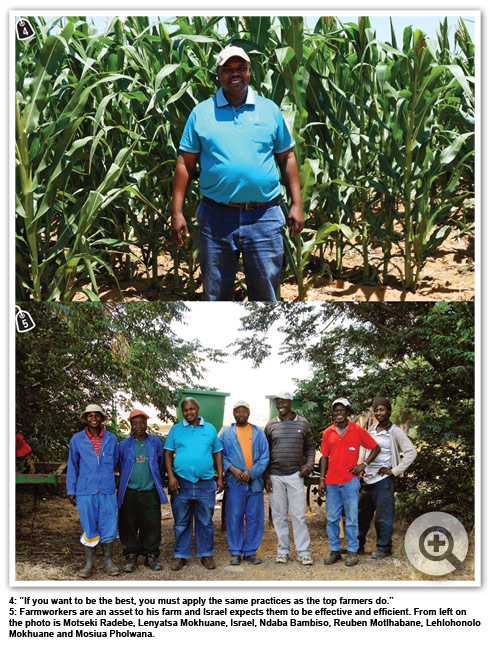 Israel realises that the farming enterprise must be profitable and this indeed has an effect on the crops that he plants. He says that sunflower is a difficult crop to plant and that he's had varying degrees of success with it in the past. With this in mind, he decided to plant only white and yellow maize. The yellow maize is planted to combat theft near the township. Farmworkers are an asset to his farm and Israel expects them to be effective and efficient. Loyalty is an attribute that he values most. "It is a pleasure to work on this farm, but Israel is strict so we must produce," mentioned one of his farmworkers with a smile.
Israel attends Johan Kriel's Grain SA Farmer Development Programme in the Free State at the Wesselsbron and Welkom study group meetings. He also attended various training courses by institutions such as Grain SA, the Department of Agriculture and Senwes, and so did his farmworkers. Combining this information and by reading and listening to what is being said around him, Israel's knowledge has expanded a lot.
This producer is a man of vision, who is strongly supported by his wife, Nunu, a teacher, and their three children, Lipuo, Gomoco and Kamogelo. "I hope my boys will also become farmers like me and that they will continue with what I have started."
For more information on his farming enterprise, contact Israel Motlhabane on 082 961 2208 or
mmaikeco8@gmail.com
.