FACING GIANTS– remain positive during trying times
April 2019

Gavin Mathews, Bachelors in
environmental management.
Send an email to
gavmat@gmail.com
Every new season starts with new seeds. We plant these seeds into the ground with no knowledge of what lies ahead. Climate, markets, prices, political changes; these can all be volatile and unpredictable. But yet we continue to plant the seeds. Why do we do this? What drives us as farmers to be willing to face these giants, these uncertainties.
We do it to feed our families, our country and to keep the agricultural economy ticking. So many industries rely on us as farmers to produce the raw product which they can take further into various other finished products. If we cease to put the seeds in the ground it will have a significant negative ripple effect. But how do we keep positive when all to often so much is against us?
Firstly, I believe it is absolutely crucial to take each day and make the most of it!
Do as much as you can with the time you have in each day. Be good at planning and setting goals. If you don't have a mission set for the next day it will be that much harder to pull yourself out of bed in the morning; especially when the going gets tough. A farmer needs to have continuous motivation!
Sometimes you may want to hide away because things outside are not worth looking at. But remember that your farming operation is not only what is happening in the fields; it is also what is happening in your books and in your shed. There is always something that needs attention that is worth focusing on. When the good years do come along you can then enjoy the fields so much more because you can have peace of mind that all the smaller things in the office and in the shed are organised and in order.
RELATIONSHIPS AND COMMUNICATION
A farm is a small community with complex relationships that exist between farmer, family and farm labour. It is vital to have a harmonious work environment; not only for you, but also for your staff and your family. If an issue or an altercation arises make sure that you resolve it as quickly as possible for the sake of your entire farm community.
As the leader and head of your business you need to be willing to listen to the concerns of everyone and make them feel valued and that everyone is a part of a team. Be fair and be gracious. Remember that every person who works in your operation has a family and home of their own which all comes with responsibilities.
Take this to heart and be willing to allow your staff to tend to their family's needs. Always work on building a peaceful environment where mutual respect is the norm. If you can achieve this you will see an increase in productivity, as your staff will feel valued like part of a link in a chain. Always pay fairly; even in the tough times. In the good years be sure to reward commitment and excellence. A school pupil always puts in even more effort when rewarded for good results. Having a happy work environment can make the tough times that much easier to manage whereas an unpleasant volatile work place can really be a recipe for depression and disaster.
INVEST TIME
Your family home is the heart of your business. Invest time into your family. Always strive to be open with each family member and use them as a support. At the end of the day they are the reason you put the seeds in the ground together with a nation of other families.
Be kind and gentle. Don't take out the stresses of the farming business on your family as they also have no control over all the negative factors influencing your crops. In your home make a point about talking about a wide variety of subjects and not only the farm. Try to get away occasionally, even if it is just for a day. If your home is a happy and safe place where the atmosphere is relaxed and calm it can go a long way in keeping you motivated and committed to your business.
EXPECT POSITIVE OUTCOMES
Have hope! Don't be afraid to have an expectation for positive outcomes. When the tough times persist, and they definitely will! Keep hoping and keep working. Life with no hope is like not having a mission for the day to wake up for. Many generations have passed before us and each generation has dealt with tough times. We can also, and we will. Be brave and be bold! Put the seeds into the ground and hope. If they wither; hope can remain as next season you can try again. May your business be blessed.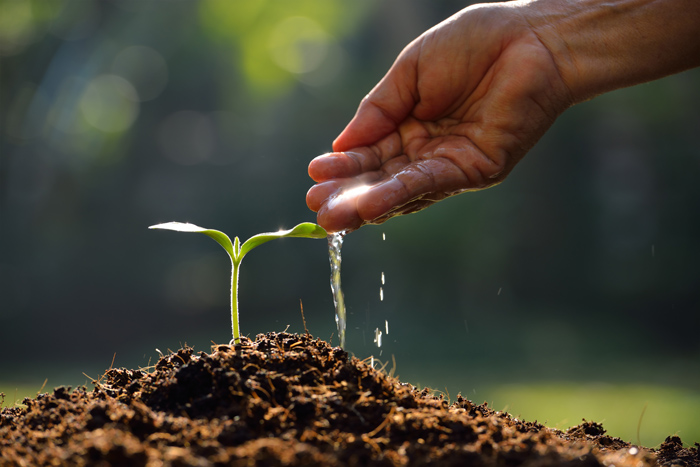 Publication: April 2019
Section: Pula/Imvula