Exciting new technology CAUGHT THE EYE at NAMPO
August 2018

LOUISE KUNZ, SA Graan/Grain editorial team
To ensure sustainable production, producers constantly need new and better technology to help the farming enterprise function more efficiently. South African producers' receptiveness to new technology is regarded as one of the factors that will contribute to sustainable food production.
During the 2018 Harvest Day, visitors to NAMPO Park were once again introduced to new implements that are currently available on the market.
SA Graan/Grain saddled its scouting horse by visiting some of the exhibitors to find out more about interesting new technology to make farming more effective.
The Nation in Conversation forum at the 2018 NAMPO Harvest Day among others contemplated the agricultural arena by 2035. The discussion panel identified the availability and utilisation of technology as a necessity for the future of agriculture.
Mr Jaco Minnaar, Grain SA's chairperson, emphasised that technology either makes food production cheaper or more productive.
Everyone agreed that one of the greatest advantages of technology is that it gives producers the opportunity to streamline their management processes.
With this knowledge in our knapsack, we hit the road to look for new technology at NAMPO 2018 to share with our readers.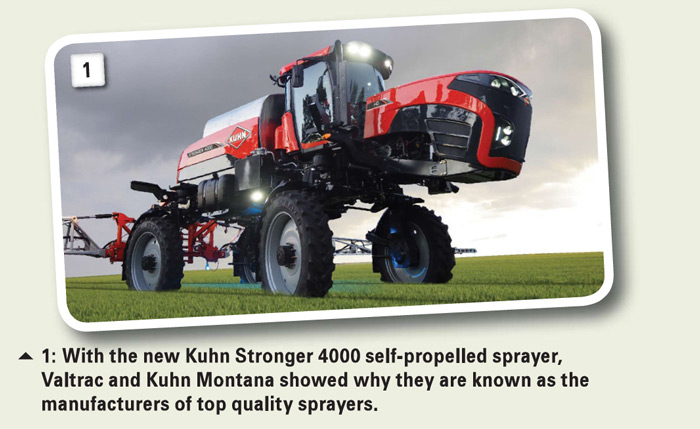 For bigger or smaller farming operations
A self-propelled sprayer for large farms
Valtrac and Kuhn Montana are well-know for sprayers, but the new Kuhn Stronger 4000 self-propelled sprayer is in a class of its own. With 1,8 m clearance and the new individual-wheel anti-slip system, combined with good weight balance, this machine allows you to get into the arable lands for spraying within optimal time. The latest Bosch engine and hydraulic control with anti-slip four-wheel drive system proves to be one of the best on the market to date.
The 4 000-litre stainless steel chemical tank with a super-fast front positioned water take-up point makes the filling turnaround time shorter for increased productivity. Also, to make the in-field rinse procedure more user-friendly, there is a 400-litre clean water tank available which can either rinse just the nozzles or the whole system. The Kuhn Montana Stronger 4000 comes with a specially designed sprayer with intelligent engine-management allowing the driver to have access to performance and sprayer conditions. The 36 m aluminium boom is designed to protect the nozzles of the end-cap system. This ensures even faster section cut-off and control.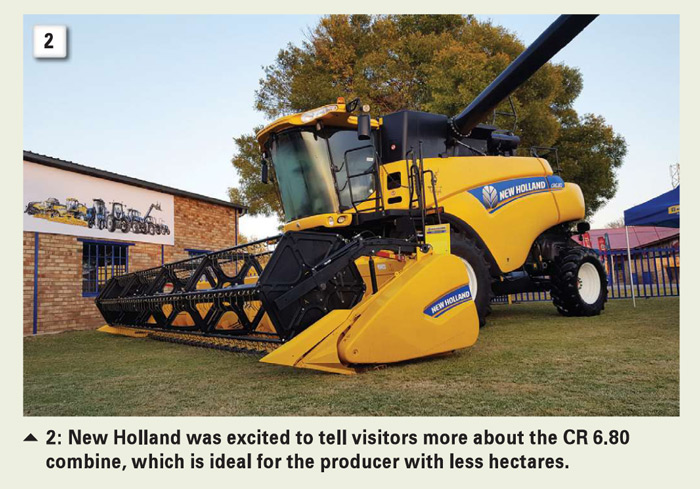 Higher capacity, lower cost for smaller farms
The latest addition to the South African New Holland stable is the CR 6.80, which provides all the benefits of Twin Rotor® and other smart harvesting technology, but is a more affordable option for smaller crop and mixed farming operations. This twin rotor is equipped with the proven Cursor 9 engine in Tier 3 emission release. It delivers a 16% power boost for a maximum power output of 273 kW and is an ideal model for the producer who requires the features that New Holland combines deliver, but does not need the higher capacity of the more powerful CR 7 and CR 8 models. For convenient spill-free operation, the grain tank (with a capacity of 9 000 litres) is discharged at 126 litres/second through a 6,4 m ejection pipe. The spacious Harvest Suite™ Ultra cabin with a 5,7 m2 glass surface ensures excellent visibility.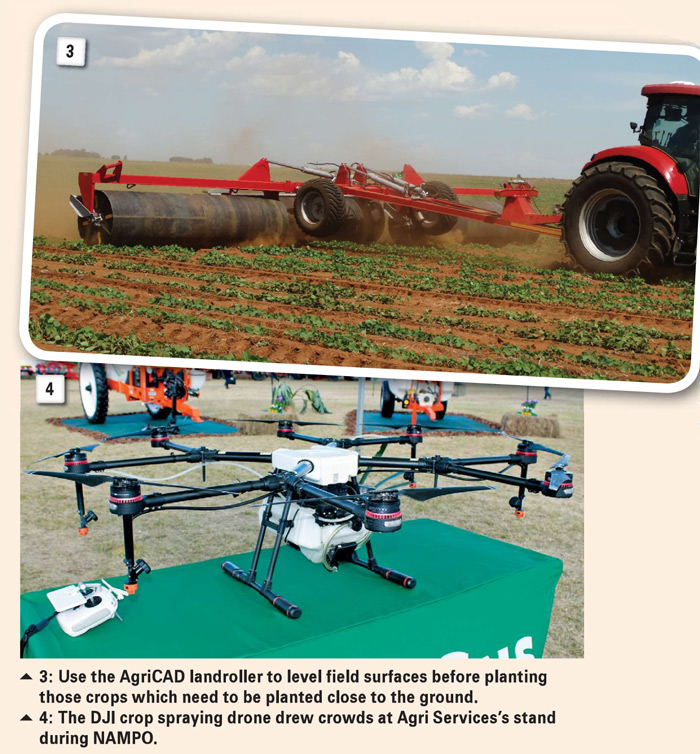 For use on the ground or in the air
More efficient soybean planting
The AgriCAD land roller offers the soybean producer the unique opportunity to plant soybeans with more efficiency and harvest them at lower risk. According to Mr Charl Fouche, marketing advisor at AgriCAD, land rolling should not be considered as compaction of the soil, because the land roller actually pushes rocks, soil lumps and other potential hazardous objects into the soil to lower potential damage whilst harvesting. The sealed soil also leads to improved water retention and enhanced soybean germination is the result of continual, controllable plant depth. Up to 12% more soybeans are harvested with lower damage risk. Three AgriCAD land roller models are available – a 7,6 m; 9,4 m and 11,3 m – all with collapsible wings for easy transport.
An alternative to aerial crop spraying
Producers are required to manage acres of farmland at a time and have recently begun to tap into drone or remotely piloted aircraft system (RPAS) technology to do so efficiently and sustainably. This method of crop spraying could revolutionise the way in which producers manage and take care of their crops. The DJI Agras MG-1S crop sprayer, distributed in South Africa by Agri Services, is especially useful in technical terrain (smaller, harder to reach fields) where a high level of precision application is required.
The more technical the terrain, the less effective traditional methods of aerial application are, resulting in ultimately reduced crop production and an increased risk of pest resistance. This ULV sprayer has a payload of 10 kg and can cover 3 ha/hour to 5 ha/hour which makes it significantly more time efficient and safer than ground knapsack spraying. Calibration rates and field boundaries are simply programmed into the RPAS and it automatically calibrates itself accordingly and flies the pre-defined GPS route.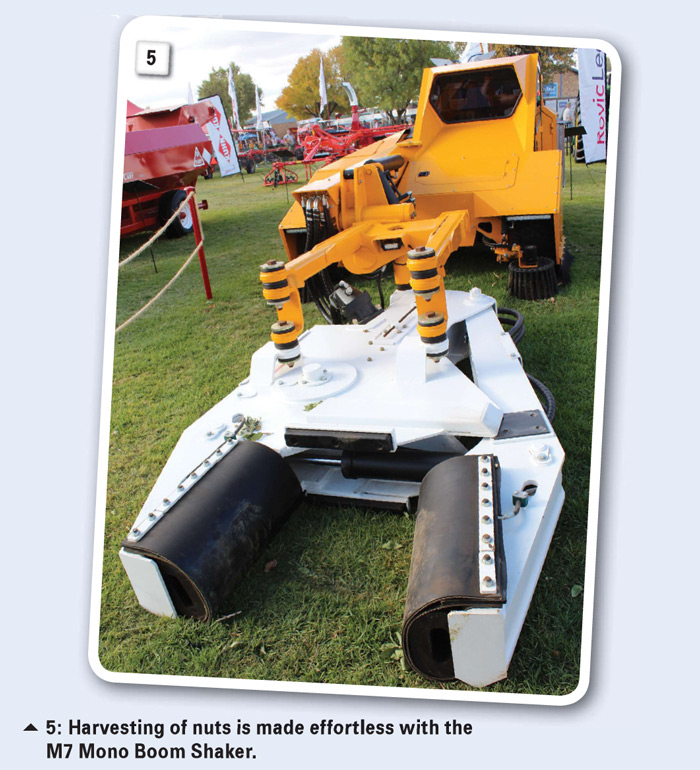 Something for fruit and nuts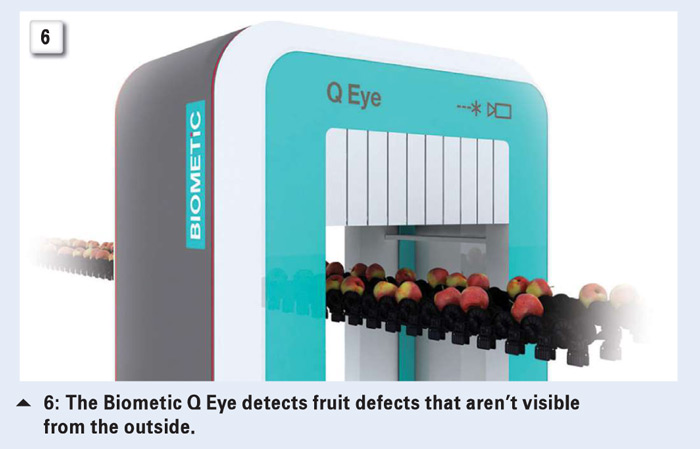 Keep bad fruit out of a good box
Biometic is the producer's overall electronic partner for controlling and optimising all aspects of fruit processing. Using the latest and most innovative technology, optoelectronic multi-sensor quality scanning, the quality and value of fruit is being improved by optimising grading, sorting, storage and production. The Q Eye scans, grades and classifies fruit for optimised sorting. This multi-sensor quality scanner consistently detects fruit defects and the software classifies fruits with precision and optimises processing and sorting according to customers' quality requirements. A top-of-the-range low power x-ray inspection is performed to identify internal fruit defects that are not visible on the surface. It helps to reduce fruit misclassification and the non-invasive scanner helps to eliminate waste and reduce financial losses by delivering bad fruit.
Harvesting nuts more efficiently
Rovic Leers knows that to boost productivity technology needs to be utilised. With the pecan farming industry growing they worked at a viable solution to harvest pecans in a more efficient manner. With the M7 Mono Boom Shaker, the shaking process is quick and effective. The shaker can be used to harvest walnuts, almonds and pecans. For more efficient removal it can limb and trunk shake at a higher level. It has been designed for trees up to 16 m tall and can strip them of all the nuts quickly with no nuts left hanging in the tree. With sweepers in front of and behind each wheel there is little danger of driving over the nuts left on the ground, so crop damage is minimised.
From emerging to mega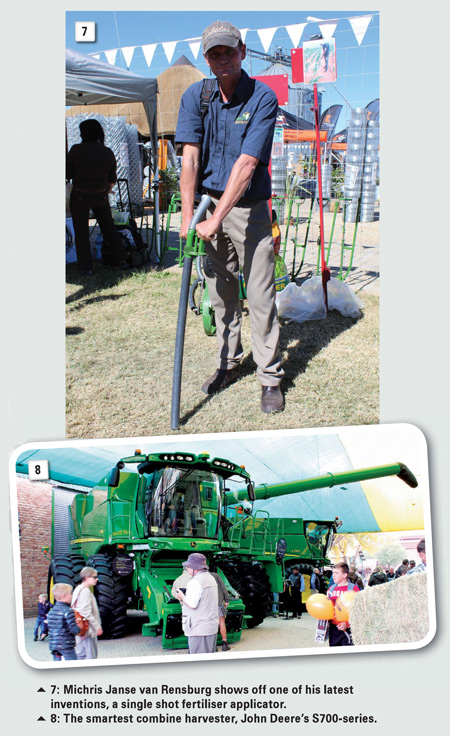 Cost effective and very efficient
Backsaver Farming Equipment focuses on building farming equipment for small scale farmers and selling them at affordable prices. The single shot fertiliser applicator takes the back-breaking labour out of applying top dressing fertiliser while getting the quantity right at the same time. It holds 7 kg which is enough to do 1 400 top dressing applications of 5 g each.
The device is calibrated to distribute 2,5 g or 5 g depending on the crop requirement. Where basal fertiliser is used, this invention also replaces the bottle top method where fertiliser is usually measured in a bottle top to ensure even distribution. With this applicator the fertiliser is placed into the hole with the applicator one shot at a time. Backsaver Farming Equipment also distributes planters that are light enough to be drawn by two men and even hand maize precision planters which ensure that maize is planted at the same depth and distance.
It's time to harvest smarter
Whatever the conditions (or the operator) the new John Deere S700 combine promises consistent grain quality. The Combine Advisor™ Package with ActiveVision™ cameras ensure 5% more grain quality and 5% less loss. With the ActiveYield™ technology automatic calibrations occur all day long which saves time and labour, leading to accurate yield data. John Deere's Operations Centres ensure that data can be turned into information that will make next year's harvest even better.
The premium cab not only offers excellent visibility, but everything you need to easily control the combine is at your fingertips. A new state-of-the-art CommandCenter™ and a designed CommandARM, along with the new 4600 Display, deliver a host of other shared smart features. The 700C maize heads are equipped with RowMax to deliver up to a 50% improvement in wear life of the row unit chains and sprockets.
Furthermore, the digital cameras located in the clean grain and tailings elevators constantly measure the quantity of broken kernels and dirt, making immediate adjustments to maintain the pre-set levels with no operator input required.
Publication: August 2018
Section: Focus on