Effektiewe strategie teen Russiese koringluisskade
March 2018

DR ASTRID JANKIELSOHN, LNR-Kleingraan, Bethlehem
Russiese koringluis kom voor in al die lande waar koring op groot skaal verbou word en het die potensiaal om plaagstatus te bereik – met enorme ekonomiese verliese as 'n gevolg. Die teel van koring met genetiese weerstand teen Russiese koringluis is daarom 'n effektiewe voorsorg teen ekonomiese skade op koring.
Daar is egter verskillende biotipes van Russiese koringluis, wat verskillende vlakke van skadelikheid op koring met genetiese weerstand toon. Daar is tans vier Russiese koringluisbiotipes in Suid-Afrika bekend: RWASA1 is in 1978 aangeteken, RWASA2 in 2005, RWASA3 in 2009 en RWASA4 in 2011.
Hierdie biotipes is verspreid oor die koringproduksiegebiede in Suid-Afrika, maar RWASA1 kom hoofsaaklik in die winterreënvalgebiede in die Wes-Kaap, die Noord-Kaap en Wes-Vrystaat voor, terwyl RWASA3 en RWASA4 hoofsaaklik in die Sentraal- en Oos-Vrystaat voorkom. RWASA2 kom in klein geïsoleerde populasies in al die koringproduksiegebiede voor.
RWASA1 het in die verlede oral in die Vrystaat voorgekom, maar is tans in die Oos-Vrystaat afwesig. Hierdie biotipe het waarskynlik die kompetisie met die meer virulente RWASA3 en RWASA4, wat dominant in hierdie gebied voorkom, verloor.
Die droëlandkoringkultivars op die Suid-Afrikaanse mark het verskillende vlakke van weerstand teen die verskillende Russiese koringluisbiotipes. Die skadelikheidsvlak sal verskil vir verskillende koringkultivars afhangende van die omgewing en die Russiese koringluisbiotipe wat hier voorkom.
Kennis van die Russiese koringluisweerstand in koringkultivars sal die produsent in staat stel om 'n ingeligte besluit te neem in terme van watter kultivar in 'n spesifieke omgewing verbou kan word.
Gedurende verlede jaar is al die droëlandkoringkultivars op die Suid-Afrikaanse mark in die glashuis teen die vier Russiese koringluisbiotipes geëvalueer. Die glashuisevaluasies het getoon dat uit die 20 droëlandkoringkultivars tans op die mark in Suid-Afrika, 17 weerstandbiedend teen RWASA1 is. Ses is weerstandig teen RWASA2, agt teen RWASA3 en vier teen RWASA4 (Tabel 1).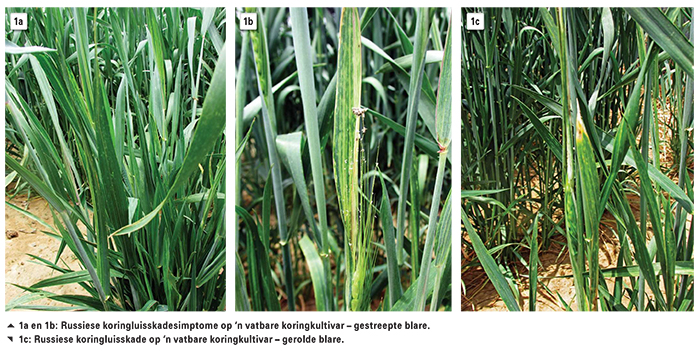 Evaluasie onder beheerde toestande in die glashuis kan vir ons 'n riglyn wees om te bepaal watter koringkultivars weerstand teen Russiese koringluis in 'n spesifieke omgewing sal bied. Daar moet egter in gedagte gehou word dat daar in die veld verskeie faktore is wat die interaksie tussen Russiese koringluis en die plant waarop hy voed, kan beïnvloed. Dit sluit onder andere omgewingstoestande soos droogte en hoë temperature in.
Omgewingstoestande kan die uitdrukking van weerstand in die plant beïnvloed, terwyl dit ook die populasiedinamika van die insek beïnvloed en hoër populasiedruk, en gevolglik groter skade, op die plant kan veroorsaak.
Deur 'n kultivar met weerstand teen die dominante Russiese koringluisbiotipe in die spesifieke produksiegebied te plant, kan skade as gevolg van Russiese koringluisvoeding voorkom word.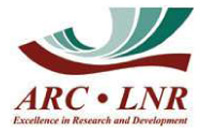 Produsente met enige navrae of opmerkings kan dr Astrid Jankielsohn by 058 307 3431, 082 564 3795 of jankielsohna@arc.agric.za kontak.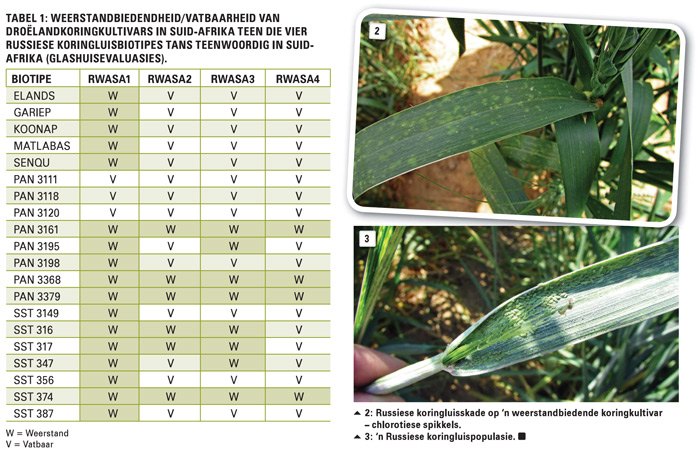 Publication: March 2018
Section: Focus on