Do your homework on fertiliser prices
February 2023

CHRISTIAAN VERCUIEL,
JUNIOR AGRICULTURAL ECONOMIST, GRAIN SA
Traditionally, between 30% and 50% of a grain and oilseed farmer's existing input costs are spent on fertiliser. Fertiliser makes up such a large portion of the input costs that any change, especially a price increase, can affect your pro­fitability drastically.
Because South Africa is a net importer of fertiliser, it further aggravates the situation as all imported fertilisers are not only affected by their actual price, but by a whole range of factors such as the exchange rate and transport costs.
IMPORT VOLUME AND PRICE CHANGES
Graph 1 illustrates South Africa's fertiliser imports of monoammonium phosphate (MAP), ammonia, urea and potassium chloride from various countries since 2009. Although not the only fertilisers imported, these are four of the five most important products imported.
In 2009, fertiliser imports for these five products have increased by 165% in total. South Africa imported a total of 2 155 233 tons of just these five fertiliser products from various countries during 2021. Besides the increase in import volume, the exchange rate of the rand against other major currencies also weakened sharply from 2009 onwards, which further intensified the effect of price increases. For the year 2022 up until August, more than 1 million tons had already been imported, which is about 61% of 2021's total.
Table 1 shows the average price changes for nitrogen (N), phosphate (P) and potassium (K) during July last year, compared to October 2022. It is staggering to see how sharply the prices for these products have increased in a year.
When looking at the fertiliser requirements of different parts of the country, one notices that on average:
The Western Free State uses 72 units of N, 16 units of P and 14 units of K per hectare.
The Eastern Free State uses 100 units of N, 19 units of P and 27 units of K per hectare.
Irrigation areas use 286 units of N, 52 units of P and 80 units of K per hectare.
Table 2 provides a comparison of the average fertilisation requirements for these three regions for October 2021 and October 2022. On average, the cost of fertiliser increased
by 41%.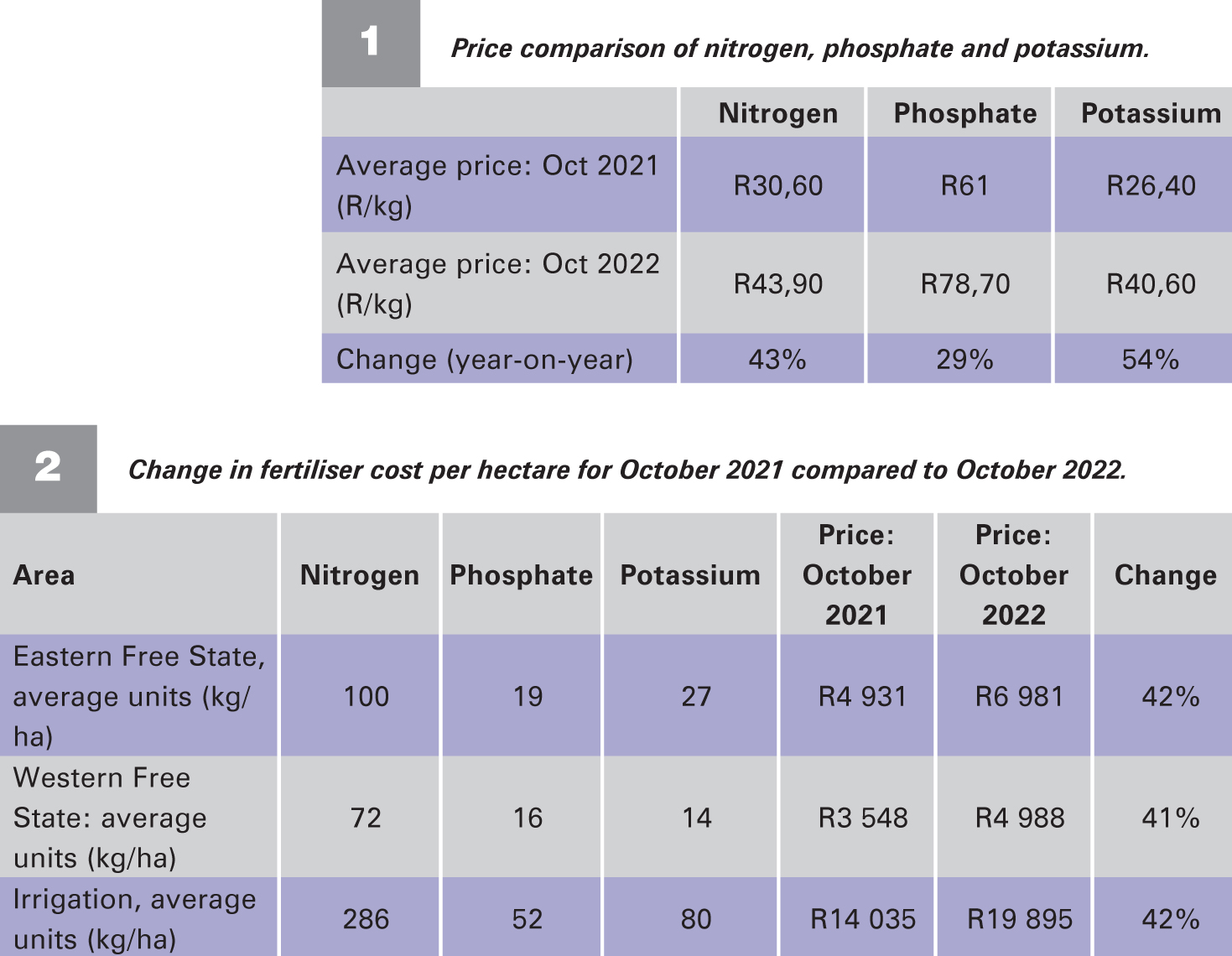 FERTILISER AFFORDABILITY
Graph 2 provides an indication of the affordability of fertilisers compared to the Safex price of maize. Fertilisers, which account for between 30% and 50% of the input costs, have become less and less affordable, which means that the farmer's margin for trade has weakened excessively. This puts pressure on the farmer's profitability and can result in fewer hectares being planted, especially maize.
This information paints a clear picture of the extreme challenges that farmers face every day to try and stay afloat. Fertiliser is not the only input cost that has seen sharp price hikes. The cost of energy sources such as fuel and electricity has also risen sharply, as has the price of seed and chemicals. It is becoming progressively more difficult for farming operations to remain profitable and sustainable.
Since there is little room for mistakes, farmers must make sure they are not being taken for a ride by fertiliser suppliers. Do your homework, make sure the representative's prices are market related, compare offers to find the best price and select the most suitable offer for your purposes.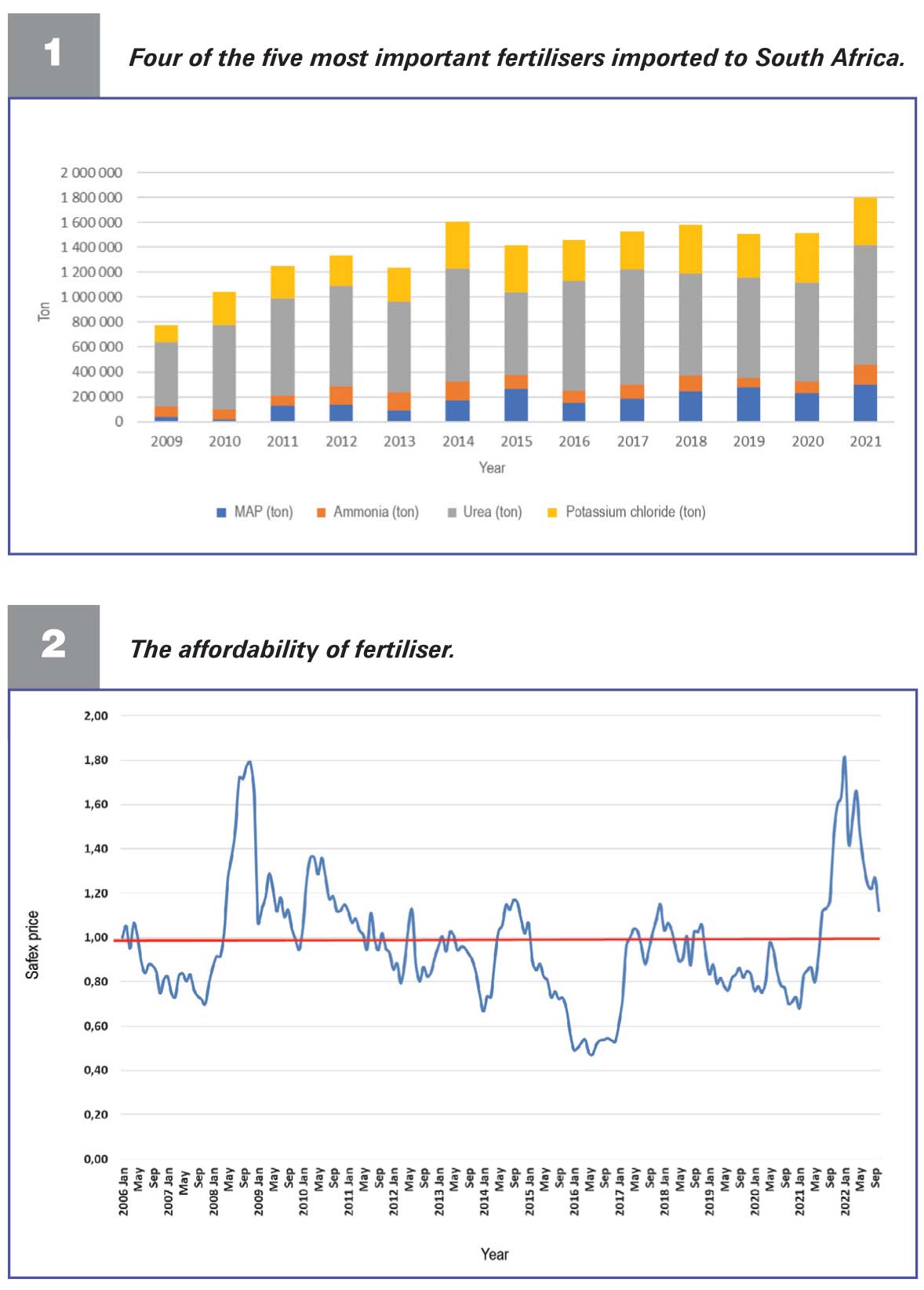 Publication: February 2023
Section: Pula/Imvula