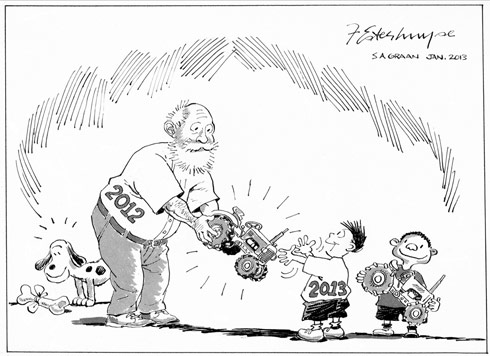 2012 was 'n goeie jaar vir Graan SA. Ten spyte van die kol-kol reën, het die land 'n goeie oes opgelewer en ons produsente het goeie pryse gekry. Die 2013-seisoen het met benoudheid begin.
Arbeidsonrus, politieke onstabiliteit en weerpatrone laat ons wonder of 'n mens nog 'n bestaan uit saaiboerdery kan maak. Vir ander produsente wat begunstig word uit die herkapitalisasieprogram, is dit 'n jaar met 'n groot begin! 'n Einde aan die lang wag vir ondersteuning van die regering.
Die boublokke van ons organisasie wat die afgelope twee jaar in plek geval het, gee ons 'n vaste basis vir die loodsing van 2013. Daar is 'n gesegde wat sê: "'n Mens loods nie 'n torpedo vanaf 'n kano nie, maar vanaf 'n behoorlike oorlogskip."
Graan SA is beslis só 'n skip. Ons het nie plek vir passasiers nie. Elkeen het 'n taak en 'n visie en ons doelwitte vir 2013 is vas: Ons wil graan en oliesade volhoubaar en winsgewend produseer om sodoende voedselsekerheid en werksgeleenthede vir Suid-Afrika te verseker. Elke lid, hetsy dit 'n produsent, rolspeler in die waardeketting, verteenwoordiger, hoofbestuurslid of personeellid is – hy/sy ken hulle take en opdragte. Wat alles vir ons voorlê, kan ons nie nou al sê nie, maar dat dit opwindend gaan wees, is gewis. Ons sien uit na die groei in ons vennootskap met die regering om landbou vorentoe te vat in 'n stabiele politieke klimaat.
Ons vertrou dat die weer gunstig sal wees en dat ons kan meehelp dat die land sy oes kan lewer. Ons kollegas, veral in die VSA, het die afgelope paar jaar swaar gekry en ten spyte daarvan dat ons daardeur gebaat het via die hoër pryse, wens ons selfs vir hulle 'n beter seisoen toe.
Ek is nie een wat vir jou 'n lys van Nuwejaarsvoornemens wil deurgee nie, maar ek wil tog een uitdaging vir 2013 by jou laat: Wil jy nie minstens één persoon naby aan jou en uit die volgende generasie identifiseer en 'n pad saam met dié persoon begin stap nie? Jy het immers soveel wat jy vir ander kan leer. Baie van ons volgende generasie, op elke vlak, het so 'n behoefte aan 'n stukkie menslike aanraking, liefde en iemand om die pad te wys. Om van sukses na betekenisvolheid te skuif, moet jy in mense, en nie in goed nie, begin belê.
Dalk is 2013 jou jaar om hierdie skuif te maak. As jy regtig nie aan iemand in die volgende generasie kan dink of kan identifiseer nie, plant dan 'n boom – dit is immers ook iets vir die volgende generasie.
Voorspoed vir 2013!

Jannie de Villiers, Uitvoerende hoofbestuurder