DIE VIERVOETIGES BY NAMPO - altyd die moeite werd om te sien
April 2016

SA Graan/Grain redaksie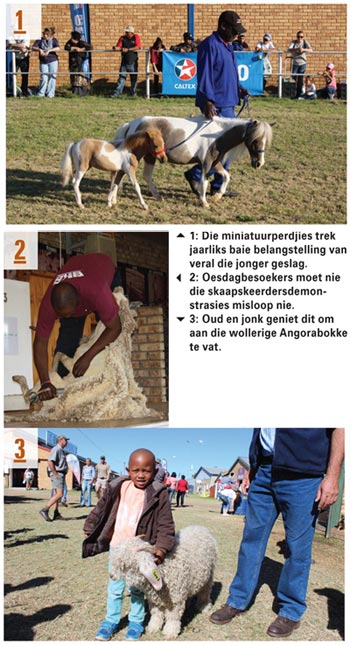 Of jy nou 'n stadsjapie of 'n plaasjapie is, 'n besoek aan die viervoetiges sal definitief een van die hoogtepunte word tydens jou besoek aan Graan SA se NAMPO Oesdag.
Die veekompleks huisves soos altyd 'n reuse-verskeidenheid groot- en kleinvee. In die KK Animal Nutrition Beeskompleks sal jy die gebulk van die verskeie beesrasse – van Afrikanertot Sussex – kan hoor. Bring gerus besoek aan die beestelersgenootskappe en uitstallers wat hierdie verskeidenheid beesrasse in Suid-Afrika verteenwoordig. In die Bees Anneks kan belangstellendes na die Chianina- en Senepolbeeste gaan kyk.
By NAMPO word die skape en bokke nie van mekaar geskei nie en kan besoekers skape en bokke van verskillende rasse hoor blêr in die MSD Animal Health Skaapkompleks. Die Varktelersgenootskap van Suid-Afrika staan ook hul plek vol om kennis met mede- of potensiële varkprodusente te deel. Verskeie ander uitstallers, wat byvoorbeeld skaapskeertoerusting verskaf, sal ook in dié kompleks gevind word.
Die skaapskeer-, wolklas- en hanteringsdemonstrasies wat daagliks vanaf 14:00 tot 17:00 by die Skaapkompleks te sien is, lok jaarliks baie belangstelling. Statiese vertonings van skaaprasse word ook hier aangebied.
Die Fries- en miniatuurperde pronk in die uitstalruimte agter die MSD Animal Health Skaapkompleks. Indien jy meer oor hierdie spogdiere wil uitvind, kan jy die kenners in hierdie saal gaan uitvra. Moenie die perderasbekendstellingsparades en -demonstrasies daagliks om 16:00 misloop nie!
Weens die groei in die wildbedryf, word wildverwante uitstallers ook sedert 2014 by Graan SA se NAMPO Oesdag geakkommodeer. Besoek hulle in die Hinterland-saal en Caltex-verlenging.
DAAGLIKSE VEEVERTONINGS
Beesprogram
08:00 tot 17:00 – Statiese vertoning van beesrasse in die KK Animal Nutrition Beeskompleks en Suiwelkompleks
15:00 – Beesrasbekendstellingsparade
Skaapprogram
08:00 tot 17:00 – Statiese vertoning van skaaprasse in die MSD Animal Health Skaapkompleks
14:00 tot 17:00 – Statiese vertoning, sowel as skaapskeer-, wolklas- en hanteringsdemonstrasies by die MSD Animal
Health Skaapkompleks
Perdeprogram
08:00 tot 17:00 – Statiese vertoning van perde agter die MSD Animal Health Skaapkompleks
16:00 – Perderasbekendstellingsparade
Publication: April 2016
Section: NAMPO