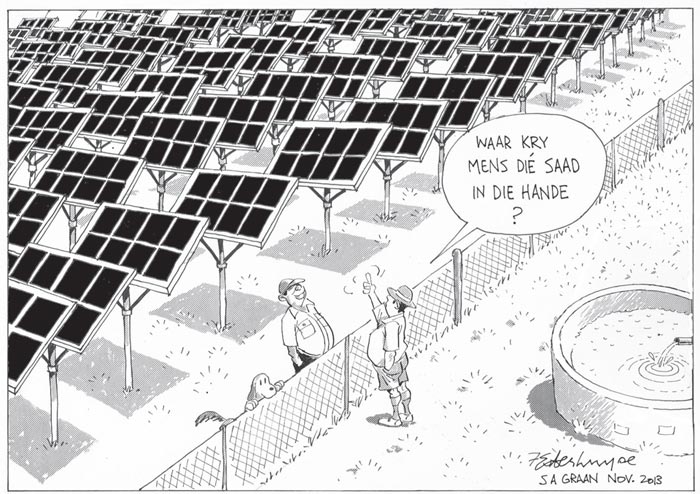 Vandeesmaand se tema vir die SA Graan/Grain tydskrif handel oor energie- en waterbestuur – twee hulpbronne waarsonder nie net produsente nie, maar ook die hele mensdom, nie kan klaarkom nie.
Een van my eerste gewaarwordinge van elektrisiteit en die hulpmiddel wat dit is, loop saam met my ervarings as kind toe ek op Oupa Brandkop (ook die plaas se naam) se plaas alleen in die bloukamer moes slaap, met net 'n enkele kers wat lig maak.
Later jare was ons oud genoeg om saans in die buitegeboue die Listerenjin se slinger te gaan draai om lig vir die huis te maak. Wat ek nooit ooit sal vergeet nie, was die ongelooflike stilte wanneer ons die enjin saans moes gaan afsit. Dit was Julievakansies se koue Suid-Vrystaatse lug, die helder sterre en die doodse, doodse stilte as die Lister sy laaste asem uitblaas. Dankie tog die honde was ook daar om saam huis toe te stap!
Vandag het kragvoorsiening amper sy volle siklus voltooi. Ons begin weer so raak-raak daaraan dat produsente hulle eie elektrisiteit moet begin voorsien. Hierdie keer hang dit egter nie af van die beskikbaarheid nie, maar wel die bekostigbaarheid daarvan. Die tariefstygings het produsente gedwing om meer kreatief te wees en om nie net te spaar en meer effektief te werk nie, maar ook om nuwe bronne van energie te ontgin. Sonpanele en bio-energie is ons voorland.
Gelukkig sal die volgende geslag nie soos ek met 'n kers in die donker gang moet afloop nie, maar sal die bron van ons energie vanuit die stalle, landerye of van die son af kom. Die landbou het nog nooit geskroom om 'n nuwe plan te maak nie, maar ons gaan 'n paar nuwe vennote benodig om oor hierdie hekkie te kom.
Om mielies in brandstof of elektrisiteit om te sit, sit ook nie in elke man se broek nie. Wat wel waar is, is dat die geleenthede daar is om nou al in te belê. Dit is baie helder en duidelik dat ons as graansektor hier 'n geleentheid het om nie net ons eie verbruik te bestuur nie, maar ook ons eie energie op te wek en later selfs te verkoop. 'n Totaal nuwe bedryfstak vir jou plaas.
Die uitdagings van vloedbesproeiing en windpomppype wat in die boorgat val, 'n huis wat sonder water sit en warmwater in 'n halwe 44 gallondrom warm maak om darem 'n slag te bad, is 'n storie vir 'n ander dag. Vandag is water elke produsent se lewensaar!
Dit is nie net vir die besproeiingsboere 'n realiteit nie, maar vir elke plaas. Sonder water gaan ons nie kos hê nie. Ons land se water moet elke jaar tussen meer en meer mense verdeel word. Gaan die prys van water ons ook dwing om dit anders te verbruik? Ek verbeel my dit was minister Trevor Manual wat by geleentheid gesê het dat ons nog 'n plan kan maak om energie meer te maak, maar vir water is daar nie 'n plaasvervanger nie. As ons net na ons samelewing se gebruik van water moet kyk, lê daar 'n besonder moeilike paadjie vir ons voor. Ons mors en besoedel dit so; asof daar nie 'n einde daaraan is nie.
Ek wil afsluit met 'n storie wat in die distrik van New Orleans in die VSA afgespeel het; waar ek oor 'n naweek in die laboratorium besig was om saam met 'n amptenaar van die Koringraad (dr Sierk Ybema), valgetaltoetse op Amerikaanse koring te doen wat ons in die proses was om op 'n skip te laai. My werk was om proefbuise te was en dr Ybema het die toetse gedoen.
Die kraan in die laboratorium was die hele tyd oop en elke keer as ek daar verbyloop het ek dit, soos my ma my geleer het, toegedraai. Op 'n stadium "vang" die Amerikaner wat daar gewerk het my terwyl ek dit toedraai en hy vra hoekom ek dit doen, want sien, dit mors tyd om dit elke keer oop of toe te draai.
Ek het aan hom verduidelik dat, waar ek vandaan kom, ons nie eers 'n kraan laat drup nie. Sy antwoord was bloot: "Kyk deur die venster, die Mississippi loop twee myl wyd hier, daar is nie 'n kans dat ons sonder water gaan wees nie". Nodeloos om te sê dat ek hom so in die oë gekyk het en maar net weer die kraan toegedraai het.

Jannie de Villiers, Uitvoerende hoofbestuurder