Die lorrie stop uiteindelik voor jou deur
May 2017


JANNIE DE VILLIERS, uitvoerende hoofbestuurder
Met al die verwikkelinge op die politieke terrein, is dit duidelik dat die politici se balansstaat swakker as saaiboerdery s'n is. Rommelstatus is 'n duidelike boodskap dat jy, gemeet teen die wêreldstandaard, dit nie gemaak het nie.
Dit is iets wat gebeur as jy jouself nie die hele tyd meet aan wat jy dink die standaard is nie. Per slot van rekening is dit nie so belangrik wat jy dink wat reg en verkeerd is nie. Om jouself objektief te meet, is braaf, maar ook wys.
Stembusse, kredietgraderings en mededingendheidsindekse is maat stawwe wat veroorsaak dat politici ons nie so maklik 'n rat voor die oë kan draai nie. Daar is egter twee reaksies op sulke ontnugterings in die lewe: Dié wat dit ontken en maak of dit nie bestaan nie en dié wat daarop ag slaan en aanpassings maak om sake reg te stel en te verbeter.
Tyd sal leer watter roete die politici in die land gaan neem. Dit is egter belangrik om op hulle dade te let en nie net na hulle woorde te luister nie.
Die graanprodusente van die land kan egter nie sommer net so op die kantlyn sit en ander se splinters uit die oë probeer haal nie. Ons is pas deur 'n seisoen waar dit blyk asof ons ook maar 'n paar balke het om uit te sorteer.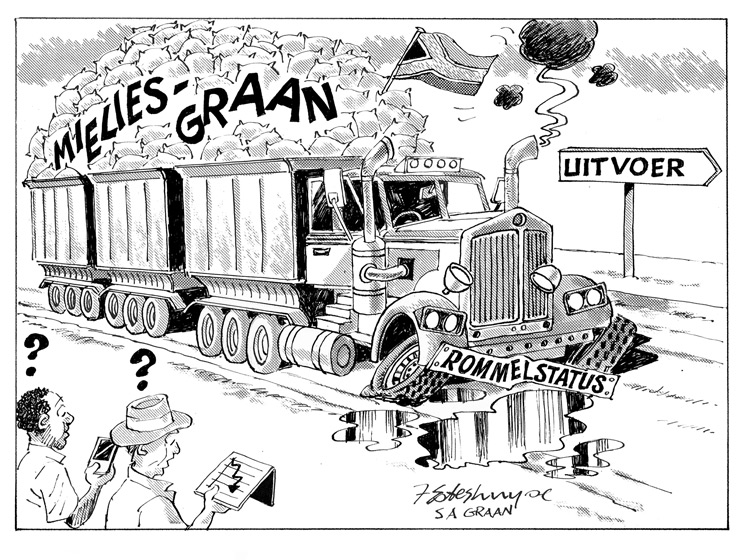 Gelukkig is ons vermoë om nuwe tegnologie te omarm en te gebruik om die beste van weerstoestande te maak, uitnemend. Dit is wonderlik om te sien hoe hierdie vermoë in tonne omgeskakel word, maar dit lyk asof ons effe tekort skiet wat die omskakeling daarvan in (rommel) rande betref. Ons is nog nie op dieselfde skaal as die wêreldmaatstaf as dit kom by ton per hektaar of kilogram per millimeter reën nie, maar ons is amper daar.
Met goeie navorsing en goeie praktyke maak ons goeie vordering teen hierdie steilte uit. Die area waaraan ons in die toekoms meer aandag gaan moet gee, is bemarking. Ons kan ook soos politici die skuld vir ander gee of die markreëls en kapitaliste blameer, maar soos met president Zuma, stop die lorrie uiteindelik voor jou deur.
Dit is tog interessant dat met die swaai van die pendulum (van mielie-invoere na -uitvoere) daar skielik 'n paar reëls in die mark is wat nou ook die kopers pla. Hierdie verwikkeling is bykans soos die politiek: Nuwe vennote in nuwe omstandighede.
Ons sal met almal saamwerk wat die mark 'n beter en regverdiger plek wil maak. Dit is een gesegde van prof Eckart Kassier wat ek nooit sal vergeet nie: Jy moet konstant daaraan werk om die mark te verbeter.
Ek wil tog in dié verband my spreekwoordelike hoed vir die JSE afhaal wat verlede maand genoeg dapperheid aan die dag gelê het om 'n paar spelreëls vir die koringbedryf te verander – ten gunste van produsente – ten spyte daarvan dat die kopers nie almal saamgestem het nie. Ons sal maar moet sien of die Departement van Landbou, Bosbou en Visserye dieselfde dapperheid aan die dag gaan lê as daar veranderings aan die graderingsreëls aangebring moet word.
Ek wil jou tog aanmoedig om tydens NAMPO 2017 jou tyd oordeelkundig te verdeel tussen nuwe tegnologie vir produksie en bemarkingsverbeteringe. Praat met die handelaars en bemarkers oor nuwe strategieë.
Vra jou medeprodusente wat vir hulle gewerk het en wat nie gewerk het nie. Dit is nie 'n skande om raad te vra nie. Selfs die Bybel moedig ons aan om 'n groot aantal raadgewers te hê. Die afgelope weke het ons gesien wat met die politieke leiers van ons land gebeur as hulle dinge op hul eie wil doen en nie raad vra nie. Kom ons, as graanprodusente, maak nie dieselfde foute nie.
Geniet NAMPO 2017 en sterkte vir die produsente in die suide met die nuwe plantseisoen.
Publication: May 2017
Section: Features