Die kort trek na die nuwe normaal
May 2015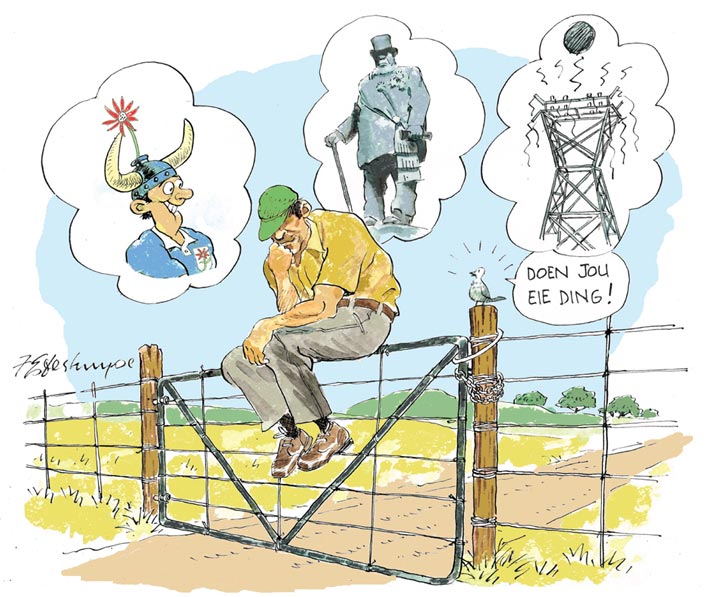 Beste Grootneef
Die suidewindjie jaag vanoggend die stowwe in sulke bondels oor die plaaswerf. Die somer is oplaas verby en die eerste ryp sal nou enige stil nag val...Ou Neef, dis wrintiewaar tyd om te gaan kyk waar die biltonghakies verlede jaar gebêre is!
Kyk, dis nie net die natuur wat sê dis 'n nuwe seisoen nie. Dit is asof 'n koeler wind van verandering ook gesindhede in die land deurmekaar waai. Die kirpatse in die parlement is nou al ou nuus, maar dis asof die vrot gesindhede daar, nou deursuur na al wat leef en beef.
Dis een ding as jou naaste vir die Blou Bulle skree en jy by jouself dink dat die man geen trots in hom het nie. Dis 'n ander ding om jou naaste met 'n vuvuzela oor die kop te slaan omdat hy vir die Bulle skree. Dit is asof 'n gees van straffelose aggressie soos 'n veld brand op loop is en mense mekaar baie maklik te lyf gaan indien iemand anders as hul lyk of doen. Dit is nie 'n goeie plek om te wees nie.
Buurman vertel ook van die moles in Pretoria se middestad, toe 'n groep beelde met verf betakel is. Ná die tyd het dit egter geblyk dat die "beelde" 'n klomp munisipale werkers op staking was! Buurman sê in dié geval het hy nogal baie simpatie met die verfgooiers. Volgens hom is dit nie altyd heeltemal duidelik of daar nou gestaak of gewerk word nie.
Hy sê wat hom ook heel verwar met die stakery en werkery, is die Medupi-plek. Drie jaar nadat nuwe strome krag al Eishkom se probleme moes oplos, is die eerste turbine onlangs eers aan die draai. En toe eis die werkers 'n bonus omdat hul werk net drie jaar laat gelewer is...En toe word die span werkers ontslaan...En toe word die span werkers weer aangestel, alles binne 'n paar dae. Buurman sê terwyl alles nou herdoop word, moet Medupi dalk ook verander word na "Driejaar-lank-nie-'n-vonkie-uit-een-turbine-fontein". Of so iets. Want 'n plek van innovasie is dit nie meer nie.
Ou Neef, en dit bring my by die kort trek in jou eie kop. En hoe jy anders oor goeters moet dink. As jy gaan wag dat "iemand" van die munisipaal óf die staat dit beter of anders gaan maak, is dit tyd vir die kort trek in eie gedagte na die nuwe land van selfdoen, om 'n verskil te maak.
Gooi maar die gate op pad dorp toe, self toe. Deel 'n skraper en diesel met jou bure om die grondpad weer te ontrimpel. Laat skoffel maar die begraafplaas so elke ses maande met jou eie span. Jy gaan buitendien beter oor die resultate voel, as om hope briewe te stuur en deur vergaderings met die owerstes te worstel.
En doen dinge sonder 'n ophaal van woorde. Doen dit net, want niemand anders as jy en jou gemeenskap gaan daardie verskil maak nie. "Privatiseer" in jou eie kop.
Ou Neef, dit is nou die tyd om met 'n kopskuif oor te stap na 'n nuwe normaal. Want dit is nie noodwendig meer normaal dat Eskom se ligte gaan werk nie. Of dat robotte se flikker herstel word nie. Of dat die skool se boeke voor die eindeksamen afgelewer word nie. Of dat daar petrol in die ambulans is nie.
Dis egter nou beslis die tyd vir koel koppe en sterk harte.
Groete op die Oosgrens.
Kleinneef
Lesers is welkom om 'n e-pos aan Kleinneef te stuur by kleinneef@graingrowers.co.za.
Publication: May 2015
Section: Features