Die horingroete
November 2015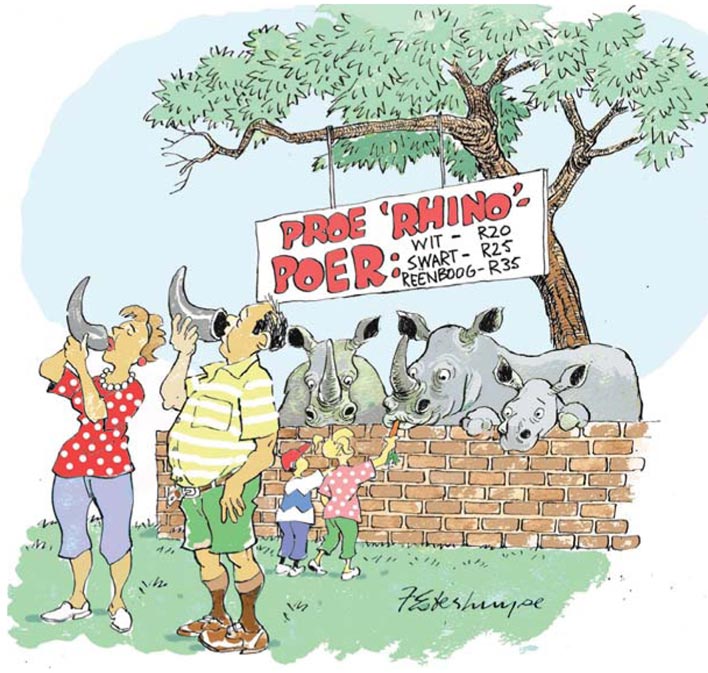 Beste Grootneef
Buurman sê hy was so kwaad vir die Bokke toe hulle teen die Japannese vasgeval het, hy het sommer twee bladsye uit sy Facebook geskeur. Hy sê ook die Bokke sou nog verder verloor het as die Japannese met hul oë oop gespeel het. Dit wys jou, as jy net opdaag om te wen, het jy klaar verloor. Die Japannese was net soos die burgers van Lilliput in Gulliver se reise óór die Bokke en het uiteindelik 'n reus vasgeknoop. Maar hoop beskaam nie, dalk doen die Bokke die ding!
Ou Neef, die anderdag ry ek met die vliegmasjien Kaap toe. Naby die Oranje kon jy die besproeiingsirkels mooi uit die lug sien. In die sitplek agter my was 'n laaitie wat wou weet wat maak die sirkels so mooi rond. Dié se pa sê toe dit is aliens. Toe was die gort gaar, want die jongman wou opsluit dat laer gevlieg word, sodat hy die aliens beter kon sien!
Op 'n manier was die outjie se pa reg. Boere het nogal 'n alien-streep weg. Dis nie vir gewone mense om dure diesel, kunsmis en saad in droë grond te saai en dan te hoop op reën nie. Dit vat durf wat nie almal beskore is nie. Want niemand weet vooraf wanneer en of die reën kom nie.
Ou Neef, die week was dit in die nuus dat NASA water op Mars gekry het. Jy kan maar glo, dis nie lank voordat die Vrystaters 'n paar pivots op Mars staangemaak het nie. En groen trekkers kry jy deesdae oral!
Buurman het laat weet hy het 'n plan om sy kontantvloeiprobleme op te los. Dit werk so – eers moet die goewerment die mark vir renosterhorings dereguleer. 'n Vrye mark waar vraag en aanbod die pryse maak. En dan moet die dag se horingpryse sommer op TV gewys word onder "edelmetale en ander opkikkers". Dis nou om die mark deursigtig te hou.
Die berekening van uitvoerpariteit en 'n horingdifferensiaal sal natuurlik 'n paar groeipyne besorg. 'n Graderingstelsel sal ook handig wees en jy kan maar weet, iemand gaan weer geld maak uit stoorkoste.
Maar wat, as ons 'n vrye mark vir mielies kon maak werk, kan ons dit vir horings ook doen. Dan moet die goewerment sommer 'n vryehandelsooreenkoms met die Ooste sluit, sodat horings sonder tariewe daar doer geland kan word.
Buurman se planne is ver gevorder. Hy sê as die Kaapse boere 'n wynroete kan hê, kan ons Vrystaters 'n horingroete kry. Met proe en snuiflokale oral. Buurman sê hy beplan om 'n paar fynproewers te kry om die oorsprong en oesjaar van elke streek te boekstaaf. Dink net aan die moontlikhede – 'n mopanie ondertoon vir horings uit die Noorde. Of dalk 'n stowwerige smaaksensasie uit die Vrystaat! Vir die waaghalsiges, 'n geur van knapsekêrel en kakiebos! Buurman sê dit kan 'n besigheid raak, met 'n voerkampie vol renosters voor die proe- en snuiflokaal. Kinders kan die renosters wortels voer terwyl pa en ma in die proelokaal doenig is.
Ou Neef, dalk het Buurman 'n punt beet. Soos wat skape se wol drie keer in twee jaar geskeer kan word, kan 'n renoster se horing elke keer weer groei, as dit net reg geknip word. 'n Blesbok het eers waarde gekry toe biltongjagters vir die jagervaring begin betaal het. Voor dit was trekwild uitgeskiet omdat hulle die beeste se weiding opgevreet het. Nou het elke wildsbok 'n waarde, met 'n wildbedryf wat blom. Maak renosterhoring wettig, dan sal renosterstoeterye oral opskiet!
Op hierdie stadium vermink onwettige stropers renosters voor die voet. Boere het ook nie lus om by wildsveilings op renosters te bie nie – die risiko is net te groot. As renosterhorings egter wettig verhandel kan word, sal renosters soos ander edel wild, oornag 'n beleggingswaarde kry. 'n Kommersiële renosterboerdery kan die land op horings neem. Veral met kleurvariante. Dink net, bo en behalwe wit en swart renosters, goue, geel en blou renosters?
Nou ja, waar 'n uitlaatrokie trek, is daar 'n Polo.
Groete aan die ander aliens op die Oosgrens. En lekker plant.
Kleinneef
Lesers is welkom om 'n e-pos aan Kleinneef te stuur by kleinneef@graingrowers.co.za.
Publication: November 2015
Section: Features