Die beheer van winteronkruide in somerreënvalstreke is ook belangrik
June 2015

ELBÉ HUGO, LNR-Instituut vir Graangewasse
Een van die definisies van onkruide, is dat dit plante is wat groei waar dit nie moet nie. Alle plante wat gesien word as 'n onkruid, het gewoonlik kenmerkende eienskappe, soos 'n lang leeftyd, vinnige ontkieming, welige groei en produksie van derduisende sade.
Onkruide is sterk kompeteerders wat in wisselende omgewingstoestande kan gedy. Volgens literatuur is ongeveer een derde van die wêreld se onkruidpopulasies eenjarige plante, terwyl die res beskou word as meerjarige plante.
Eenjarige plante voltooi 'n hele lewensiklus (ontkiem, groei, produseer saad, sterf af) in een jaar, terwyl meerjarige gewasse se lewensiklusse oor meer as een jaar strek en veral gekenmerk word deur vegetatiewe reproduksie, soos byvoorbeeld by knolle/bolle en selfs rankers/steggies.
By beide eenjarige en meerjarige onkruide is daar onkruide wat in die somer hulle lewensiklus voltooi (someronkruide), maar daar is ook heelwat onkruide wat in die winter met hulle lewensiklus begin, dit wil sê winteronkruide. Meeste produsente is goed vertroud met onkruidspesies wat in die somer opkom en beheer moet word, maar wanneer die winter aanbreek, dink heelwat produsente die stryd is gewen. Ongelukkig is dit nie die geval nie. Met al hoe meer wisselvallige reënvalpatrone, en die klem op gebrekkige reënval in sommige gebiede, raak die vogbewaring van grond kritiek vir volhoubare gewasproduksie.
Omdat winter- sowel as someronkruide, sterk kompeteerders is, moet dit beheer word om welige groei en saadstorting in die winter te bekamp. Eerstens kan winteronkruide die grondvog verbruik en aansienlik verlaag. Tweedens word die winteronkruidsaadbank in die grond elke jaar aangevul, wat die probleem net sal vererger oor tyd. Winteronkruide ryp ook nie dood nie, terwyl someronkruide wel sal afsterf ná ryp (sien Foto 2 van witblombloudissel).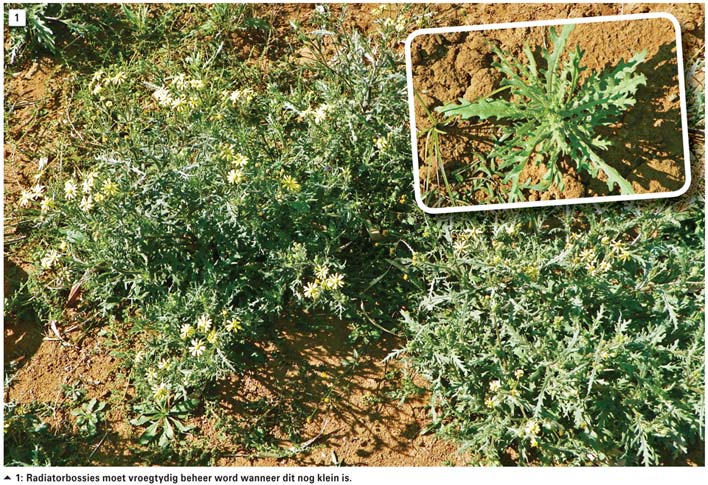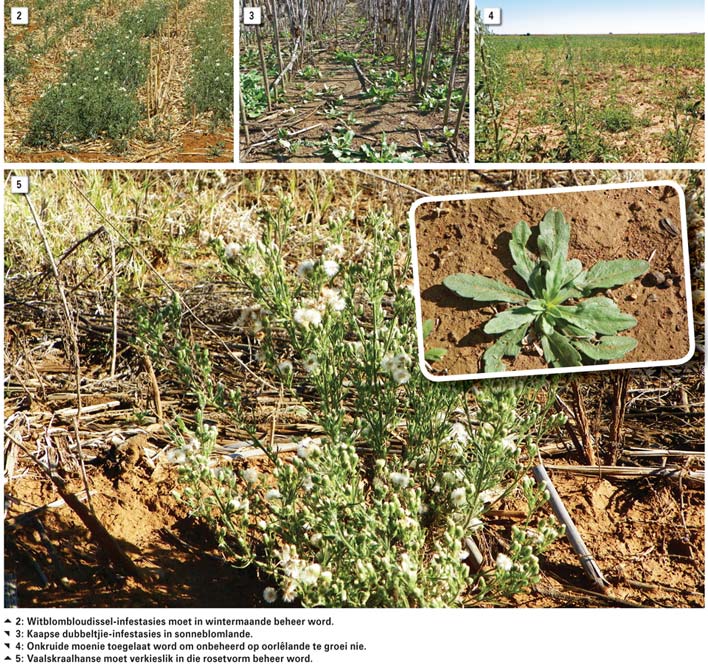 Die mees algemene winteronkruide in veral die Noordwes Provinsie en die Vrystaat is radiatorbossie (Senecio consaquineus), vaalskraalhanse (Conyza spp.) en witblombloudissel (Argemone ochroleuca).
Sommige onkruidspesies kan wel ook laat in die somer begin ontkiem en deur die winter saad stort; hulle sluit in kakiebos (Tagetes minuta), kleinkakiebos (Schkuhria pinnata), knapsekêrels (Bidens spp.) en Kaapse dubbeltjie (Emex australis).
Meer as twee-derdes van alle onkruidspesies is breëblaarspesies (dikotiele), waarvan probleem winteronkruide dan wel ook meestal breëblare is. Die enigste grasse wat inderdaad in die winter probleemonkruide kan wees, is meerjarige grasse (monokotiele), soos byvoorbeeld kweekgras (Cynodaon dactyon) en bosveldbeesgras (Urochloa mosambicensis).
Dan kry 'n mens ook grasse wat laat in die somerseisoen nog suksesvol ontkiem en welig kan groei tot laat in die herfs, soos byvoorbeeld kruisvingergras (Digitaria spp.), jongosgras (Eleusine coracana), tarentaalgras (Rottboellia cochinchinesis), Johnsongras (Sorghum halepense) en wilde graansorghum (Sorghum bicolor). Hierdie eenjarige somergrasse moet beheer word om sodoende saadstorting in die herfs of vroeë winter te verhoed/verminder.
Die beheer van bogenoemde onkruide is 'n kopseer vir meeste produsente dwarsoor die mielieproduksieareas (somerreënvalstreke). Wanneer hierdie onkruide welig en aktief groei, of selfs nou net begin ontkiem, staan meeste van die somergewasse nog op die lande en is dit dus onmoontlik om met gewone trekkerspuite chemiese onkruidbeheer toe te pas.
Produsente wat wel 'n hoogloopspuit het, kan hierdie onkruide meer tydig beheer nog voordat die stroper deur die lande geloop het. Trekkerspuite en/of implemente sal heel moontlik eers na-oes in die lande kan inkom, wat dan gewoonlik te laat is. Dit beteken die onkruide het al te groot geword en kan na-opkoms onkruiddoders se effektiwiteit benadeel. Dit is wel bekend dat hoe kleiner die onkruid, hoe meer effektief kan dit beheer word. Dit geld ook vir winteronkruide wat meestal eers 'n rosetgroeivorm as saailing het, voordat daar vertakkings begin. Die rosetfase is die ideale fase om hierdie onkruide (skraalhanse en witblombloudissel) te beheer.
Onkruiddoders wat wel suksesvol toegedien kan word ná afdroog van die gewas, sluit in glifosaat (sistemiese onkruiddoder) en paraquat (kontakonkruiddoder). Dit raak ook nou 'n algemene praktyk onder produsente wat bewaringsboerdery toepas om ten minste een winterbespuiting te doen, hetsy net voor stroop of net ná stroop. Hierdie bespuitings het baie waarde aangesien die lande skoon bly van enige onkruide tydens die wintermaande, die grondvog word bewaar en geen nuwe saad word by die saadbank gevoeg nie.
Onkruide in wintermaande kan nie gesien word as 'n "dekgewas" nie aangesien die kompeterende effek vir grondvog van die aktiefgroeiende onkruide te sterk is. Bewerking tydens wintermaande word nie aanbeveel nie, aangesien die verlies aan grondvog te groot is.

Vir enige navrae rakende onkruid-identifikasies of chemiese be heer maatreëls, kontak dr Elbé Hugo by 018 299 6298 of HugoE@arc.agric.za.
Publication: June 2015
Section: On farm level