Develop a marketing plan for your farm
June 2022

IKAGENG MALULEKE,
AGRICULTURAL
ECONOMIST AT GRAIN SA
Marketing involves more than just sales. It also includes financial goals, risk determination, investigating different price and delivery strategies and marketing opportunities. This article is a follow-up article on the one titled, a producer's marketing plan, which was published in May 2022, focusing on the basic principles of a marketing plan. The purpose of this article is to help a farmer to develop a marketing plan.
GOAL OF A MARKETING PLAN
Primarily the goal of a marketing plan is for a farmer to cover production costs and realise the targeted return on investment. The first step is to decide on instruments that will best suit their enterprise. A farmer needs to select instruments and strategies that will work best for them, given their financial goals and cash flow needs. The next step is to determine how many tons must be sold when the commodity trades at the targeted price level. Every time a farmer waits for a higher price, there is also the possibility of a lower price being realised.
The most important step is a regular reassessment of the marketing plan as fundamentals change. Due to the rapid change in market conditions, if a farmer does not change their marketing plan accordingly this could result in over-optimistic or over-pessimistic circumstances that could lead to inappropriate, emotional marketing decisions. Some of the biggest factors which have an impact on price are the weather, which could lead to considerable changes to the farmer's expected crop or even when their financial position changes dramatically.
The hard part about a marketing plan is sticking to it when the price is at the targeted level. Without self-discipline, farmers can be caught up in the hype of higher prices in the future and eventually sell their commodity below break-even price when things don't go as expected.
Try to avoid the following:
Having too much confidence in pre-estimates of prices. Pre-estimates should not be considered as fact, but rather predictions made from available information at the time. As variables that are considered in the predictions change, the pre-estimates of prices will also change.
Trying to sell commodities at the highest price. Producers miss price opportunities, by trying to sell at the highest price. A better goal is to try and sell their grain at the top third of the season's price band.
Unintentionally excluding costs when calculating the net farm gate price. Farmers need to be aware of all costs that are deductible in the chosen strategy. They also need to calculate the total carrying cost if they decide to store their crop.
Making all or nothing marketing decisions. Being overly confident could lead to none of the expected crop being sold. Farmers need to spread the marketing decisions throughout the production season by taking targeted price levels and fundamental factors into account.
Becoming too emotional. Farmers need to remain objective, regardless of the direction the prices are taking.
Allowing personality type to influence decisions. Farmers who have an optimistic outlook on life, tend to be overly optimistic that prices will go up, while those who are pessimistic, tend to think the price will go lower. Farmers need to consider their personality types and try to compensate for that when making decisions.
Communication. It is important for farmers to inform their marketers and family about their marketing plans, to eliminate misunderstandings and tension. Communicating can also help to hold farmers accountable when the targeted price level has been reached, which could prevent their marketing decisions from turning into emotional decisions.
Farmers should note that marketing success is measured in profit per hectare and not price per ton.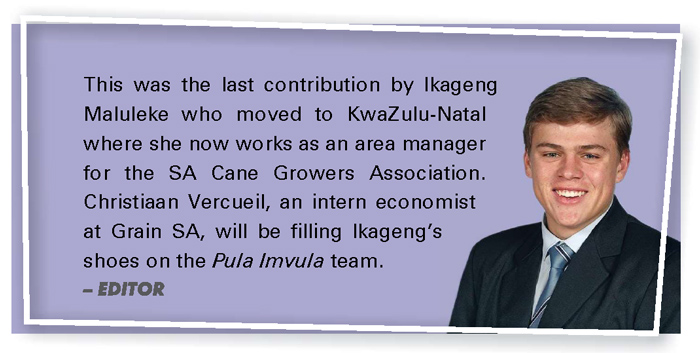 Publication: June 2022
Section: Pula/Imvula