JANE MCPHERSON, PROGRAMME MANAGER: FARMER DEVELOPMENT, GRAIN SA
"If at first you don't succeed, try and try again" – this is very much the motto of the Farmer Development Programme of Grain SA.
The mission of our programme is "To develop capacitated black commercial farmers and to contribute to household and national food security through the optimal use of the natural resources available to each farmer." This is quite a mouthful and it is also a somewhat arduous task!
Invested in human capital
Over many years, we have invested in human capital – we are involved with the development of farmers. We have study groups, demonstration trials, farmers days, a Farmer of the Year award, on-farm support to individual farmers, a multitude of training courses, radio broadcasts and the monthly Pula-Imvula magazine. All this is aimed at capacity building. We have seven provincial co-ordinators who toil tirelessly to invest in the lives of our farmers.
However, when you are a farmer, at some stage you have to get into the business of farming which means that you have to have access to arable land, tractors, implements and production inputs. This is where the real challenge starts. For the past number of years, crop production has not been very profitable and it has therefore been difficult for farmers to access production loans and there have not been surplus profits to invest in the farm or mechanisation.
Having been let down badly by one of the larger commercial banks who promised loan finance, but did not deliver, we were in a desperate position as our farmers needed financing. Consistent efforts to access production finance from the Department of Agriculture have borne little fruit. Just as we were losing hope, officials from the Department of Rural Development and Land Reform came to Bothaville to tell us about their "recapitalisation programme".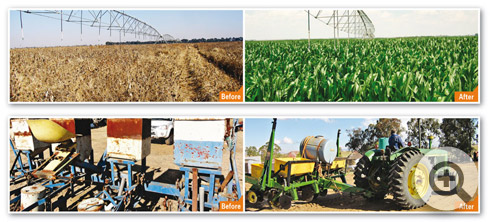 Agreement signed
After much negotiation and discussion, an agreement was signed between the department and Grain SA and the following points are included in the agreement:
"The department adopted a Comprehensive Rural Development Strategy (CRDP) linked to land and agrarian reform and food security based on agrarian transformation with two pillars, namely rural development and land reform.
The strategies employed in implementing the CRDP include social mobilisation of rural communities to take initiatives, strategic investments in economic and social infrastructure, increased economic activity and rural livelihoods and sustainable land and agrarian reform.
The CRDP approach to development (its indicators being shared growth and prosperity, full employment, relative income equality and cultural progress) include the de-racialising of the rural economy for shared and sustained growth, democratic and equitable land allocation and use across gender, race and class and strict production discipline for guaranteed national food security.
A pilot project has been established (through the recapitalisation and development programme, whose objectives are to increase production; to guarantee food security; to graduate small farmers into commercial farmers; and to create employment opportunities within the agricultural sector) to assist beneficiaries to participate in the Grain SA/Farmer Development Initiative.
The department, after holding discussions with Grain SA, requested their involvement in the provision of technical expertise in farm support, access to markets and in the long term, access to financial support for the beneficiaries. Grain SA will submit a business plan for each farmer/beneficiary, which will be accepted by the department. It was also agreed that as grain production is seasonal and very dependent on the weather, these business plans might be amended from time to time, so as to ensure that all grants are used optimally and to the benefit of the farmer.
Grain SA will open a separate bank account into which all the recapitalisation grants will be paid.
Grain SA will assist the farmers to utilise their recapitalisation grant so as to optimise the utilisation of the natural resources and contribute to the development of the farmer. The use of the grant will include repairs to existing tractors and equipment, purchase of new or used equipment, production inputs for various crops, purchase of livestock and feeds, infrastructural expenditure (fencing, contouring, windmills, etc.), repairs to sheds – as per the business plan.
This agreement shall have national application allowing Grain SA to roll out their assistance to farmers in all nine provinces."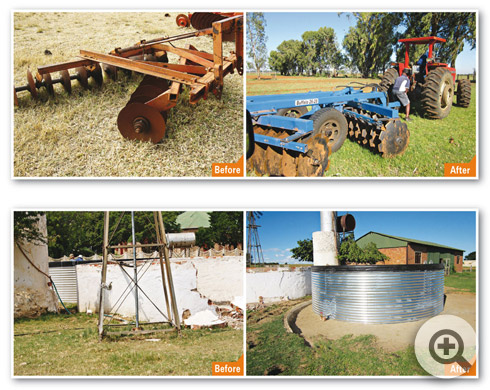 Business plans
And in accordance with the agreement, we prepared business plans for 16 farmers who were the beneficiaries of the land reform programmes and who were part of the Grain SA Farmer Development Programme. The total amount of R36 million was deposited into the new bank account and we were able to start with the implementation. This was very exciting, but also quite daunting as all eyes were on the team!
It has always been our belief that we are never going to make decisions for farmers or farm for them – all our programmes are designed to empower and develop the farmers and we intended to do the same with the recap programme.
Mentors
In order to have sufficient support on the ground, we've identified five retired farmers who indicated that they would be willing to act as mentors to these farmers (four of them are trainers in our programme). Flip du Preez from Senekal is mentoring five farmers there; Attie Louw, one farmer near Bloemfontein; Eduard Foord is supporting three farmers in Bothaville, Wesselsbron and Hennenman; Bertie Human is helping three farmers near Welkom; and Johan van der Merwe is helping four farmers in Theunissen.
We had to get additional financial capacity in the Bothaville office and were fortunate to be able to add Marina Kleynhans to our team. Marina has worked in the finance section of Grain SA for many years and is excellent at managing the financial administration and payments. We had to create a whole new set of books on Pastel and thanks to Philip Smith (manager: Financial Services, Grain SA), this was achieved. Each farmer has his/her own codes which have made it possible to keep a detailed record of each and every transaction and monitor the spending against the budget.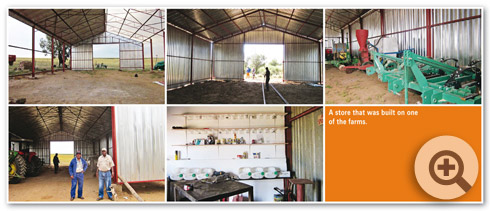 Involved in every step of the way
Although the business plans has been developed and signed off by each farmer, we felt it very important to have the farmers involved in every step along the way. We devised a system whereby the farmer and the mentor have to make out an order for every purchase – quotations for expenditure have to accompany the order. The reason for the quotations is so to ensure that we use the money very wisely and at the same time, teaching our farmers the value of comparative shopping.
The physical payments are made electronically from Bothaville, in accordance with the Grain SA processes and procedures. After a payment is made, the farmer, the mentor and the supplier receive an SMS informing them of the payment. The supplier also receives a remittance advice so that the items can be delivered. As we only started implementing the programme in October, we had to prioritise the expenditure – first the necessary tractors and equipment (both new and used), then production inputs. Once the crops had been established, we were able to focus on the other areas – livestock and infrastructure. To date, the farmers have used R27 million of the R36 million that was originally approved – controlled spending will continue until the entire budget is used.
The accompanying photos show some "before" and "after" scenes – this programme has made a huge difference in the lives of these farmers and should put them on a sustainable path.