DAMES, beplan jou inkopie-padkaart
April 2016

SA Graan/Grain redaksie
Voor die internet en Google die hoofbron van inligting geword het, is 'n dik, geel boek nadergetrek om 'n besigheid of bepaalde diens op te spoor. Hul klingel, "Los die voetslaan vir jou vingers, deur die die geel bladsye" het aan hulle 'n plek besorg as een van die Top 10-klingels van die 20ste eeu.
By Graan SA se NAMPO Oesdag is dit grootliks jou voete wat die voetslaanwerk sal moet doen, maar laat jou vingers vooraf in die NAMPO Oesdagbylae rondloop, sodat jy gewapen met 'n terreinkaart vinniger by die uitstalruimte kan kom waar jy die ideale Oesdag- kopie kan aanskaf. Dames, neem kennis dat die sale wat hoofsaaklik na die skoner geslag se belange omsien, die Hopefield-, die SAMPI- en SAMPI-saal Anneks is. Met twaalf nuwe uitstallers in dié sale, is daar beslis iets wat die oog en hartsnaar sal vang.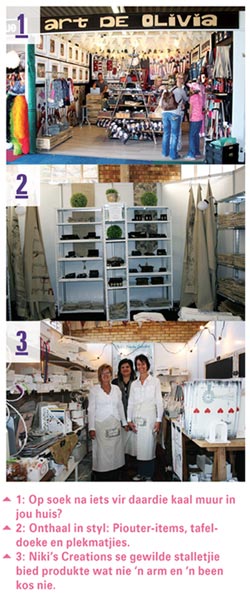 Haastig na die Hopefield-saal
In die Hopefield-saal is daar vanjaar drie nuwe uitstallers: The Alpaca Loom wat produkte en wol van die nimlike alpakkas uitstal, Hadeco wat onder andere blombolle en organiese groentesade asook glasware verkoop en Vryheid Country Furniture wat handgemaakte houtmeubels te koop aanbied. Vir die dames wat op soek is na iets nuuts vir hul voorkoms, bied hierdie saal iets vir kop tot tone: La Belle Chic bied haarbykomstighede en -stukke terwyl 'n interessante nuwe uitrusting by Anasekash aangekoop kan word.
HDL Juwele, Jenna Clifford en Ronel Gouws sorg vir 'n blink dingetjie terwyl egte leerprodukte by Klein Karoo International se uitstalruimte besigtig kan word.Mint en Mitat het klere en ander items te koop.
Vir kunsliefhebbers is al die gereelde uitstallers weer daar: Art de Olivia, Crouse Kunshandelaars, Matie Art en Miemie Louw en vir 'n snoesige winterslapie is daar Emberdown met hul gansdonsprodukte. Alles van kussings tot eetstelle kan by Ventersburg Werkskepping, Liza-Marie van Wyk, Wilma Steyn, Niki's Country Collections en Phuka Pottery uitgesnuffel word.
Stap na die SAMPI-saal vir stylvolle produkte
Dit is hier waar ou vriende – uitstallers en Oesdag-besoekers – mekaar weer raakloop. Soos altyd gaan AMC Cookware en Snappy Chef dames oorreed om elektrisiteit te bespaar met hul kookware. At Fourie wil dames help om betyds te wees met sy staanhorlosies en Makoti Donsprodukte kan 'n rustige nagrus verseker. Met uitstallers soos Inge's, Ken Maloney, Liefie Love, Redhill Pottery, Limpopo Ceramics, HB Pewter en Fraai in Sink, wat dekor met 'n antieke inslag verkoop, is hierdie saal die regte plek om te wees as binnehuisversiering jou opgewonde maak.
Pas gerus een van die meng-en-pasmodes van Authentic Fashions aan en kry sommer bypassende juwele by Silhouette Imports of Studio Silver. Vanjaar kuier Mademoiselle vir die eerste keer saam in die SAMPIsaal – met alles van Carrol Boyes-produkte tot servette.
Aanstap na die Anneks
Sedert 2015 het die Damesprogram plek gemaak vir nuwe uitstallers wat in die SAMPIsaal Anneks gehuisves is. Met agt nuwe uitstallers in hierdie uitstalruimte, gaan hierdie saal beslis 'n miernes van bedrywighede wees. Items vir die kleinding se kamer en lyfie kan by die Big Heart Company en Eco Punk Kids Clothing aangeskaf word.
Dalk is 'n skildery van Annie's Art (net wat daardie vaal muur in die huis nodig het) óf is Blissful Events se dekor met 'n vintage-styl dalk meer na jou smaak? Alles van handgemaakte beddegoed tot keramiek- en houtprodukte kan by die ander nuwe uitstallers – Hartsgoed, Luvit, Streepsak en Val du Charron – besigtig word.
Uitstallers wat verlede jaar ook in die Anneks was, is Fabulous Fabrics met pragtige materiaalkrale, Hyties Corner met houten metaalitems en Chieppa Potteries en Creative Love, waar unieke geskenke aangekoop kan word.
Maak tyd
As jou voete kans sien vir nog 'n paar treë (en die beursie natuurlik nie leeg is nie) stap gerus deur die ander sale waar manlief se belange aangespreek word, waar daar ook 'n uitstaller of twee is wat op die dames gemik is.
Publication: April 2016
Section: NAMPO