Congress highlights how farmers contribute
May 2020

At the annual Grain SA congress which took place in March, delegates were inspired by speakers like chief justice Mogoeng Mogoeng and well-known agricultural economics expert Dr Ferdi Meyer of BFAP (the bureau for food and agricultural policy). Delegates were also tasked with the responsibility of electing new leadership to the organisation.
NEW LEADERSHIP FOR GRAIN SA
Immediate past Chairperson Jaco Minnaar has moved on to serve the sector on different platforms which meant Congress had to elect new top leadership. Derek Mathews, a farmer near Lichtenburg and past Vice-chairperson was voted in as new Chairperson of Grain SA while Richard Krige, previously a member of the Executive Committee and a farmer from the Western Cape was elected unopposed as new Vice-chairperson of Grain SA.
Delegates also voted in Ramodisa Monaisa to continue serving as Vice-chairperson for another term of office. He is a grain and livestock farmer in the Lichtenburg district. Jeremia Mathebula who farms near Ermelo and is already a member was also elected by Congress to serve on the Executive Committee.
CHIEF JUSTICE MOGOENG MOGOENG
Chief Justice Mogoeng told Congress: 'South Africa belongs to all – not just some – who live in it.' True to form Chief Justice Mogoeng asked Congress to pray with him before his address. He then expressed his feelings about the farming community: 'Thank you, thank you, thank you. He said farmers play a critical role in pursuing the calling to produce quality food to feed humanity. He also recognised how many farmers have been facing challenging times and thanked them for 'soldiering on'. Chief Justice Mogoeng empathised with farmers saying he understands how the frustrations experienced by other South Africans leave all farmers feeling despondent.

Issues
Some issues mentioned were:
'Land thieves' – in spite of the name calling and negative attitudes, Chief Justice Mogoeng respects how farmers still choose to pursue their chosen careers and continue to contribute to economic vitality in South Africa.
Financing for farmers – Chief Justice Mogoeng knows the risks for farmers who are increasingly unable to fully utilise their land values as collateral for financing in light of no title deeds for some and the looming possibility of land expropriation without compensation for others.
Farmer development – Chief Justice Mogoeng said he's long been aware of the Grain SA Farmer Development Programme and the critical role it plays in recognising that every South African, black and white, deserves the possibility to free their potential as farmers. He acknowledged Grain SA's willingness to reach out a hand of help and mentorship to farmers.
Spotlight on our Constitution
Chief Justice Mogoeng turned the spotlight onto our constitution. We, the people of South Africa … It doesn't specify any particular race, culture or creed – 'we' means everybody. It recognises the injustices of the past and accepts that South Africa belongs to all who live in it, united in our diversity and determines the constitution is an instrument for healing. He said we have to grapple with the historic realities as there will be no lasting resolution in the sector until we are brave enough, principled enough and sensitive enough to attend to cries for inclusive, meaningful participation and access to land. We have a responsibility to identify solutions in ways that build rather than divide, ensuring that 'no ball is placed in the hands of opportunistic political players' which will further divide us.
Deny the politicians the opportunity to divide us – we are a family. Our country needs healing from brokenness, suspicion, racism, tribalism, prejudices and mistrust. Whether we like it or not we are a family and we belong together. Chief Justice Mogoeng believes there is a oneness between fellow South Africans demonstrated because we find joy together. He says he looks forward to the day when the private sector, organized agriculture and government work more closely together than ever before.
Land redistribution
In past times land redistribution was not a success.
We need to work together to transfer land.
Land must be put into the hands of people who really do have the heart for farming and who have the capacity to farm.
We must ensure consistent mentorship.
Require institutional support from government.
We need to tell our own stories
'Until we have an avenue of communication there will always be fake news out there.' Chief Justice Mogoeng encouraged aggressive communication to mainstream media with news of the good work being done. It is also important that the messages are not window dressing but true examples of the good work being done from Grain SA's apolitical standpoint.
'Sacrifice and compromise will be required of all of us, black and white.' Chief Justice Mogoeng said he can vouch for the selflessness of farmers and their spirit of generosity and said he believes farmers have what it takes to contribute to the stabilising of the sector.
We need to know
Chief Justice Mogoeng encouraged farmers to demand speedy resolution of the land issue. He recognises we need policies designed to ensure meaningful productivity and sustainable farming opportunities and, in the process, he emphasised the need for current farmers' experience and invaluable institutional memory. 'I would hate to see farmers close shop because they can't farm productively in South Africa. South Africa has a bright future and only you and I, with steely determination, can ensure this beautiful country does not go to waste.
DR FERDI MEYER
Dr Meyer addressed Congress on matters influencing the grain economy. He says if there's to be any future growth, we need to attend to: 1) Partnerships, 2) what we focus on, 3) what issues we prioritise, 4) how we coordinate within the value chain and 5) how we execute policy. It's not insignificant that Grain SA and BFAP have been collaborating to collect data and look for creative ways to carry strategic messages to policy makers, business and decision-making forums.
Bend the curve
What does he mean when he says: 'We have to bend the curve?' Statistics reflect steadily declining levels of profitability in the agricultural sector. All grain producers are under extreme pressure and face many challenges. A real price line graph shows a downward trend – which means less profits for farmers, higher risks and threats to sustainable farming. We have to find ways to bend the curve so that it points upwards and moves farming into a more viable and sustainable state.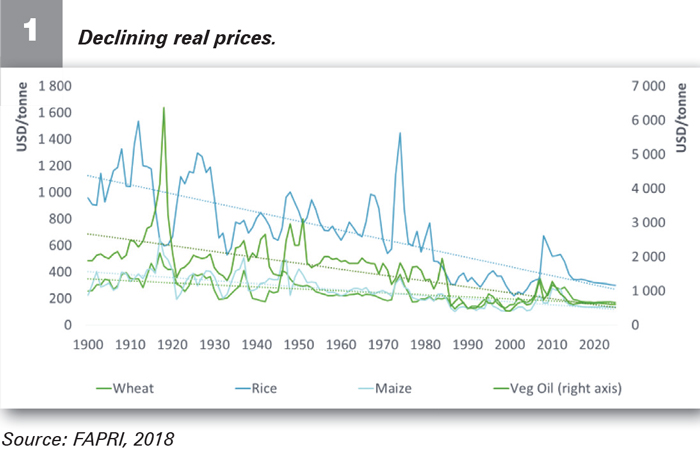 Look at Graph 1 which tracks the decline in prices received by farmers for their produce. The downward trend is worrying. We have to find ways to 'bend the curve' upwards so that farming is more attractive, more viable and sustainable. As farmers we need to be able to provide for our families and grow our businesses. With downward trends like this, we cannot.
What will change things and help bend the curve?
We need to find solutions and raise our voices to policy makers and government so they can understand how fragile and vulnerable the agricultural sector is and what is required to fix it.
Jobs, growth and the National Development Plan (NDP)
Dr Meyer said there are some areas like under-utilised land and smallholder farmers where there should be great potential job opportunity but instead numbers have declined from 1,3 million in 2011 to about 1,2 million currently. But export-led sector jobs at farm level have increased and the agro-processing and integrated value chain has seen encouraging growth.
The maize value chain shifting to transformed state
Dr Meyer red flagged issues affecting long term sustainability. We need to construct messages that will bend the curve.
Private sector interventions provide skills transfer, but we need direct subsidies for smallholders.
Land reform policy and land expropriation needs clarity for all.
Farmers need reliable production finance and affordable crop insurance.
Infrastructure needs to be developed and maintained e.g. roads, electricity and water supply.
Potential
'We have a lot of potential to bend the curve and create a downstream value chain in the economy.'
The soybean industry has seen tremendous growth.
Chicken and poultry markets – reduce imports and make local industry more competitive and create job opportunities.
South African producers have challenges in terms of cost of production. Farmers in dry areas will have to make strategic changes and integrate a bigger livestock component.
Take home ideas
Farmers need an organisation which is gathering accurate data that measures the impacts of the many different drivers on production and processors.
The role of Grain SA and BFAP in gathering and sharing accurate data is critical.
The messages informed by such information must be communicated clearly to policy makers and other role-players.
Grain SA Farmer Development is not only making a difference with mentorship but is also helping gather invaluable information to tell the story on behalf of farmers.

Publication: May 2020
Section: Pula/Imvula