Canola production
What to look out for during July to October
July 2019

Here is hoping that the farmers have managed to achieve a good, uniform and even canola stand this year. Uniform is important to help us in many timing decisions, such as when to top dress with Nitrogen (N), when to apply Boron (B), growth stage to spray for Sclerotinia and the right time to swath.
When the plants are all at a similar size and growth stage these decisions are made much easier. An even stand refers to an evenly spaced stand of canola with no open patches where weeds can germinate and flourish. Canola is the only crop that can completely cover the whole surface, shading out any late germinating weeds and preventing them from setting seed.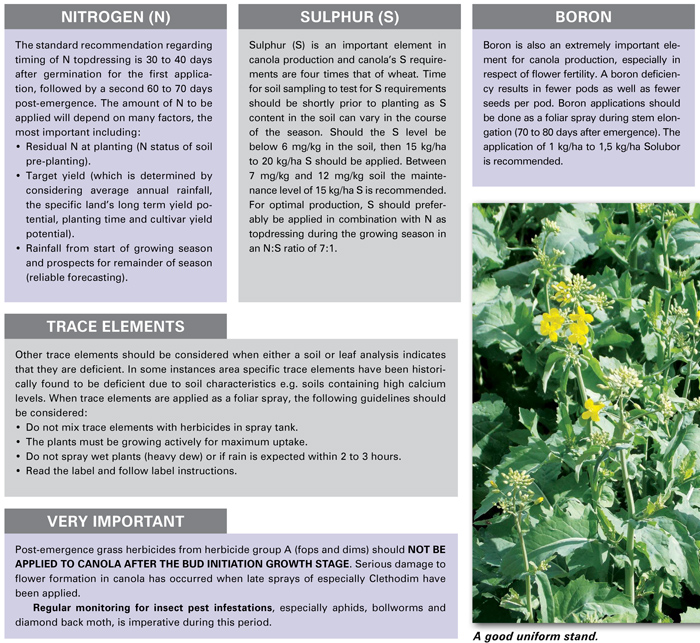 APHIDS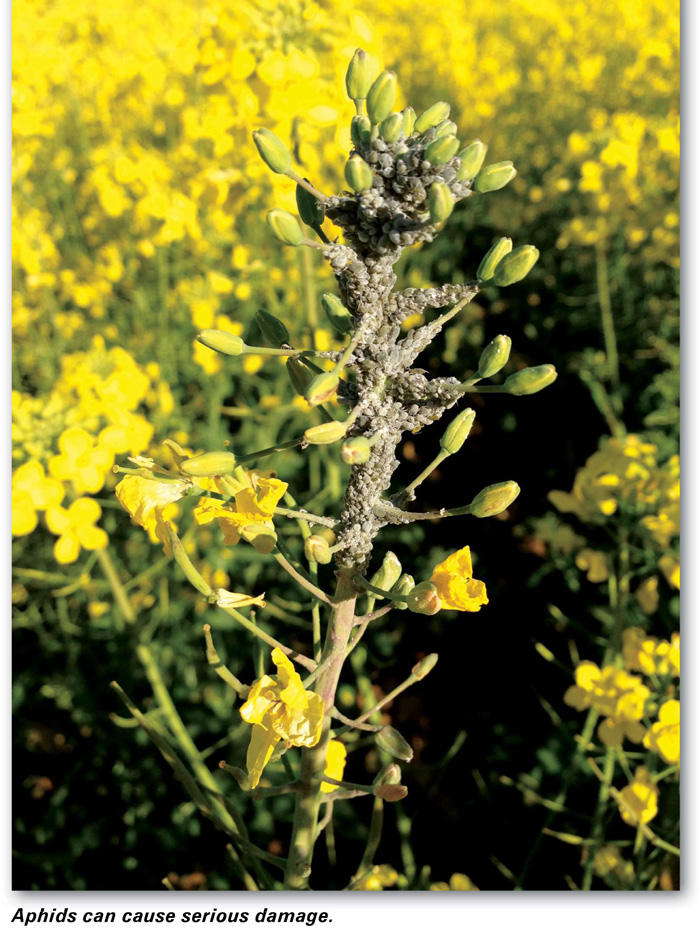 Aphids can cause serious damage in the rosette stage of canola and populations can increase rapidly in warm, dry conditions. Particularly note any aphids between the young leaves at the growth tip as even a few aphids are enough to impair the growth of the canola plant at this stage.
If a decision has to be taken on whether to spray or not, it is advisable to determine the number of infested plants rather than the number of aphids per plant. The threshold level for aphid spraying is when 20% of plants are contaminated with aphids. Shorten the period of monitoring when infestation is noted and spray only if the population is on the increase. There are many beneficial insects that feed on aphids (ladybirds and their larvae, wasps, lacewings) and they can often keep the aphid population under the spray threshold, especially in cooler weather conditions.
BOLLWORM
Bollworm moths (large moths with reddish brown to light brown front wings and creamy white back wings) usually start occurring from the early flowering stage of canola. The night flying moth lays white eggs singly on the upper leaf surface and can lay up to 1 000 eggs during her lifespan of 5 to 8 days.
With careful scouting the eggs can easily be seen once moth activity has been noted. Small (less than 1 mm long) larvae hatch after ± 6 days and start feeding on leaf tissue. The larva moult six times within 14 to 18 days and reach up to 3 cm in length when mature. The larva have characteristic stripes down the length of the body. Only larger larva (more than 1 cm in length) will damage pods. The threshold value for bollworm is when 5 to 10 larva are counted per m². Shake plants over a container or sheet on the ground to count larva.
As in the case with aphid monitoring, only spray when the population is on the increase. More frequent monitoring should be conducted once larva are noted. Under hot, dry conditions and in the presence of heavy aphid infestations (bollworm moths are attracted to aphid honeydew) and in the absence of alternative feed crops, bollworm populations can escalate alarmingly. Very serious damage to pods can occur in a short space of time when this happens.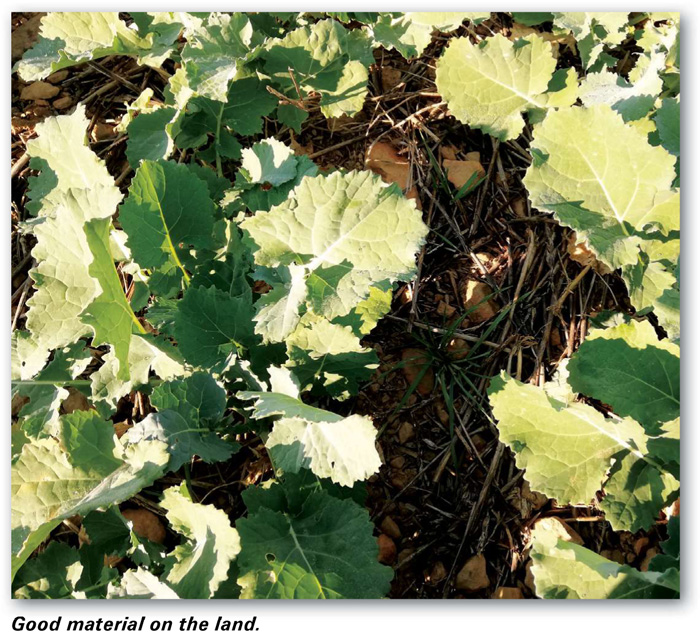 DIAMOND BACK MOTHS
Diamond back moths (DBM) are considered a sporadic but serious pest in canola. The small (10 mm long) grey-brown moth has a diamond pattern down the centre of the back when the wings are folded. The moth is most active from evening and throughout the night. They fly short distances between plants when disturbed.
Female moths can lay more than 100 pale yellow, oval eggs in their lifetime. Eggs are laid singly or in clusters along the leaf veins on both sides of the leaf. Eggs hatch after 4 to 6 days and the first larvae burrow into the leaf tissue. The next 3 stages of larva feed on the underside of the leaf surface. The light green larva grow to 12 mm in length. When disturbed, the larva drop to the ground or are suspended on silken threads in the plant.
The rate of development of DBM depends on temperature, taking as little as 14 days to complete the lifecycle at 28°C or more than 100 days at 12°C. In warm weather conditions there will be considerable overlapping of generations. Cool, wet and windy weather can reduce DBM populations whereas under warmer, dry conditions populations can explode. Yield losses of over 80% can result when severe DBM outbreaks occur.
The spray threshold for DBM is as follows:
Middle to late flowering stage – 17 to 23 larva per ten plants.
Pod filling stage – 43 to 57 larva per ten plants.
NB: Only count larva larger than 3 mm to 4 mm in length.
Monitor by walking through the field and do counts at every 20 to 25 meter intervals. Shake the plant over a container and count larva.
IMPORTANT POINTS TO REMEMBER
Monitor for pests on a regular basis. Shorten intervals once pests are noted.
Only spray chemicals on an increasing pest population and the spray threshold has been reached.
Get to know the predators and parasites of each pest and protect your unpaid workers as far as possible.
Monitor weather forecast before spraying and consider the effect (especially cold, wet conditions) on pest populations.
Read the product label and follow instructions.
Publication: July 2019
Section: Pula/Imvula