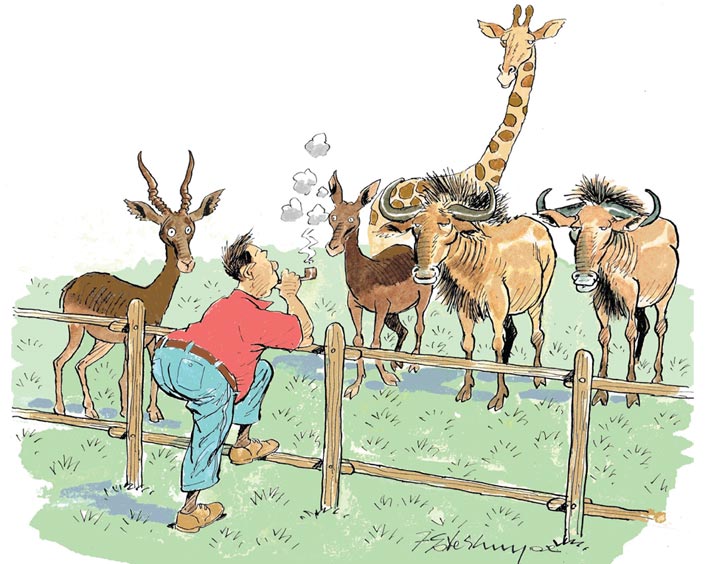 Beste Grootneef
Kan jy die dae onthou van al die debatte oor kleur? Kyk, sommige manne het heel rumoerig geraak oor wat die beste sou wees. Daar was dié wie hul rug styf gemaak het en met hartstog gepraat het oor hul grys Brahmane. Die jong manne het weer gesê rooi Brahmane is koning. En toe kom die skimmels en almal is deurmekaar.
Op die ou einde was die grys, rooi of skimmel Brahmane maar net 'n modegier. 'n Lekker T been het steeds dieselfde gesmaak, ongeag die kleur vel wat die bees op sy rug gedra het...
Ek was altyd onder die indruk dat bontebokke net in die Kaap-kolonie aangehoumag word. Nou sien ek jy kry hulle orals – dit is swart rooibokke, goue wildebeeste, geel blesbokke, koper springbokke en wat nog. Nes met beeste, begin die wildboere nou ook met 'n klomp gekleurde bokke boer.
Buurman het laat weet hy span 'n wildskamp so al om sy gronddam, om nou met die nuwe modebokke te teel. Hy beplan om klein te begin, eers net met goue wildebeeste en later met 'n wit blesbok of drie. Jy kan sien sy planne is gemaak – so paar seisoene se lammers van dié goue span wildebeeste en bont blesbokke en jy kan maar sê hy koop African Bank uit al hul moeilikheid uit.
Ou Neef, nou wonder ek maar net – wie gaan eendag sulke dure biltong jag? Want om 'n wit blesbok te skiet is hoeka soos om jou vrou saam te vat Kongres toe – dubbel die koste vir helfte die pret... As die bokvel af is en die stel horings lê op die hoenderhok se dak, moet jy die biltongkies baie dun sny. Net om dieselfde smaak te kry as dié van die gewone ou bruin blesbok. Wat nog te sê van "goue" bokke wat derduisende rande op veilings behaal! Wat gaan só bok 'n biltongjagter eendag uit die sak jaag?
Maar Buurman se planne is gemaak en die wildsheining is gespan. Hy glo groot geld is net om die draai.
Dit laat my nou dink aan die storie van die ou wat 'n hoender met vier boudjies geteel het. Die moeilikheid was net dat die hoenders op sy werf toe só vinnig en wild geword het, dat hy nooit een vir die pot kon vang nie!
Dit is nou half dieselfde moeilikheid met al die nuwe gekleurde bokke waarvoor miljuisende rande op wildveilings betaal word – hoe gaan die manne ooit weer hul geld opmaak as hul nie aan die einde van die reënboog 'n span biltongjagters kry wat die goed skiet nie?
Maar ek moet sê, Buurman se goue wildebeeste is nogal mooi so in die laat middagson. Dalk moet ek vir my ook 'n klein kampie span, so vir 'n paar koper en swart springbokkies. Buurman sê jy kan nie 'n fout maak nie...
So voor die groetslag. Een woord wat nou gerus uit ons samelewing verwyder kan word, is die woord honourable. Dit is nou verwysend na 'n parlementslid in gumboots. Veral ná die laaste paar kirpatse in Kaapstad se praathuis...Soos ek anderdag op 'n staak-plakkaat lees: "Enuf is Enuf!"
Groete op die Oosgrens.
Kleinneef
Lesers is welkom om 'n e-pos aan Kleinneef te stuur by kleinneef@graingrowers.co.za.