BOEREPATENTEKOMPETISIE - gee jou verbeelding vrye teuels
April 2016

SA Graan/Grain redaksie
Hierdie jaar se Graan SA/Omnia Boerepatentekompetisie bied aan produsente die ideale geleentheid om die boer die kuns af te vra. Die kompetisie vind plaas tydens die 50ste NAMPO Oesdag (aangebied deur Graan SA) en spog met twee splinternuwe afdelings.
Kennis is mag en die hoofdoel van hierdie jaar is om meer jong mense (toekomstige produsente) te betrek aangesien hulle tog die toekoms van landbou is. Derhalwe is die besluit verlede jaar geneem om 'n nuwe kategorie vir studente te skep en hierdie kategorie is vir die 2016-kompetisie uitgebrei na skoliere.
Daar kan vir die volgende afdelings ingeskryf word:
Masjinerie, implemente en landboutoerusting – die uitvindsel of patent moet van die nuutste tegnologie gebruik maak om boerdery te vergemaklik.
Gereedskap – dit sluit in enige uitvindsel wat betrekking het op landbouwerkswinkels.
Huishoudelike- en tuintoerusting – patente wat 'n verskil in om die huis maak.
Ope-afdeling – die afdeling is oop vir enige individu met 'n patent wat relevant is vir die verbetering van boerdery (graan en vee).
Skoliere – enige leerling wat 18 jaar of jonger is en wat by 'n primêre of sekondêre onderriginstelling ingeskryf is.
Studente – enige leerling wat 18 jaar of ouer is en wat by 'n tersiêre onderriginstelling ingeskryf is.
Tegnologie is die toekoms
Aangesien dit moeilik kan wees vir die jong mense om hul uitvindsels by NAMPO Park uit te stal (omrede hulle nie hul eie vervoer het nie en ook omdat die kompetisie gedurende skooltyd is) is daar voorsiening gemaak om hulle te akkommodeer.
Studente en skoliere mag dus deur middel van e-pos inskryf. Die videogreep van jou uitvindsel sal op die skerms by die Boerepatente vertoon word.
Indien jou patent van só 'n aard is dat dit nie vooraf vervoer kan word nie, is dit moontlik om 'n DVD/video ten minste 'n maand voor die kompetisie te stuur of op YouTube te laai. Kry jou inskrywingsvorm op bladsy 108 van dié uitgawe.
Oesdagbesoekers kan gerus op standplaas 104 langs die Omnia-gebou presies gaan loer hoe maak 'n boer 'n plan!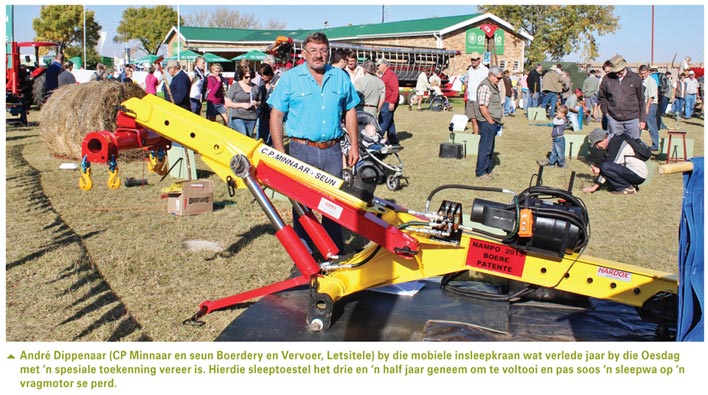 Publication: April 2016
Section: NAMPO